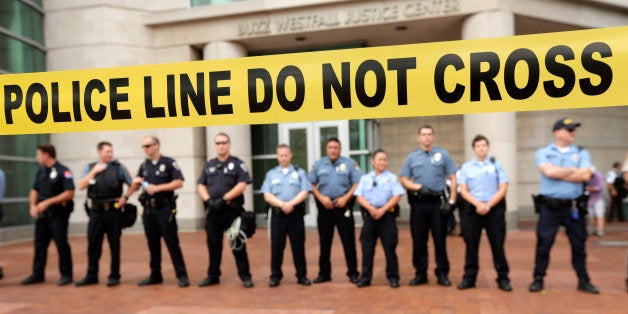 It only took 23 seconds for two white police officers to kill 25-year-old St. Louis-native Kajieme Powell on Aug. 19, 2014. It took 14 months for the circuit attorney's office to tell us that those officers would get away with killing him. Sadly, most people knew this would be the case. Kajieme is one of twelve victims of police killings in St. Louis in the last year. None of the officers in any of the cases have faced charges. They haven't even been terminated. Honestly, I thought Kajieme's case would be different. We had undisputed proof of excessive force. Video footage shows the two officers using their guns when Kajieme was clearly showing signs of mental distress. Still, in St. Louis City, even camera footage is not enough. His name goes next to Mike Brown, Jr, and Vonderrit Myers, Jr. as a victim who did not receive justice. So that leaves a question, what will it take to get accountability?
St. Louis is ground zero for a movement that has challenged our nation to finally think critically about racial injustice. It started on Canfield Drive in Ferguson, Missouri after a young man laid in the hot sun for more than four hours. The images of dogs, tear gas and Mike Brown's lifeless body continue to be a topic of conversation within the movement and nationally as people attempt to understand why police disproportionately kill unarmed black and brown people. Even our presidential candidates have to answer whether they believe that black lives matter. So why didn't Kajieme Powell get justice?
The answer lies in the history of St. Louis. This city is rooted in racism. St. Louis, where Dred Scott was told he was not a citizen in a free state. Missouri, the last state to concede to the Union and free slaves. A city that has always viewed black bodies as less than their white counterparts cannot give a black family justice. Our elected officials have a vested interest in maintaining the status quo. They are comfortable because our laws allow them to thrive, both socially and economically. Missouri is the only state remaining that does not have a limit on campaign donations. Our elected officials are bought and sold to the highest bidder, which means that racial equity will never really be on the table. Private prisons fund our elections. Big business dominates our state legislature. Police unions dictate the policy conversation. Twenty-four states passed legislation moderating use of force and promoting accountability, but Missouri was not one of them.
Missouri failed Kajieme Powell. With state funding for mental health services stripped annually, and police departments continuously being overfunded, he fell through the masterfully designed cracks in our system. His life was taken because for centuries, Missouri has devalued black life in countless ways. There was no better place for this movement for black lives to be born because it is one of the hardest places to achieve racial equity. But I believe that we will. We have to. We owe it to Kajieme Powell, Mike Brown, Vonderitt Myers and the dozens of others who have lost their lives at the hands of those sworn to protect and serve. We have to keep fighting for them and those whose names we don't know.
Calling all HuffPost superfans!
Sign up for membership to become a founding member and help shape HuffPost's next chapter