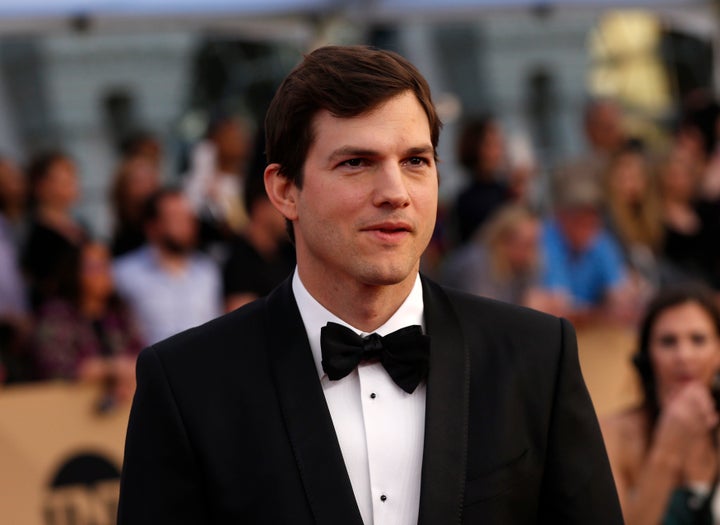 Ashton Kutcher certainly means well, but his recent attempt to talk about gender equality at work didn't go quite as the 39-year-old actor and investor likely hoped.
Kutcher, who's made a name for himself in the elite, male-dominated world of venture capital investing, announced Thursday on LinkedIn that he and his partner at the VC firm he founded, Sound Ventures, plan to host an "open dialogue" on gender equality in the workplace and the tech industry. So far, so good.
Unfortunately, Kutcher then added a list of questions that inadvertently illustrate why it's so difficult to achieve gender equality in the workplace.
"This is grossly offensive," one marketing manager commented in response.
Many of the questions make certain assumptions about women that are grounded in stereotypes, including the misguided notions that women somehow have sub-par business ideas and that the only reason there aren't more females in tech is because they're not interested in the subject matter.
"Should investors invest in ideas that they believe to have less merit so as to create equality across a portfolio?" Kutcher asks.
The question operates off the misguided notion that women have sub-par business ideas. Instead, what often happens is that men are more receptive to ideas from other men. Or, male investors simply don't understand the idea a woman is pitching.
There were almost zero men, for example, willing to back Sara Blakely, who founded Spanx. When Blakely was starting out, dudes just didn't get why women would need those kinds of undergarments.
Blakely is now worth about $1 billion.
Kutcher's first question, though, is a doozy: "What are the Rules for dating in the workplace? Flirting? What are the clear red lines?" he wonders.
This simply should not be the first question on such an important issue as bringing more diverse entrepreneurs into a key part of the economy. It also fails to recognize that sexual harassment is a power issue ― not a dating issue.
"What are the Rules for dating in the workplace? Flirting?"
"The question 'What are the clear red lines?' is less about supporting gender equality, and more about protecting powerful men from accusations of sexual harassment or misconduct," writes Mashable's Emma Hinchliffe.
Kutcher also wonders, "Given that in the short term we are clearly bound by the existing educated talent pool in STEM, other than promoting STEM education parity going forward, how do we stop gap a solution?"
It's true that fewer women than men go into the STEM (science, tech, engineering, math) fields. But this is hardly the driving reason behind a lack of women in tech. A big problem: Women leave the industry at higher rates than men because of a hostile work environment.
Kutcher's efforts come at a time of massive turmoil over sexual harassment in tech and the VC world in particular. Last month, Uber CEO Travis Kalanick was forced to resign from the ride-hailing company after revelations about a broken work culture.
The issue ignited in the VC world about a week ago, when more than two dozen women in tech came forward in a New York Times article about the harassment they've experienced in the startup world, many as entrepreneurs trying to get funding. Two very well-known investors were named.
That story followed another report in which six women alleged a venture capitalist had made unwanted advances toward them.
Since then, prominent investor Dave McClure has been forced to resign from his firm. And the tech world has taken to Medium, Twitter and elsewhere to offer up excuses, explanations and strategies to fix the problem.
Though the VC world is small, it has massive ripple effects. VC funding helps drive some of the most valuable and "hottest" tech companies in the country. Kutcher himself has made investments in Twitter, Foursquare and Uber.
The tone-deaf nature of Kutcher's questions echoes comments he made earlier this year about Kalanick, a friend of his. The actor/investor said he felt "conflicted" over the Uber controversy and seemed to defend his friend's behavior, though he admitted he wasn't really familiar with the details.
Susan Fowler, the former Uber engineer who started a firestorm in February by writing a blog post about her experience at the company, made that point on Friday afternoon.
Joelle Emerson, the founder and CEO of Paradigm, which works with tech companies like Pinterest on reducing bias and increasing diversity, was quick to note on Twitter how misguided Kutcher's questions were. She took a lot of flack ― mostly from men ― for criticizing the star.
"Put examples of the right ?s out there or stop with the dumb comments," one man tweeted.
Nevertheless, she persisted.
How can VC firms and early stage companies reach beyond our own homogenous networks to find the best people and ideas? In other words, let's find some good strategies to bring in more women.

What are the key data points VC firms and companies should be tracking to identify bias and discrimination in their organizations? Meaning, you can't fix a problem if you haven't appropriately figured out its scope.

What can VC firms do to play a more active role in retaining women, given that we know this is so much more than an educational pipeline problem? Another words, are companies doing all they can to make their firm a place where everyone feels invested.
At the end of his LinkedIn post, Kutcher asks earnestly if his questions are the right ones. Kutcher has demonstrated in the past that he supports equality and understands bias ― supporting co-star Natalie Portman's efforts to get paid fairly and wife Mila Kunis' posts on equality. He even launched a petition to get diaper-changing stations in men's rooms.
On Friday evening, Kutcher thanked Emerson for the feedback.
Popular in the Community