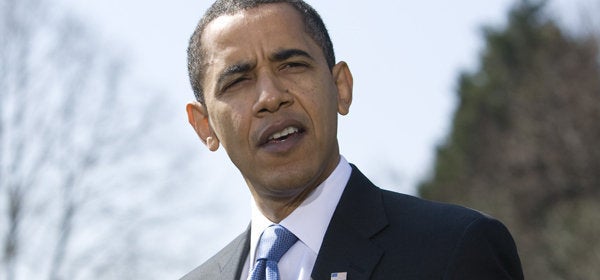 Of his many promises during the 2008 Presidential campaign, one of the most appealing was Barack Obama's pledge to make his administration "the most open and transparent in history." The democratizing tools mastered at MyBarackObama.com and the inspiring grassroots enthusiasm for the Obama campaign opened the door to a presidency that -- in stark contrast to the eight years before it -- could be an honest conversation with the American people. This week we are launching a new project to continue that effort; more on that in a moment.
As newspapers struggle nationwide, and citizens demand more transparency in the wake of unprecedented government action on the economy, I believe this is a critical moment to advance participatory, bottom-up journalism and citizen engagement. Interest in our new President is at a peak, and instituting an independent and sensible way for the people to have a platform at the highest levels of government is essential to informed debate and progress on the changes many of us hope to see over the next four years.
In that spirit The Nation, with several partners, is launching a new initiative, "Ask the President," to advance citizen voices and participatory media at The White House. The idea is simple: at www.communitycounts.com/Obama, anyone can submit a question for President Obama, written or by video. Site visitors then vote on the questions, with the most popular and pressing ones rising to the top. We will then send a credentialed journalist into formal Obama Administration press conferences to ask the leading citizen questions. Presently we are in conversations with the Administration about this effort.
Our coalition includes new and traditional media from across the political spectrum, including:
The Nation, The Washington Times, Personal Democracy Forum, Change.org, Democrats.com, Care2.com, Citizens for Civil Discourse, Craig Newmark (founder of Craigslist), Professor Larry Lessig; Professor Hugh Hewitt (HughHewitt.com); The Field Blog; Jack and Jill Politics Blog; Culture Kitchen Blog and the Smart Mobs blog, among others.

So far, initial conversations about this project with The White House have been encouraging. We see this as an innovation that President Obama should welcome -- an independent, cooperative way to forward the President's promise of transparent government that empowers voices beyond Washington.
The technology, of course, is a means to an end: an engaged and excited electorate having a spirited debate with the President. Granted, this is only one question at a semi-regular event, but as journalism transforms and technology shifts, Ask the President could help to democratize the reporting and prioritizing of political news, and encourage the Obama Administration to keep a critical promise. It's just a first step, but one that we believe is well worth taking.
Calling all HuffPost superfans!
Sign up for membership to become a founding member and help shape HuffPost's next chapter