 She is the celebrated writer of Wicked, My So Called Life, Once and Again, thirtysomething, as well as Huge (cowritten with her daughter, Savannah Dooley). He is the acclaimed veteran actor from Breaking Away, Sixteen Candles, Curb Your Enthusiasm, and hundreds of other TV and film roles. After decades in the business, the one thing the married team of Winnie Holzman and Paul Dooley (both Emmy nominees) hadn't done was write and perform a full length play together -- until now.
Holzman/Dooley fans (as well as fans of quality theatre in Los Angeles) are in for a treat as their absorbing, witty and intricately woven, Assisted Living, is making its world premiere at The Odyssey Theatre in West Los Angeles running weekends through May 12.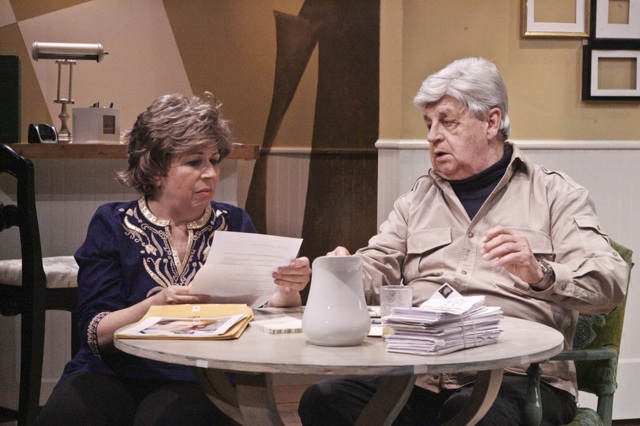 Assisted Living photo by Michael Lamont
Assisted Living is the story of Frank (Dooley, in peak form), a daytime television actor who, after playing the role of Doctor Dan for decades on Search for Our Lives, finds himself, his series, and his entire medium of daytime soaps, facing an uncertain future. His longtime girlfriend/makeup artist, Emily (Holzman) is running out of steam trying to keep their world afloat.
Enter Heather (played with great awkward panache by Holzman), a frumpy, tortured, repressed soul with an ailing father (also played by Dooley) in a nursing home. Equal parts pathos and hilarity, Heather has little to rejoice about except for her adoration with Search for Our Lives' Doctor Dan. She puts pen to paper and innocently writes her TV hero a fan letter, creating a poignant, unfolding ripple effect in the lives of these characters and beyond.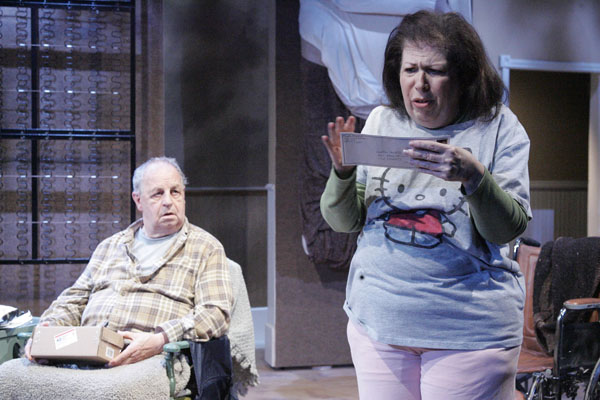 Photo by Michael Lamont
As a longtime admirer of Holzman and Dooley, and a massive fan of All My Children, I was thrilled with the unexpected and touching tipping of the hat to Agnes Nixon's iconic daytime drama (i.e. Dr. Dan and company dwell in the Pine Valley-esque town of Cedar Gorge). Interestingly, as it turns out, Holzman and Dooley, had a famous castmember of the ABC soap lending her wisdom their way.
Jill Larson (All My Children's iconic Opal Cortlandt-Gardner) is a dear friend of mine. We went to acting school together. One reason we thank her is we wrote a draft and had her read it. We wanted stories from the trenches of daytime soap sets, and she gave us this line "They were pissed off at an actor and so they put him in a coma for six months." She said this really happened. She gave us all these little colors that helped make Frank's world real for us. There is a sort of pain when you've been on the show for a long time, the way Jill was, and then you see a young actor come in and be you, and do the kind of role that you did, but you are older and being relegated to being only on the show a few scenes at week at best, and almost like wallpaper on the set. And so in the play, Dr. Dan has been put into an insane asylum and people visit him once in a while. Jill's input was very inspirational to us.
Another friend of Holzman and Dooley's lending her creativity to the project is Catherine O'Hara who can be heard throughout the play as the voice of an actress on Search for Our Lives..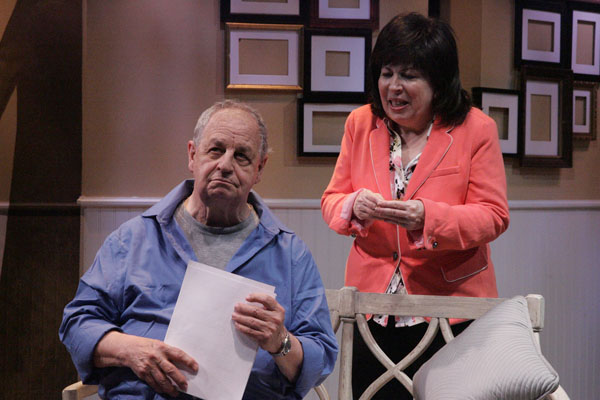 Photo by Michael Lamont
It seems only appropriate that accomplished writers such as Holzman and Dooley (whose writing credits include The Electric Company) would create a story that celebrates the very mystical, life-changing power of the written word. The idea for Assisted Living came at the beginning of Holzman and Dooley's marriage over a stack of unanswered fan mail on his desk.
Looking at those unopened letters killed me, and so I helped him answer them. Something that always touches me is that you don't really know the effect you are having in the world. You can just be yourself and somehow that makes a positive reverberation of energy. Actors on television play a part in millions of peoples' lives they'll never meet. We each play a part in each other's lives without knowing it. That's why we call it Assisted Living. It's a double meaning.
Though Holzman and Dooley wrote Assisted Living's first pages together when they were newlyweds, the project was shelved and forgotten about for 25 years, and only in 2012 did they stumble upon their original notes dotted with white out and typed out on onion skin paper. Last year, the couple were in New York City as Hurricane Sandy hit, and with nowhere to go, they buckled down and finally finished the play. Sometimes great pieces of original art take their own sweet time, as is the case with Assisted Living -- which should have Los Angeles theatre-goers sending a new batch of fan mail Holzman and Dooley's way.
Assisted Living is directed by Larry Biederman and runs until May 12 at The Odyssey Theatre (2055 South Sepulveda Blvd, Los Angeles, CA 90025)
Related
Popular in the Community