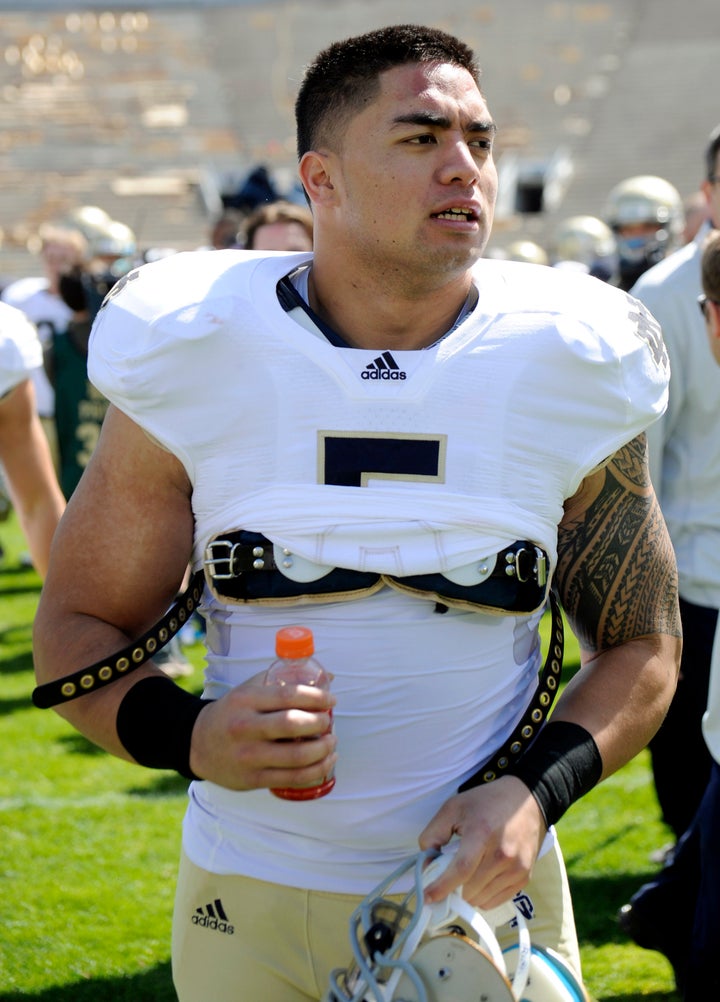 The Associated Press has issued a blanket correction for stories that referenced Manti Te'o's girlfriend.
The Notre Dame football player made headlines last year when his grandmother and his supposed girlfriend Lennay Kekua reportedly died on the same day. In January, it was revealed that Te'o's girlfriend never existed. Te'o claimed that he was the victim of a hoax, and a man named Ronaiah Tuiasosopo has spoken out as the person behind the elaborate scheme.
Associated Press is now asking editors to make the following correction to stories that mentioned the death of Te'o's girlfriend:
In a Sept. 15, 2012, story about Notre Dame's college football victory over Michigan State that highlighted linebacker Manti Te'o's performance, The Associated Press erroneously reported that he played in the game a few days after the death of his girlfriend, who had a long battle with leukemia. Other AP stories through Jan. 3, 2013, also contained references to the girlfriend's death, including some directly quoting Te'o and his father, Brian Te'o, about how he played through personal grief. On Jan. 16, Notre Dame officials and Manti Te'o said there was never a girlfriend or a death, and that Te'o was victimized in a hoax. Others have since come forward to say Te'o was duped in a series of phone calls and online messages purporting to be from a girl he never met in person.
Calling all HuffPost superfans!
Sign up for membership to become a founding member and help shape HuffPost's next chapter