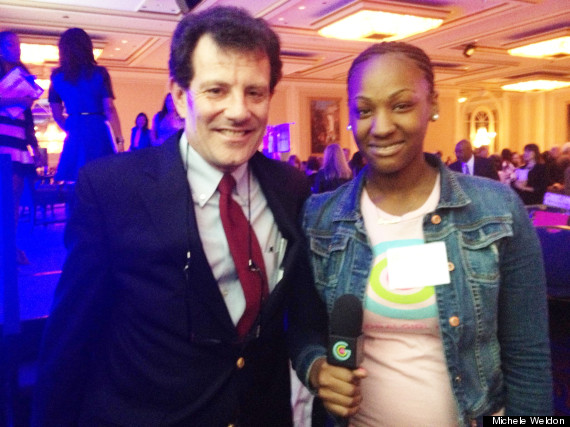 What better way to celebrate your 25th wedding anniversary than with 1,900 of your biggest fans?
Speaking about his work writing about and documenting girls in rural China and his fundraising efforts for girls education around the world, Kristof said, "When you invest in and target women and girls, it helps everybody."
It was then that on two large video screens in the cavernous, but packed ballroom of the Chicago Hilton & Towers, appeared the missive: "Women and girls aren't the problem. They are the solution."
When WuDunn took the stage, she touted familiar statistics of 85 percent board leadership filled by men in this country, the paucity of women in Congress and the lack of women in leadership everywhere. "We should be more ambitious than we are," said WuDunn, the first Asian American to win a Pulitzer Prize.
"We need to shoot for the moon and if we don't make it, at least we get to the stars," WuDunn said.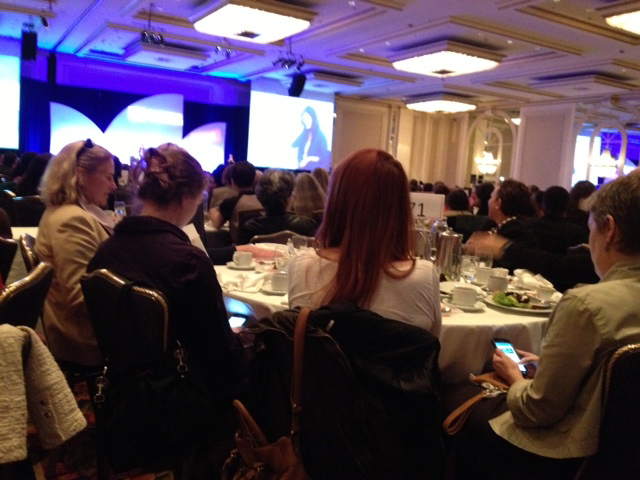 Earlier in the program, CFW president and CEO K. Sujata spoke about the $2 million awarded in grants to 140 programs for women and girls in Chicago. She spoke about the poverty rates for women citing 25 percent of U.S. households of four are headed by women earning $20,000 per year.
She described CFW programs offering free mammograms to women in low income neighborhoods in Chicago because "the mortality rates of women in some areas of Chicago for breast cancer are higher than in Nigeria."
Introducing another CFW program, Girl Forward, that helps young women from around the world who have recently immigrated to the Chicago area, Sujata said, "We can't leave 51 percent of the world behind."
A standing ovation for the afternoon was reserved for Katie Beck, a U.S. veteran and survivor of military sexual trauma, as she courageously described her violent ordeals of being raped multiple times on two occasions by fellow military enlistees.
"The military justice system must change," she said. Following an on-stage interview by Cheryl Burton of ABC Chicago, Kristof and WuDunn gathered their bags to depart, but not before agreeing to be interviewed on camera by Chicago teen Imani Turner of Global Girl Media.
It was a small gesture to demonstrate they indeed practice what they preach. Even on their wedding anniversary.
Related
Popular in the Community