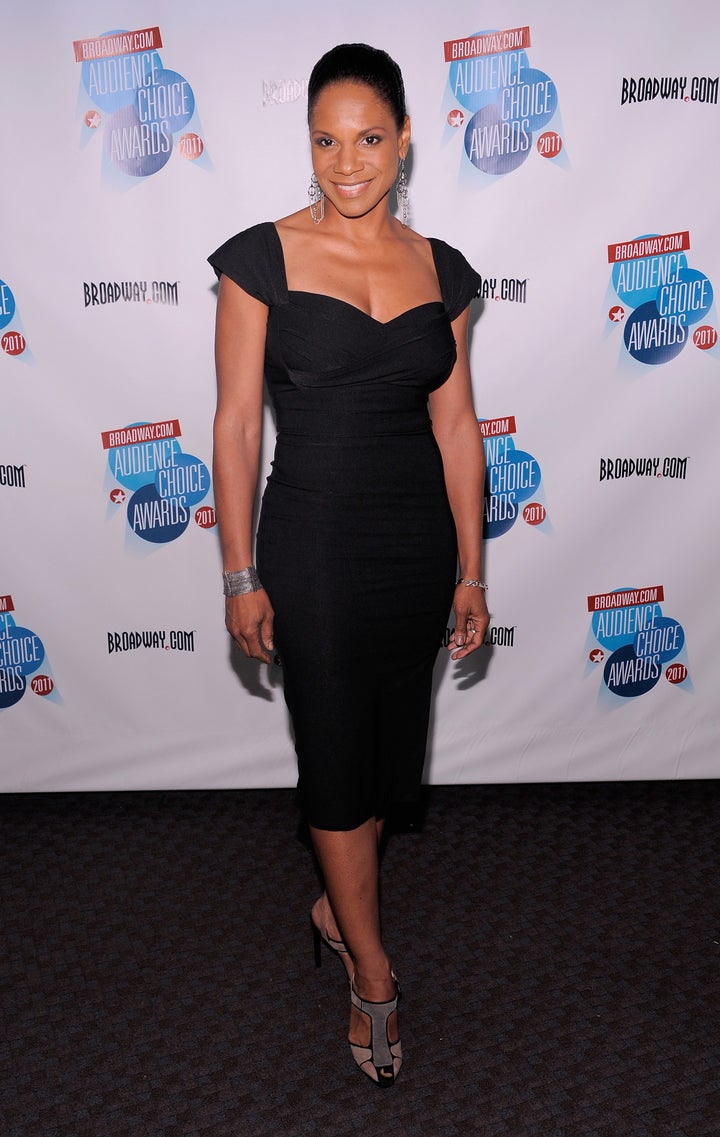 McDonald talked with The Huffington Post about her "Porgy and Bess" comments, her genuine love for the bluesy folk opera and how, on occasion, she just needs to kick off her heels.
What was your first encounter with "Porgy & Bess"?
I was a struggling student at Juilliard and a bunch of us were given tickets to the final dress rehearsal at the Met. There were a lot of African-American voice students from Juilliard and we got to go. And I sat there crying, overwhelmed, blown away by the music, the score, hoping that maybe someday I could play Bess. It was a full-on visceral, emotional experience.
So was it mostly about the music for you?
Absolutely. And knowing full well that it was one of the only operas out there about African Americans that I might have a real shot of being in. I felt an incredible love for it, and I still have incredible love for it.
What was your first reaction when you were approached by Diane Paulus and Suzan-Lori Parks to act in a new production of it?
I really looked at the play, and I felt like there were a lot of things about Bess that were two-dimensional -- things that were stereotypical and racist. I wanted to figure out a new way to get inside of this character to make her more human.
What has been the key element or change that has made Bess feel more than two-dimensional to you?
That's something I'm still struggling with on a nightly basis. It's the trickiest role I've ever played. It's important for me to stay truthful to what it's like to be a recovering addict, because first and foremost, that is what Bess is. Whether her addiction is men or happy dust, she doesn't believe she has the power to stand on her own two feet without something to lean on.
We are living in a very tough time for black folks in America right now -- how does it feel to step inside the world of 1930s black America? Would it feel different if things weren't so tough?
I'm focused mainly on who this woman is and how she fits into this community that helps her overcome her addiction. I've come to a place where I believe that Dubose Heyward and George Gershwin had the best intentions but lacked a full understanding of the African-American experience, because they couldn't possibly have a full understanding of it.
There's no reason, and especially in the '30s. It wasn't a time when races were really mixing. We were seen as servants, former slaves or an exotic group of people. So even when people say that George Gershwin went and hung out with black people for a while, I say, "That's great, you can hang out with them, but you're still not going to fully, truly understand the culture because you haven't lived it."
Why do you think there's been so much controversy surrounding the adaptation?
It's a part of history. What I'm most proud of about our particular version of "Porgy and Bess" is the fact that the Gershwin and Heyward estates approached Diane Paulus and Suzan-Lori Parks and said, "Can you help us re-imagine a version that will bring this piece into the 21st century?" And I think that part of that was about giving more of an understanding of these characters. Not that the opera isn't considered beautiful and glorious in its original form, but to give the piece finer lines so that there is more humanity to the characters, so that they aren't these broad stereotypes or archetypes.
Are there black people coming to see this show?
Yes. I mean, I'll be honest, there are more Caucasian people coming to see it. I know a lot of people who have issues with us "tinkering" -- and I'll leave that in quotes -- with the piece, though. People who say we should have left it alone.
But the people who are saying "don't tinker with it" aren't black, are they?
Sidney Poitier had issues with it. Grace Bumbry, the fantastic opera singer who played Bess, said, and I'll paraphrase, "I've come too far to go back to Catfish Row in this way." A lot of African Americans have struggled with this piece for a very long time, because here we are, getting a chance to perform in an opera written about black people -- and how many operas can you say that about, even now in the 21st century? -- and to play these characters and sing this beautiful music, and to have a job. But then there's the internal struggle of feeling like you're portraying a stereotype that is in some ways demeaning. For me, the hard part is when people outside of my race tell me I have no right to be offended by what's going on in "Porgy and Bess," you don't get it.
What are the grounds for someone white saying that to you?
The grounds are that I don't understand how the piece was meant to be written and understood and portrayed.
You must be excited to get back to something you know inside and out -- performing your music onstage.
I'm so excited! I love going out and singing and connecting with an audience. I love talking to an audience. Sometimes I tell them what I ate that day, or the fact that I tried with my hair and it's not really working. Or there have been nights when I have a really fancy pair of shoes on and halfway through, I have to tell them my feet are killing me and I really just need to take off my shoes. It's what I call the holy communion between a performer and an audience. I love that.
Calling all HuffPost superfans!
Sign up for membership to become a founding member and help shape HuffPost's next chapter