James, who hails from Toronto but now calls Brooklyn home, is the type of gal you instantly want to befriend. One look at her Instagram feed and you'll be awestruck by her down-to-earth beauty and style, as well as her love for travel and nature. In short, the former model agent and curator just oozes awesomeness.
With that said, I thought it's only right that we learn a bit more about James -- What's her beauty regimen? Who or what inspires her designs? What are her must-have travel items? She answers all those questions and more. Check it out...
HuffPost Style: I love your cool and causal approach to style. How would you define your personal style? Any favorite designers or inspirations?
Aurora James: My focus is really about being comfortable in what I'm wearing. A lot of what I wear is vintage or from designers I have relationships with. I enjoy knowing where things come from and that extends to most of what I put on my body. The hat I'm wearing in this photo was handmade by Dani Griffiths (a fellow Canadian) its from her line, Clyde. The necklace is Mikuti, and was made in Kenya. The dress is vintage and my wool socks are from a place called Canadian Tire, they sell them in the construction section in packs of 12 and I've grown up wearing these gems. Jane Birkin is definitely an inspiration of mine, she always looks wonderfully effortless. I reference really great editorials from past Vogue issues as well, there is nothing more iconic to me than certain fashion editorials.
HPS: Judging by this picture, your trips to Africa must be grand. What's the best part about working with artisans from the continent?
AJ: I am constantly enamored by the beautiful things some of the artisans I work with create. For every day spent somewhere like Giraffe Manor, there are 2 days spent in places like Kibera. I think there is a popular misconception that the streets in Kenya are just lined with all of these amazing artisans making traditional, cultural goods, which is far from the truth. You really have to seek out these people.
HPS: Do you just wake up like this? If not, please tell us how you achieve such a glowing complexion and amazing hair. In other words, what is your beauty regimen?
AJ: My secret weapon for skin was passed on to me from my grandmother. Every morning before my feet even hit the floor, I chug 1 liter of water. For moisturizers, I swear by Origins A Perfect World with SPF 25 and RMS Beauty's Raw Coconut Cream. For my lips, I'm a Nivea Cream addict - there is nothing better. In Winter I will alternate with cocoa butter also. I only use sulphate free shampoos and conditioners on my hair - I noticed a HUGE difference when I switched about a year ago and I wash my hair no more than once a week. I aim for every 10 days and I leave washing it to the pros. When I'm in Morocco I typically buy large bottles of pure argan oil, which I love for conditioning my hair and adding to my baths. If I'm suffering from flat hair I'll add a couple spritzes of Balmain texturizing salt spray -- Bam!
HPS: These knee-high gladiators for your Spring 2015 collection are amazing. Tell us about your design process and what inspires you.
AJ: I usually design 90 percent of the collection while I'm on the ground in Africa. I'll have lots of ideas and references before I get there but it's usually in the individual countries themselves that the collection takes shape. A lot of my inspirations come from natural materials - wood, plants, animals, linen, indigo. I love nature and I like to think our connection to the earth always shines through in the items we make. The artisans and their skills are also really inspiring. The beading on the gladiator was done by women for whom beading is their first and only source of income. We worked on the design together referencing traditional Maasai beading and it was such a pleasure.
HPS: The Brother Vellies adult shoes are dope, but they become beyond adorable when shrunken down for your children's collection. And we heard there is an extra special project centered around Brother Vellies Minis -- can you tell us about it?
AJ: I think everything is cuter when it's mini, isn't it?! We haven't started shrinking our sandals yet, but I think that's next! We use some of the proceeds generated from Minis sales to help pay for our artisans kids to go to school. Customers can also send back gently worn Minis that are then given to a child in need in the communities where our workshops are located.
HPS: Who's this little guy?
AJ: That's Cupid! He's been with me through a lot and is my best little friend. He's from LA.
HPS: We've never seen you in a pair of pumps. If we had a closet full of BVs then that's all we'd wear too. But do you ever wear heels?
AJ: Great question, I do! I did once this year, at a Morgan Lane event, I felt like it was appropriate. So yes, on one occasion in 2014 I wore heels. :)
HPS: Do you really have a hammock in the backyard of your Brooklyn apartment? If so, can I come over and chill in it?
AJ: Yes! I felt like the hammock was necessary. In the summer I can get in there, close my eyes and feel the sun which is amazing. Julee, you're always welcome! Bring fruit!
HPS: You often proclaim your love for socks. Are there any companies that other sock lovers should have on their radar?
AJ: I think the best socks are hand knit, wool socks. There is a Native American shop on the strip in Venice Beach that sells amazing socks. You will never ever regret buying a pair of those. I did a collaboration with The Selby where we had epic wool socks made, I'm thinking of bringing those back. You can never have enough wool in general - especially in this weather!
HPS: Since you're a world traveler, what are your top must-haves when on the go?
AJ: A poncho is a great travel companion actually. A good alpaca wool poncho will keep you warm, act as a great blanket on the plane and an ideal throw for a picnic spread. Other musts are a classic pair of Brother Vellies Erongos, they're collapsible so they fit in a carry-on perfectly and I wear mine with everything which everyone on my Instagram is bearing witness to! Luisa Marie Fernandez also makes the best swimsuits, which are a must, because you never know when you'll end up in the ocean.
HPS: What's next for Brother Vellies?
AJ: We're opening a store at 4 Fulton Street in lower Manhattan on Black Friday (November 28). It's a temporary space in the South Street Seaport but I'm elated about it. I think the brand is very environmental so building out our own space is a dream. I've been spending a lot of time upstate searching out salvaged materials for the space. Its going to smell like my favorite things -- wood, leather, sweetgrass and coffee. I think the trick will be figuring out the line between enough plants and too many plants. Julee, I might need you to come by for a second opinion!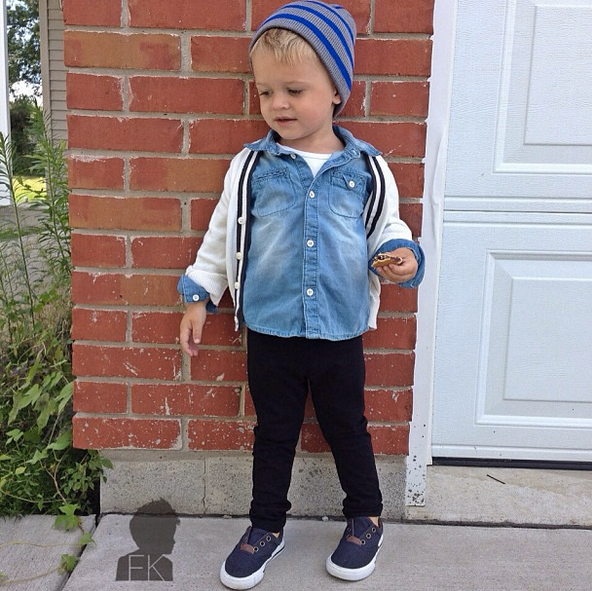 Fashion Kids, Instagram's Youngest Style Stars