WASHINGTON -- Classified advertising website Backpage filed a lawsuit against an Illinois sheriff's office on Tuesday, alleging the sheriff had convinced major credit card companies to stop processing payments for listings on the site, therefore violating the free speech rights of its users.
The suit comes less than a month after Cook County Sheriff Thomas Dart sent a letter to the CEOs of MasterCard and Visa, in which he argued Backpage plays a role in furthering sex trafficking in the U.S. by hosting thousands of ads for prostitutes.
Both companies ceased processing payments made on the site within days of receiving Dart's letter. American Express had stopped allowing payments to Backpage's adult category earlier this year.
The lawsuit, first reported on by The Wall Street Journal, accuses Dart of using the power of the sheriff's office to compel the card companies not to do business with Backpage.
The suit alleges that Dart "not only infringed Backpage.com's rights to publish and distribute speech, but the rights of millions of the website's users to post and receive protected speech."
"Sheriff Dart's actions to cripple Backpage.com and all speech through the site are an especially pernicious form of prior restraint," it continues. "He has achieved his purpose through false accusations, innuendo, and coercion, whereas, if he had brought suit directly or Cook County had attempted to pass a law to shut down the website, Backpage.com would have had a fair opportunity to respond and defeat such efforts, given well-established law."
The company is seeking damages to make up for the lost revenue from ad postings, as well as compensation for the value of lost goodwill and punitive damages.
"It is regrettable that Backpage has dedicated so many resources to lawyers and lobbyists when they could be partnering with law enforcement to seek justice for sex trafficking victims," Cook County Sheriff's Office spokesman Benjamin Breit said in a statement to The Huffington Post.
The lawsuit escalates what has been a long-simmering feud between law enforcement and the company.
Ever since Craigslist stopped posting ads for "adult services" in 2010, Backpage has been the undisputed industry leader in online prostitution ads. The site published over 1.4 million adult services ads in the U.S. in April of this year, according to the Cook County Sheriff's Office. The classified site argues it is not responsible for the ads its users post.
"For years, Sheriff Dart has laid out to Backpage the numerous instances where pimps and traffickers have used their site for criminal purposes and attempted to negotiate in good faith with Backpage's management to find common ground and put traffickers behind bars," Breit said. "Unfortunately, this outreach was met with little more than delaying tactics and empty promises."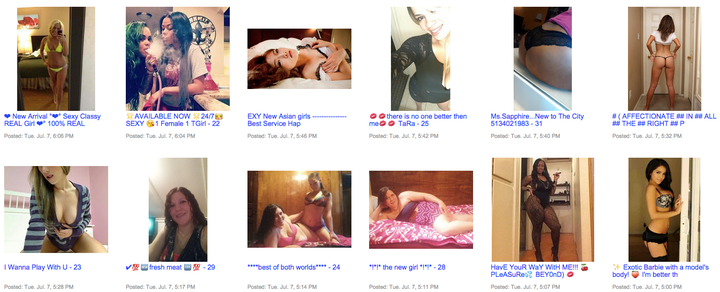 It's easy to see how cutting off credit card processing could seriously dent Backpage's profit stream. All told, revenue from ads for adult services tops more than $100 million per year for the company, Cook County reports.
When HuffPost attempted on Tuesday to post a dummy ad in the adult services section of Backpage, the only payment option available was Bitcoin.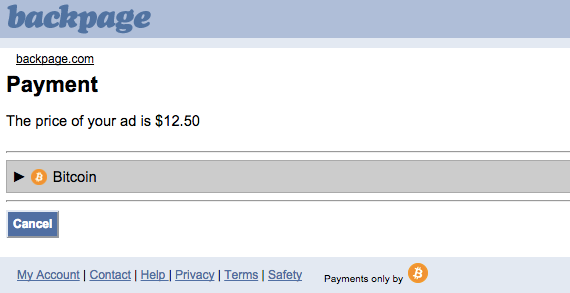 Liz McDougall, a lawyer for Backpage.com LLC, told The Wall Street Journal the goal of the lawsuit "is to ensure that one elected official, particularly a county sheriff, cannot dictate what speech is or is not appropriate." Backpage is headquartered in Dallas, Texas.
This article has been updated to include a statement from Cook County Sheriff's Office spokesman Benjamin Breit.
Popular in the Community