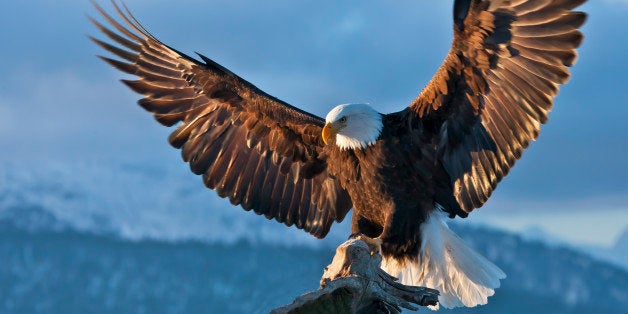 Bald eagles are making headlines again, as proven by NPR's recent story about the birds' amazing recovery in Chesapeake Bay.

"Today more than 10,000 eagle pairs nest each year across the Lower 48, and many more in Alaska. And nowhere is their comeback more dramatic than along the James River, where they once again dominate the avian scene," writes Elizabeth Shogren.

bald eagle"Forty years ago, we probably would not have seen a single bald eagle here," says Bryan Watts, a conservation biologist at the College of William and Mary in Williamsburg, Va. "A prime contributor to their disappearance in this region was located just upriver, where Bailey Creek meets the James. In the 1960s and 1970s, Allied Chemical Corporation produced a pesticide called Kepone (chlordecone) at its plant in Hopewell, Va."

This is a familiar story across a nation where pollution and pesticides nearly wiped out the species in the United States. The bald eagle was on the endangered species list for decades, and massive recovery efforts were put into place to bring the national symbol back. It was delisted in 2007, and stories of its recovery have continued to be a source of celebration from Glenwood, Iowa to Chicago to Sandy Island Eagle Sanctuary in Missouri. The fascination with watching this species come back with vigor has been equally as wonderful as witnessing the recovery itself. Some efforts to help endangered species recover can be controversial, but the recovery of the bald eagle has been a story everyone can get behind. A bald eagle nest cam in Decorah, Iowa brings in millions of viewers every season as the parents hatch their chicks. It's not often a livestream angled on a bird's nest gets that kind of viewership!

The conservation effort has not been easy and is still a challenge in some areas, such as the Channel Islands off the California coast. Bald eagles once called these islands home but disappeared with the emergence of the pesticide DDT. In addition, humans changed the ecosystem there by introducing invasive species. Restoration efforts have included removing the alien species and helping native species, such as the endangered Channel Island fox, recover. A program for reintroducing bald eagles that started in 2002 has been a success, with 2010 seeing a record-setting 15 wild chicks hatched. But the reintroduction of bald eagles to their historic habitat on the islands presents a new concern: bald eagles may see endangered foxes as a prey source, should their preferred marine prey of fish decline. Right now, it is simply a tenuous wait-and-see game for the foxes as eagle numbers rise.

And there are other variables. TreeHugger reported in early 2012 on a new danger the bald eagle species faces. "The culprit is a neurological disease known as avian vacuolar myelinopathy (AVM) that causes brain lesions and impaired motor skills that ultimately result in death. First observed in Arkansas in 1994, instances of the condition have steadily increased and spread across the country." The culprit seems to be blue-green algae, which becomes concentrated in the eagles' prey. The next steps will be watershed management to minimize exposure to the algae.

While there are many dangers that still face the bald eagle, the incredibly successful recovery over the last several decades is a conservation story to champion — and one to instill hope for other endangered species whose recovery is still underway.
Calling all HuffPost superfans!
Sign up for membership to become a founding member and help shape HuffPost's next chapter
BEFORE YOU GO
PHOTO GALLERY
The World's Most Threatened Species