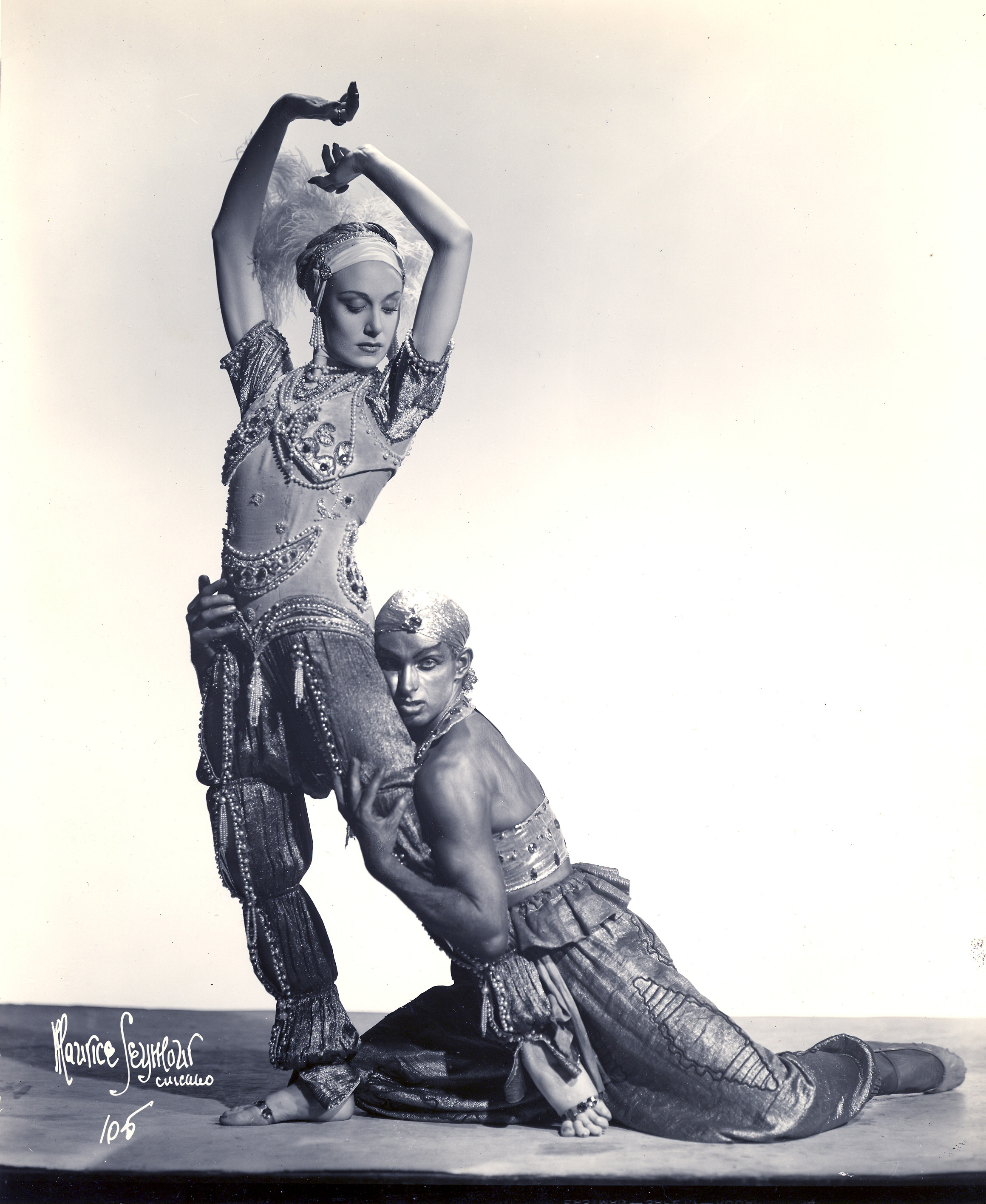 Frederic Franklin as the Golden Slave in Fokine's Schéhérezade, with Jeanette Lauret as Zobeide. (Photo: Maurice Seymour, courtesy Ronald Seymour)
The dance world lost a ballet great of the 20th century earlier this year, and American Ballet Theatre, with whom he performed into his 90's, is throwing a big bash in his honor. The public is invited to celebrate the extraordinary life of the much-loved Frederic Franklin - known in the dance world as Freddie - on Monday, October 14th, at 4:30 p.m., in the Concert Hall at LaGuardia High School for the Performing Arts.
The memorial program includes film tributes and performances by several ballet companies with whom Franklin had close ties - including excerpts from Coppélia by Richmond Ballet and American Ballet Theatre, and Gaîté Parisienne by Tulsa Ballet. Luminaries including Arthur Mitchell, Ivan Nagy and Ben Stevenson will share their memories of the charismatic dancer and ballet master, who not only thrilled audiences but played a major role in ensuring the vitality of the art form across America, through his artistic direction of several regional companies, his sensitive staging of ballets both new and in revival, and his generous, spirited coaching of several generations of dancers.
At the height of his performing career, British-born Franklin was a leading dancer with the legendary Ballet Russe de Monte Carlo. Renowned choreographers including Bronislava Nijinska, Agnes de Mille, George Balanchine and Frederick Ashton created leading roles for him, and Franklin partnered all the great ballerinas of the era including Alexandra Danilova, Alicia Markova, Mia Slavenska, Tamara Toumanova, Moira Shearer, Yvette Chauviré, Maria Tallchief, Alicia Alonzo and many others. When World War II left the Ballet Russe stranded in America, they toured extensively, winning the devotion of audiences in many American cities, including many who had never previously seen ballet. The dashing, versatile Franklin was much in demand - defying typecasting, his roles ranged from the Prince in Swan Lake to the Champion Roper in Rodeo and Stanley Kowalski in Valerie Bettis' gripping adaptation of A Streetcar Named Desire.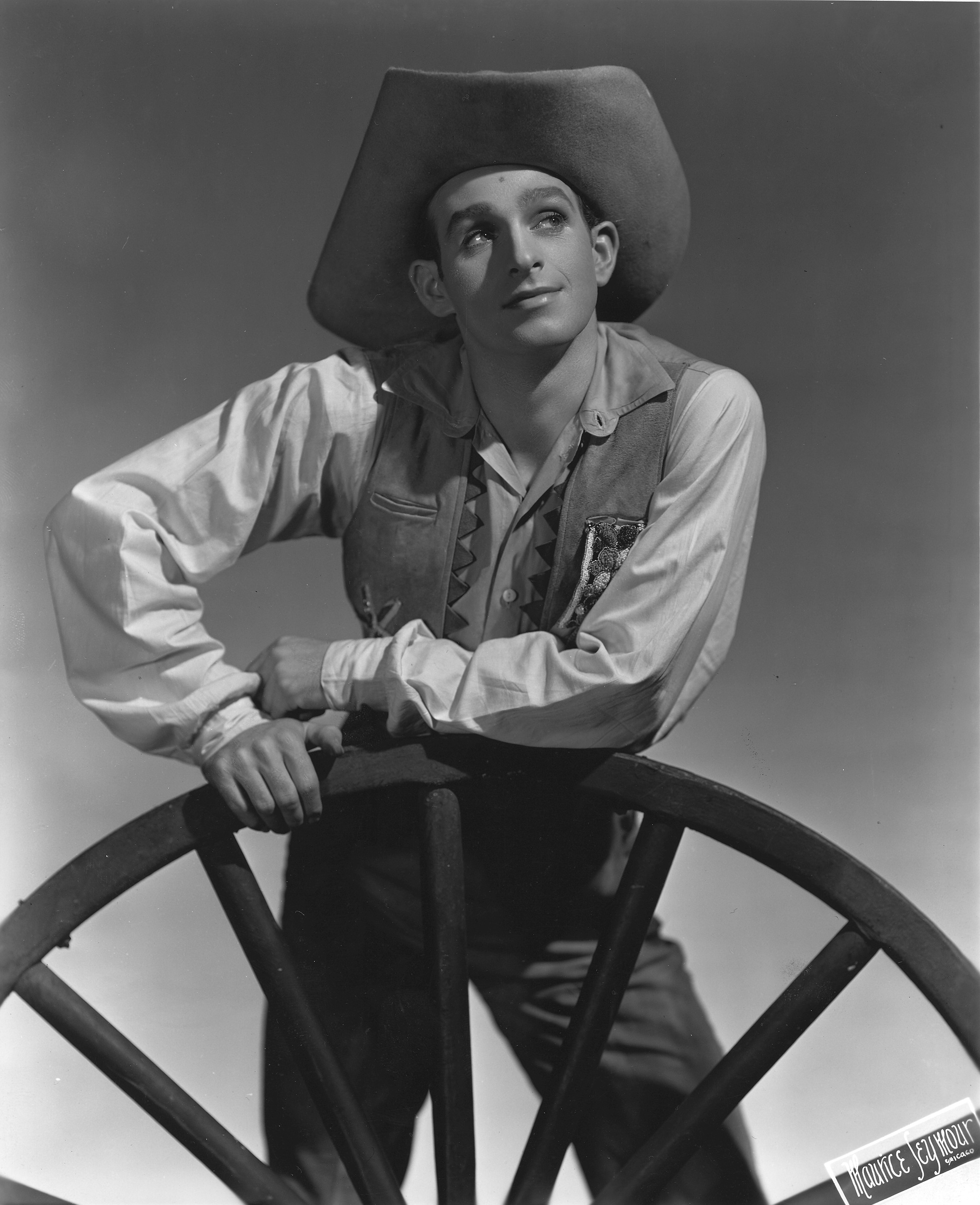 Frederic Franklin as the Champion Roper in Agnes de Mille's Rodeo (Photo: Maurice Seymour, courtesy American Ballet Theatre)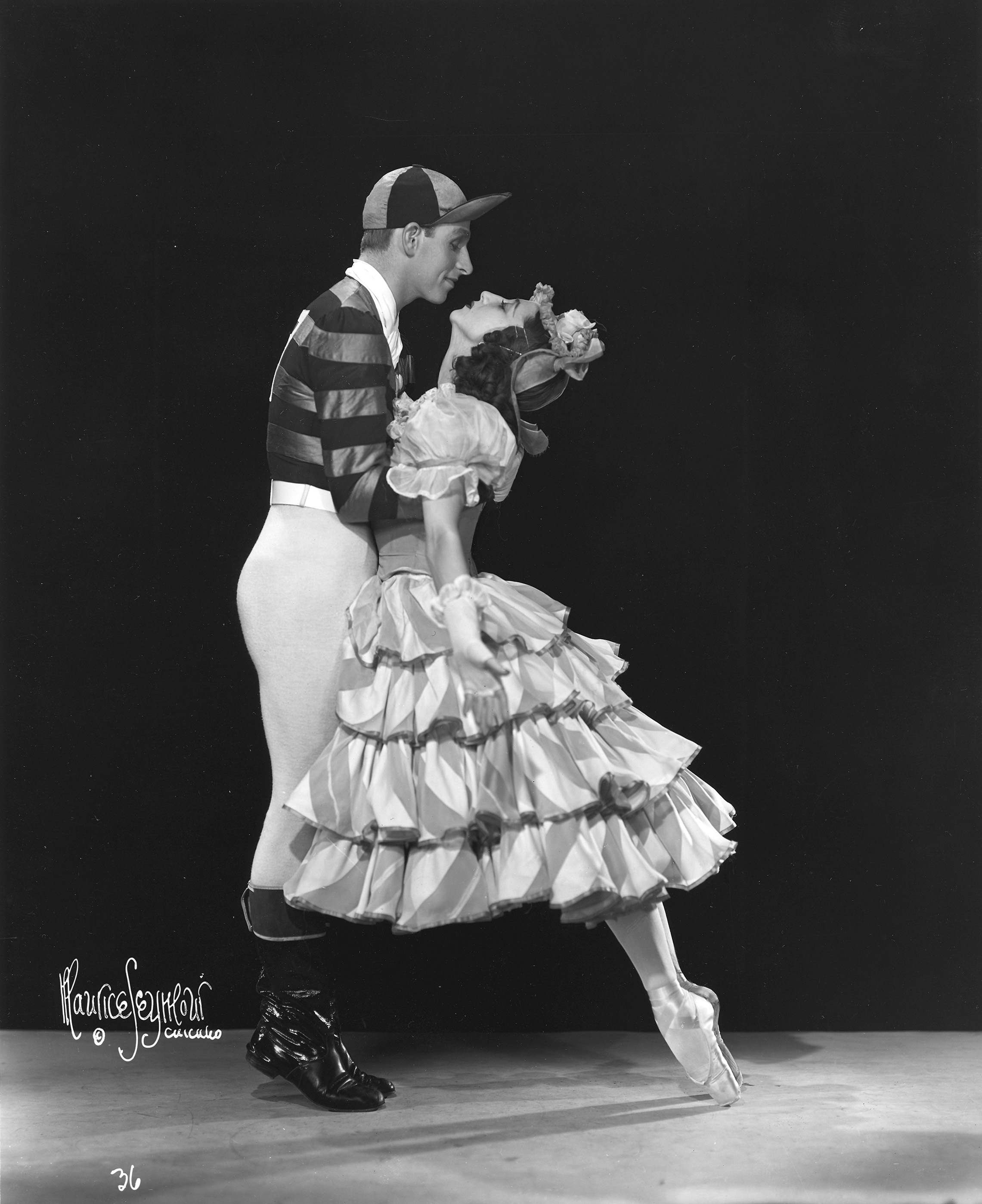 Frederick Franklin and Alexandra Danilova of the Ballet Russe de Monte Carlo in Saratoga by Léonide Massine (Photo: Maurice Seymour, courtesy Ronald Seymour)
60 years later, during the Frederick Ashton centenary celebrations at the Royal Opera House in Covent Garden in 2004, Clement Crisp tipped his hat: "Then a rarity. In 1939 Ashton prepared Devil's Holiday for the Ballet Russe de Monte Carlo. War broke out, the company decamped to America, and Ashton never saw his ballet in performance. But Frederic Franklin, who played a leading role, has recreated his own brilliant solo and a duet he shared with the divine Alexandra Danilova. Aged 90, and still working, he has made us this gift - admirably danced by Viacheslav Samodurov and Isabel McMeekan. And what joy to see Franklin take a curtain call, vivid in manner as when we last saw him at the Opera House with Danilova in 1948."
In the intervening period, Franklin had relinquished the princely roles but had hardly slowed down. He co-founded the National Ballet of Washington in 1962 and directed it until it disbanded in 1974. He served in various artistic advisory and directorial capacities to Dance Theater of Harlem, Cincinnati Ballet, the Washington Ballet, the Oakland Ballet, the Tulsa Ballet, Pittsburgh Ballet Theatre and others. For these companies he restaged many of the classics from the Ballet Russe era, breathing fresh life into them. For DTH, he staged Giselle, preserving the classical choreography but imaginatively resetting it in the Louisiana bayous. American Ballet Theatre's current production of Coppélia was staged by Franklin, and it was at Artistic Director Kevin McKenzie's urging that he returned to the stage in the 1990's. He appeared onstage with ABT as the Charlatan in Petrouchka, Friar Laurence in Romeo and Juliet, the Tutor in Swan Lake and Madge the Witch in La Sylphide.
He last performed with ABT at the Metropolitan Opera House at Lincoln Center three years ago in Romeo and Juliet, at the age of 95.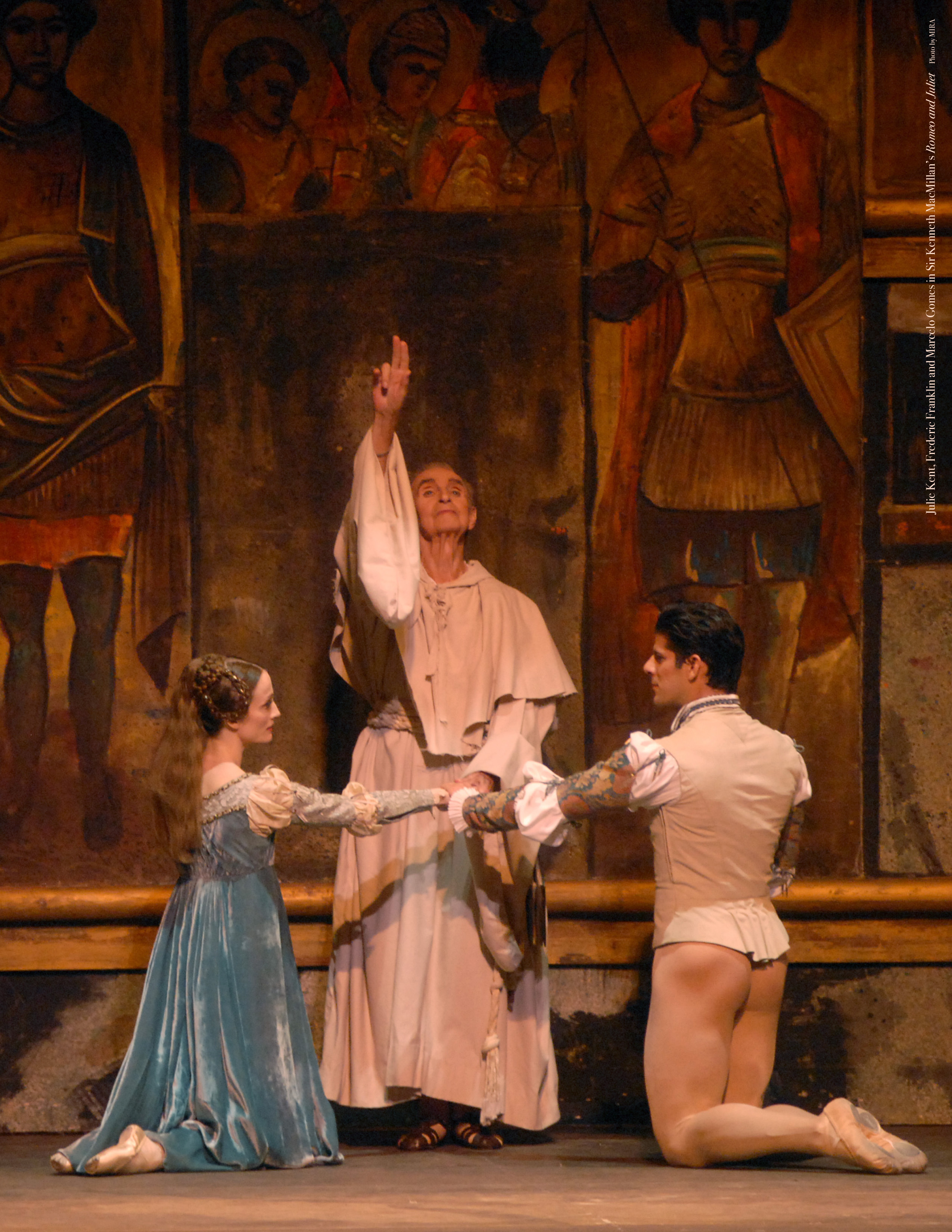 Frederic Franklin as Friar Laurence, with Julie Kent and Marcelo Gomes in American Ballet Theatre's Romeo and Juliet (Photo: MIRA, courtesy American Ballet Theatre)
Franklin's many awards include both the Capezio and Dance Magazine Awards, the Laurence Olivier Award for the Dance Theatre of Harlem's Creole Giselle, and a CBE in Queen Elizabeth's 2004 Birthday Honours.
Reflecting on Franklin's legacy for Dance Magazine, ABT dancer Sascha Radetsky wrote: "Freddie was a rare artist and a bona-fide dance pioneer, but he was something still more impressive: a once-in-a-generation human being. He looked at life in a positive light, and could align others--at least momentarily--to this worldview with just a greeting, anecdote, or embrace. He could cheer a young dancer disappointed with a performance, compel the overly serious choreographer to smile, or elicit laughter from the most temperamental ballet star."
Radetsky highlighted in particular Franklin's far-reaching influence on young male dancers. When he was growing up in Liverpool in the 1920's there were few opportunities for British men in ballet; though Franklin's love for dance was ignited by the great Russian and European ballet stars, he was always the only boy in ballet class ("like many of us," wryly notes Radetsky.) Franklin's career started in cabaret, eventually taking him to Paris where he performed with the fabled Josephine Baker ("We boys were at the bottom of the stairs while she made her entrance, topless," he recalled.)
Franklin once commented on the dearth of great choreography today: "In the past, Massine would do four ballets a year. Nijinska would do two or three. Look at Mr. B [Balanchine]. Ballets came out of him like sausages. It's regrettable because there are wonderful dancers capable of doing all kinds of things. They're crying out for roles."
His talent, wit and charm are sorely missed.
The Frederic Franklin Memorial Celebration is free and open to the public. LaGuardia High School for the Performing Arts is located at 100 Amsterdam Avenue, New York, New York.
REAL LIFE. REAL NEWS. REAL VOICES.
Help us tell more of the stories that matter from voices that too often remain unheard.