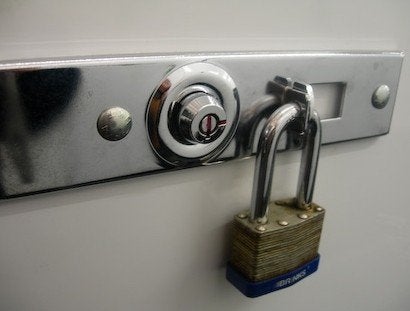 Nancy Jacobini had applied for a mortgage modification when JPMorgan Chase broke into her house and attempted to change the locks on Sept. 28.
"I'm locked in my bathroom," said Jacobini during a 911 call. "Somebody broke into my house!"
It turned out the bank wanted to secure the property even though Jacobini was not in foreclosure. She had applied for a modification via the Obama administration's Home Affordable Modification Program, which gives mortgage servicers cash incentives to reduce monthly payments for eligible borrowers. But she paid a shady company to do the application for her and doesn't know its current status.
Jacobini said she is only three or four months behind in making payments on the Orlando home she's lived in for the past 15 years after losing her job in 2009. A Chase spokesman told HuffPost that the bank has reached out to Jacobini to apologize for trying to change her locks.
Consumer advocates say the mistaken lock-changing attempt by Chase is a symptom of a foreclosure fraud problem that has led the country's largest banks to temporarily halt foreclosures nationwide. Rep. Alan Grayson, a Democrat who represents Orlando, staged a press conference at Jacobini's home. "My constituents, and many other hardworking people across the nation, are being outright bullied by a gang of greedy and reckless foreclosure firms," he said.
A top bank regulator told HuffPost on Friday, however, that the fraud is limited and is not directly harming homeowners. "The core issue remains the improper completion and submission of paperwork required by state law before foreclosing on seriously delinquent borrowers when alternatives to foreclosure are not possible," said a spokesman from the Office of the Comptroller of the Currency. The Obama administration is resisting calls for a national foreclosure moratorium.
Consumer advocates say mortgage servicers like Chase are bungling paperwork for seriously delinquent borrowers and barely delinquent borrowers alike. And they say HAMP, which launched in 2009 with the goal of modifying mortgages for three- to four-million homeowners, has exposed the problem. More people have been bounced from the program than have received "permanent" five-year modifications, according to government data, and stories of mortgage servicer incompetence have piled up.
Jacobini told HuffPost she paid $2,000 in April to have a company called American Home Plan send in her HAMP application, which included tax forms and other financial documents. Upfront fees for help with mortgage modifications are a hallmark of scam artists, and they're illegal in Florida. But Jacobini said she received a confirmation from Chase that the bank had received an application.
"It just basically said that 'We know American Home Plan is now representing you,'" said Jacobini, 50. "When I got that I thought, 'OK.'"
She doesn't know the current status of her modification request. Her lawyer, Matt Weidner, told HuffPost that American Home Plan said Monday that the HAMP application is still in-process. An employee said Monday that the company does HAMP modifications but wouldn't answer other questions. Chase declined to comment on the modification.
"They were supposed to have an answer for me at the end of August," said Jacobini. She told HuffPost she decided to use the company because she felt she could not get reliable answers from the bank itself. "It was very hard to get somebody that would make the final decision. Everybody would pass the buck. They were very hard to talk to."
"I thought that [American Home Plan] had a better understanding and better knowledge in doing it," she said.
Popular in the Community