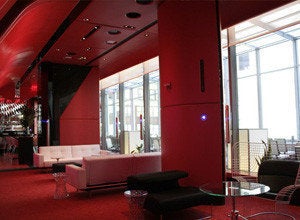 Basque food has gained worldwide recognition for being the bomb, but then again so has the entire region. Visit the Basque culinary scene from the relative safety of NY, at Bar Basque.
The most recent project from Jeffrey Chodorow, BB's chef backed up his Michelin starred apprenticeships with extensive travels through Spain's Northwest, returning to open a space that starts with long red hallway with curved walls evincing a futuristic space cave, leading to a bar backed by glowing glass panels, and ending with a (retractable) glass enclosed dining terrace overlooking a courtyard w/ a giant outdoor movie screen stuck to the adjacent building, perfect for your dinner with Andre.
Authentic eats come as bite-size pinxtos (spicy fried olives, creamy cod-stuffed grilled peppers...), apps like diver scallops w/ truffled cauliflower/crispy jowl/lardo, and entrees from crispy suckling pig on potato & 'shroom risotto, to creamy sweetbread-/lamb shoulder croquettes-sided baby lamb chops (so delicious you won't want to Shari it with anyone).
The similarly regional cocktail program has a serious G&T bent, with specialty gins infused with combos like rosemary/chili, cantaloupe/grapefruit, and sweet lime/coriander, and there're even 'tails inspired by Spanish chefs like Joan Roca, whose namesake margarita's abetted by Laphroaig 10yr, and comes rimmed with smoked salt, also an upcoming collab between Angelina Jolie and Chong.
Capping it off's a Spanish-heavy vino list centered around a 30-plus-variety automatic wine dispensing station that requires you input a card and select between a 4/7/15 dollar sized pour, though avoid too much of the latter, lest you discover you can get totally bombed in NY.
Bar Basque, 839 6th Ave, btw 29th and 30th St; Chelsea; 646-600-7150.