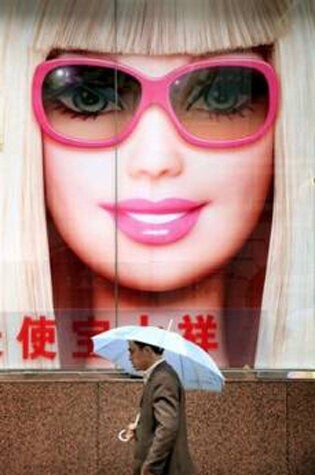 HONG KONG -- Tall, blond, impossibly large breasts. Barbie stands out anywhere, but in China, she really turns heads. And that, of course, is exactly what Mattel, the U.S. company behind the Barbie doll, wants.
On Mar. 6, Mattel is opening a six-story, 38,000-sq.-ft. Barbie superstore in Shanghai. In addition to dolls -- lots of dolls -- the boutique will feature a hair salon, a bar and a $15,000, adult-sized Vera Wang gown.
"This is not just a store for children" said Laura Lai, general manager of Barbie Shanghai. "Girls of all ages will love it."
Barbie's made-in-China makeover is part of a push to re-brand the iconic American doll on the eve of her 50th birthday. With domestic sales slumping, Mattel has set its sights on China, hoping to the weather the financial storm in the relative calm of the country's vast -- and comparatively untapped -- consumer market.
The plan is to turn America's favorite doll into fashion fodder for China's upwardly mobile, trend-setting elite. By moving up-market and focusing on Barbie-branded merchandise, the company hopes to widen profit margins and attract a new demographic: Chinese women.
Summer Wang, an assistant at a film production company, certainly will. "Barbie is beautiful like a princess," she said. "And every Shanghai girl wants to be a princess."
For Wang, Barbie represents affluence and glamor. She wanted the doll as a girl, but her family could not afford it (the doll retails for about 60 yuan, or about $9, in Shanghai). Now, at 24, she plans to visit the store to get a Barbie-style makeover.
Meina Wang (no relation), a 27-year old cosmetics entrepreneur who favors foreign brands like Hello Kitty and Disney, shares the sentiment. Barbie has great style, she said. Though Wang's doll days are behind her, she is interested in Barbie-branded clothing and cosmetics.
Not everyone is sold. For almost a decade, Yu Sai Kan, a Chinese-American television host turned entrepreneur, has been selling "Yu-Sai Wa Wa," a doll she touts as an Asian alternative to Barbie.
Kan, a veritable cultural force in China, did away with Barbie's blue eyes and blond hair. Her dolls look Chinese, but share Barbie's passion for fashion and her thin frame.
Xiaoming Ai, a professor at Sun Yat-sen University, says brands that target women often push a "discourse of modernity" that commercializes the female body. Advertisers urge women to spend their way to a perfect form, while analysts say a lack of public discussion on sex and gender here makes it hard for alternative perspectives on femininity to emerge.
Professor Ai, for one, is not focused on battling Barbie. She has other concerns, she said, such as domestic violence, sexual assault and the broader fight for civil and human rights in China.
Meina Wang also downplays the risk of Barbie backlash. "This is an issue for American ladies, who are worried that they are not as skinny as Barbie. We just don't really think about it like that."
But that doesn't mean Barbie's looks aren't part of the equation.
Meina Wang lists Barbie's light skin and round eyes as her most desirable attributes. The Barbie Shanghai website features few Chinese faces. And at the new store, 'Shanghai Barbie' and 'Shanghai Ling,' two dolls will with "Chinese touches," will account for 10 percent of the stock.
"Our research shows that Chinese women want a blond doll, that they expect a blond doll because Barbie is American," said Lai, the general manager.
Whether the preference for light-skinned dolls stems from a fascination with American pop culture, or from a long-standing liking for light skin, (hence the popularity of skin whitening creams in China) is up for debate.
What is clear, says M.G. Lord, author of "Forever Barbie: The Unauthorized Biography of a Real Doll", is that Mattel runs into trouble when it deviates from the classic Barbie script. Dolls whose bodies, skin and hair look more realistic are not as popular. And no matter how many multi-hued sidekicks they design, the original Barbie wins out.
The point, Lord says, is not just that Barbie doesn't look like Chinese women, but that she doesn't look like any woman -- and never has.
Barbie is a caricature, the stuff of storybooks. And she'll tell whatever tale a Shanghai princess wants to hear.
Calling all HuffPost superfans!
Sign up for membership to become a founding member and help shape HuffPost's next chapter