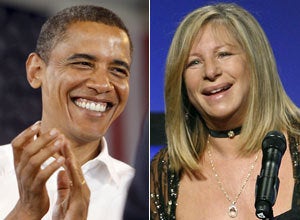 Singer-actress Barbra Streisand, who originally endorsed Hillary Clinton in the U.S. presidential primary race, has jumped on Barack Obama's bandwagon with both feet to sing for the newly anointed Democratic nominee at a Beverly Hills fund-raiser next week. Organizers say the hurriedly planned Sept. 16 event will probably mark Obama's final stop on the Hollywood political money trail before the November election.
According to political consultant Andy Spahn, a co-host of the fund-raiser, the evening will begin with a dinner for the Illinois senator and about 250 guests at the landmark Greystone Mansion in Beverly Hills. Dinner will be followed by a reception in Obama's honor at the main ballroom of the Beverly Wilshire Hotel, featuring a performance by Streisand and others. The ballroom holds a crowd of up to 800 people.
Seats for the dinner and reception together go for a whopping $28,500 per person, but supporters who just want to hear Babs sing for Obama can get in for as little as $2,500 per ticket, Spahn said. At those prices, the two-part event could bring in nearly $9 million, making it the biggest single Democratic fund-raiser for the current election cycle. The money would be divided between Obama's campaign and the Democratic National Committee.

KEEP READING
REAL LIFE. REAL NEWS. REAL VOICES.
Help us tell more of the stories that matter from voices that too often remain unheard.