Kudos to the Pittsburgh Pirates for teaching us ladies the precision of pitching and the biomechanics of batting! The 5th Annual "Baseball Basics for Women" took place on March 13 -- the ides of spring training -- at McKechnie Field in Bradenton, Florida.
Armored in athletic gear -- ranging from bright yellow knee-high socks to golden visors with the Pirates "P" -- and mitts galore, we never-to-be-drafted females were excited to master baseball, even for simply one evening. Athletic trainer Ben Potenziano led a group of us 50 females -- some fitter than others -- to a much needed stretching session out in right field. We stretched our wrists, shoulders, legs and bums, with the gulf coast's setting sun behind us...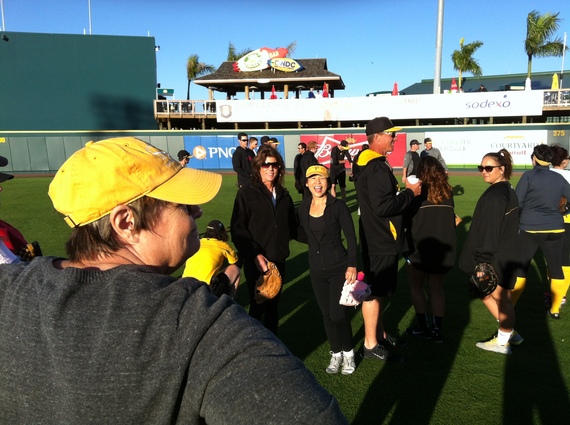 After being drafted onto teams of different hues, our "red team" members dashed like gazelles to the first base dugout. We listened intently to two Pirates players: Adam Landecker and six-foot-five pitcher Zach Von Rosenberg. Drafted after college, Adam emphatically said "I'm a rookie" with such pride and joy -- and we women were so happy that he made the "team." Von Rosenberg educated us about the ranks of Minor League Baseball and how the Pirates train in Florida's Grapefruit League, West Virginia, Altoona, Indy and then advance to Pittsburgh.


The next destination was home plate. Dick Vitale look-alike Coach Dave Jauss charmed us with "bunt," "steal," and even "hit and run," along with Australian pitcher Sam Kennelly. Third base coach Nick Leyva would have been proud of Jauss' hand swiping, bent-arm gesturing and nose-tapping charades. Soon we got to run the bases with glee. I rounded first base as if I hit a home run. We all mimicked our home plate arrival as if sliding, hopscotching or even diving!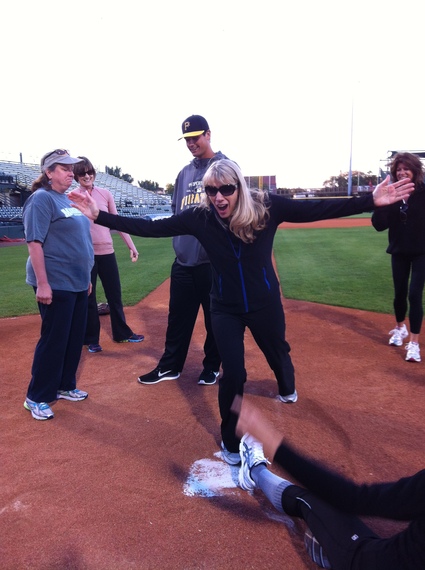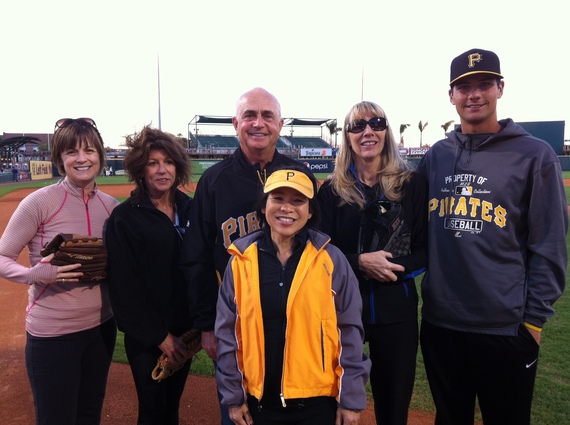 A makeshift batting cage was our third adventure. Yes, we whacked away and then learned where the sweet spot is on the bat, as well as the stay-away spots where you'd split the wooden bat.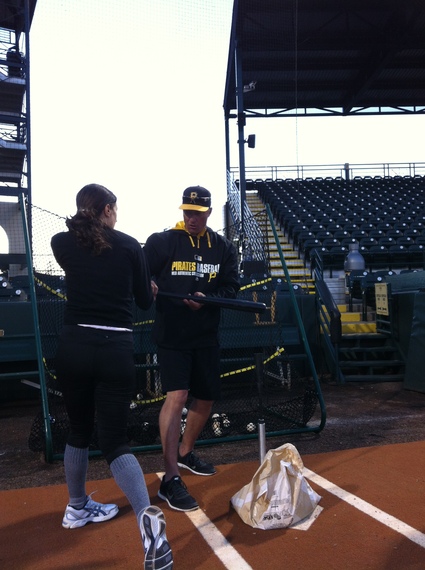 How can we forget the handsome young outfielders with their effervescent smiles?! Quincy Latimore, Jeff Roy and Jacoby Jones introduced themselves and then drilled us with ground balls, pop flies and more pop flies. Centerfielder Jeff Roy's name was emblazoned in gold cursive letters on his mitt! Donning my pink kid-size mitt, I caught several balls; however, my returns were wimpy rather than blessed with a proud trajectory.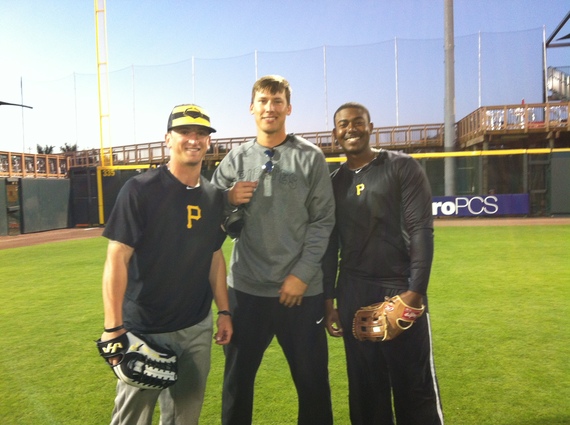 Once we landed in the home team bullpen, Venezuelan bullpen catcher Herberto "Herbie" Andrade taught us how to 1-2-3: step back, pivot and essentially wind up and throw! We curved our knuckles, created a "bunny rabbit" (our words -- certainly not his!) to hold the baseball and threw out our very own four-seam fast pitch. My aim curved to the right, while one woman's high throw deflected off the upper netting. Two sweet college girls on our team showed off their stuff... She pitched a whopping 60 feet and six inches -- the MLB distance between the pitcher's mound and the catcher at home plate.
After our teammate Robin Fernandez -- slated to sing the national anthem at a Pirates game -- asked what happens to our pitching arm during our wind up, Bench Coach Jeff Banister leaped into the bullpen and demonstrated how we needed to bend our thumbs down as we round out our hands and then arms. Our upright posturing, head turning and angelic sweep of the arms improved dramatically, once we picked up Jeff's Swan Lake-like gesturing.
We baseball aficionados were summoned to left field for our group photo -- an eclectic group of "black and gold." Then we headed to the right field boardwalk's tiki hut and snarfed down food catered by Gecko's. As the night drew to a close, each of us ladies left with a pink tote bag decorated with logos of the Pirates and Manatee Memorial Breast Health Center -- this year's beneficiary of the Baseball Basics for Women.

The Pirates even treated us to the March 20 night game against the Baltimore Orioles. That reunion led to fist bumps once we could translate the third base coach's goofy signals, pretend we can throw an 80-MPH four-seam fastball pitch, or imagine hitting the sweet spot of the Louisville slugger for the baseball to catapult over the warning track. We women of Baseball Basics truly navigated thru authentic techniques, appreciated the long competitive journey to become an MLB pitcher and departed McKechnie Field with insight about innings.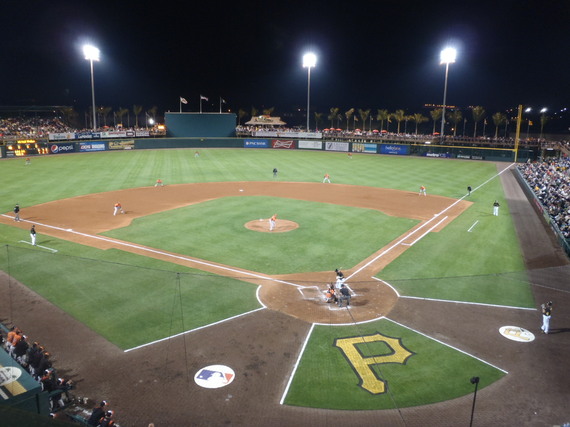 I tip my cap to Anne Putnam (Pirates coordinator) and Bench Coach Jeff Banister for orchestrating the coaches and players in teaching us the art of baseball finesse.