WASHINGTON -- Syrian President Bashar Assad, unpopular at home, suddenly appears to have many fans in the U.S.
Assad, who has killed thousands in his brutal four-year fight against protesters and internationally backed rebels opposing his rule, is receiving better press in the U.S. than he has in years, prompting concern among some observers of Syria's conflict -- including important American allies and lawmakers -- that the Obama administration is preparing to soften its demand that he relinquish power because it sees him as helpful in its fight against the Islamic State group.
Officials at the White House and State Department deny such a change in policy. They say President Barack Obama and his team continue to believe that Assad must go through political negotiations with the internationally recognized Syrian opposition.
Yet suggestions of a policy shift keep coming, playing into Assad's purposes as they threaten to divide the international community. They are particularly distressing, said one Western diplomat from a country involved in the fight against ISIS, because U.S. partners have not heard anything certain on how the U.S. sees Assad's removal being accomplished.
"We didn't have from the American authorities so far a sign as clear or as definitive about a change of policy [as] the one we read," the Western diplomat told HuffPost.
The recent spate of news coverage suggesting the U.S. may be more comfortable with Assad began with a New York Times report a week ago that noted a conspicuous change in Secretary of State John Kerry's phrasing about Assad. Kerry has regularly been endorsing Assad's removal, but he omitted that call in a Jan. 14 statement. Instead, the secretary spoke positively about a U.N. effort for ceasefires in Syria and Russian-led negotiations, both of which Assad's opponents see as beneficial for the dictator, and demanded that Assad take responsibility for his people, just as a less controversial leader might.
Leslie Gelb, the former president of the Council on Foreign Relations, added to the swirl of conflicting messages by publishing an essay Thursday in which he cited anonymous administration sources to suggest that Obama was personally open to cooperating with Assad. "There is a battle underway inside his administration," Gelb suggested, between supporters of the Syrian opposition groups that Obama endorsed in his State of the Union address and realists open to collaboration with Assad.
The Huffington Post has learned that Obama and his closest advisers privately demonstrated an unwillingness to directly threaten Assad as recently as last month, even though taking a step that could have done so would have provided the U.S. an important tactical advantage against ISIS: the use of a strategically located Turkish air base.
Diplomacy by retired Gen. John Allen, the envoy to the U.S.-led coalition fighting the Islamic State, and Vice President Joe Biden brought the U.S. close to securing an agreement with the Turks by early December. Under the deal, U.S. officials indicated to Turkey that the U.S. would meet Turkey's demand for help setting up a no-fly zone in northern Syria. The no-fly zone would ease pressure on moderate forces hostile to both Assad and ISIS, and would allow some of the millions of refugees currently living in southern Turkey to move. In exchange, the Turks would welcome U.S. jets to their base.
The Washington Post reported on Jan. 18 that an agreement had yet to be reached because Washington and Ankara could not agree on the geographical location of the no-fly zone. The Turks pushed to have it closer to a rebel stronghold Assad is trying to capture, Aleppo. The Post's story suggested that "the White House agrees that Assad's departure is an important goal" even as it focused on ISIS.
But sources familiar with the matter have now told The Huffington Post that the deal seemed doomed from the start: Gen. Allen was told that top administration officials would not budge on the idea of a no-fly zone if it would provoke a fight with Assad, and that he had to convey that message to the Turks, costing him credibility.
That revelation bolsters the skepticism about Obama's approach to Assad. The White House deferred questions about the incident to Allen's spokesperson, who did not respond to a request for comment.
Media reports over the past week have fueled suspicions that Washington's consensus on Assad is changing. The Times, for instance, suggested in an editorial Sunday that "the brutal dictator is still clinging to power and the United States and its allies are going to have to live with him, at least for now." The editorial trumpeted the logic that supporters of some kind of U.S. detente with Assad have long embraced: "the greater threat now is not Mr. Assad but the Islamic State."
The Wall Street Journal came out with its own editorial, deploring what it suggested were leaks from the Obama administration about the value of cooperating with Assad. The Washington Post's editorial page editor on Sunday called the claim "the latest, and saddest, indication of Obama's capitulation to [...] oldthink" about the value of propping up dictators in the Middle East.
Regional news outlets have issued their own criticisms of the perceived change in policy: The Washington bureau chief of Al-Arabiya, a Middle Eastern news channel tied to the anti-Assad government of Saudi Arabia, blasted Obama on Saturday for what he called a "betrayal" after the president failed to condemn Assad or those advocating a U.S. invasion of Syria in his State of the Union address.
Obama "may be immune to any moral anguish," wrote Hisham Melhem. "But he cannot escape Syria's sorrows being part of his legacy."
Assad, meanwhile, closed out the week with a high-profile chance to air his side of the story, as he prepared to partake in a Moscow conference to negotiate an end to his country's civil war. The moderate U.S.-backed political opposition declined to attend the conference.
Assad told the outlet he questioned the U.S.'s will to fight ISIS and characterized its regional allies in the ISIS fight -- particularly Turkey, Saudi Arabia and Qatar, the three countries that have offered to host U.S. bases where moderate Syrian rebels can be trained -- as supporters of both ISIS and al Qaeda's Syrian affiliate, Jabhat al-Nusra.
He proceeded to use Obama's own previous critique of the moderate Syrian opposition to deride the group and to present himself as a vital partner for Washington.
"If you want to say I want to make war on terrorism, you have to have troops on the ground. The question you have to ask the Americans is, which troops are you going to depend on? Definitely, it has to be Syrian troops," Assad said, referring to the remnants of his national army.
Assad's opponents said they see that offer as deceitful at best and, at worst, taboo.
"Assad is neither willing nor able to deliver on any of the U.S. objectives in Syria which the administration has articulated to date," Randa Slim, an Arab democracy expert at the Middle East Institute in Washington, told The Huffington Post in a Monday email, pointing to his regime's military and economic weakness as well as its severe lack of legitimacy.
The Western diplomat said he was still unsure if the U.S. was going to shift its position on Assad. But he warned of the consequences of such a move.
"We can't see a future with Bashar, who is responsible for the deaths of 200,000 of his people," the diplomat said. "It's just not an option. ... [For the U.S. to support that] would have a huge impact. A lot of countries in Europe or in the Middle East are not there."
CORRECTION: A previous version of this story misidentified Gelb's former position with the Council on Foreign Relations as the chair; he is the former president.
Before You Go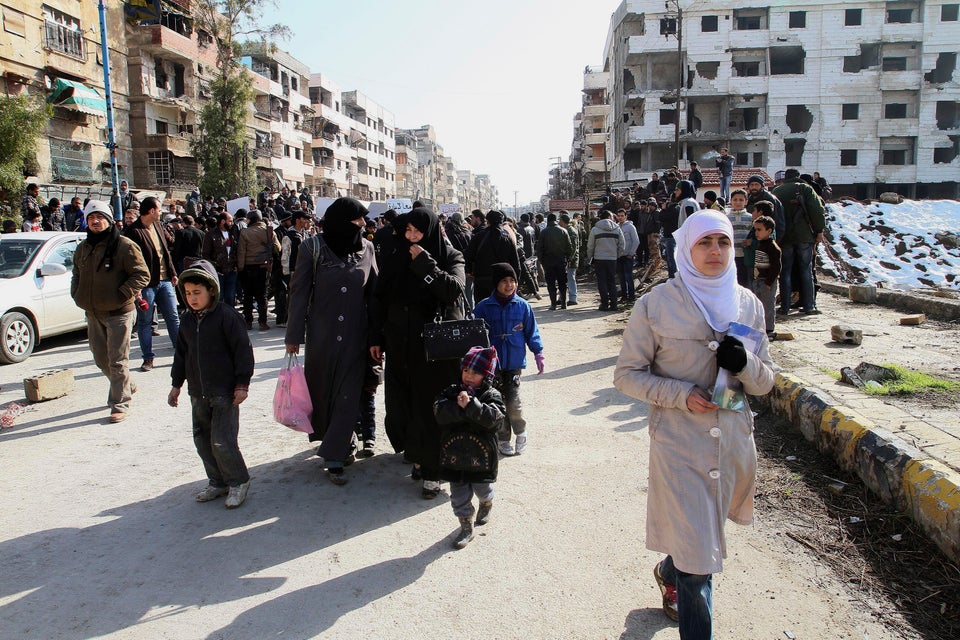 Syria War In January
Popular in the Community