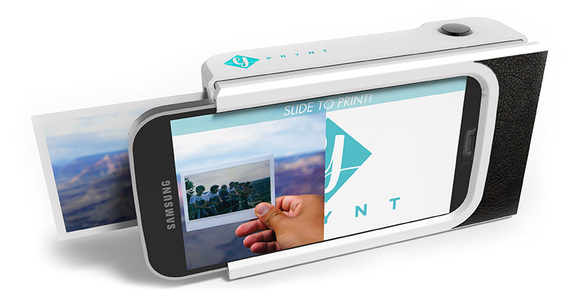 We've scoured the web sifting through hundreds of unreleased products to uncover those with the 'coolest' crowdfunding potential for 2015. In other words, hardware products with the potential to replicate, or outdo the Coolest Cooler's 2014 success.
As Coolest's founder Ryan Grepper learned, when it comes to the crowd, a great product isn't enough. Having failed to meet his initial $125K Kickstarter funding goal, he spent the first-half of 2014 not revamping his product, but perfecting the science of crowdfunding. Eight months later the Coolest's Kickstarter campaign brought in a record-breaking $13M.
The products we've chosen aren't just innovative and awesome, but carry all the ingredients of a successful crowdfunding campaign: great timing, excellent exposure, solid financial backing, and that extra dash of the unexplainable.
Here's who we're excited about in the crowdfunding pipeline for 2015.
Prynt
Cost: $99
Release: January-February 2015
Where to Find it: Kickstarter
Where: Paris, France
Prynt seamlessly brings the polaroid camera into the 21st century (and beyond). By pairing smartphone technology with a case that doubles as a photo printer, users can capture and print photos in seconds. This alone is sweet, but there's more: enter, augmented reality.
The printed photograph, when held under a smartphone with the downloaded app, will replay the video recorded before the shutter button was hit. In other words, as long as you're video recording before snapping your pic, you've got a printed photo that can move and speak.
You'll need to see it to believe it.
Why Prynt's a Top Pick: Prynt juices up an outdated technology with an unexpected and playful spin. With an accelerated year of development, a successful demo at HAXLR8R, a hefty number of social followers, and a strong media presence, Prynt is well-situated to take 2015's crowdfunding cake.
Podo
Cost: $89
Release: January-March 2015
Where to Find it: Kickstarter
Where: Santa Clara, California
Podo gives the selfie-pole the final nudge it needs to fall off the 'cliff of no return'--where bad trends go to die. Controlled by the downloadable app, Podo is a "stick-and-shoot" camera that suctions onto any flat surface, and resolves ever needing an extendable pole again--like for any reason, ever.
Connected by bluetooth, the photos taken by Podo are immediately uploaded to your smartphone, and the external camera itself is entirely controlled by the mobile app. Your phone's camera acts as viewfinder, allowing you to preview and trigger photos. In addition, the app enables timelapse, videos to be shot, and photos to be set to an automatic timer.
Why Podo's a Top Pick: Let's face it, the selfie isn't going anywhere and Podo manages to alleviate a lot of douchebaggery associated with the whole process. In addition to solving this pressing global issue, Podo has gone through Highway 1, raised over $1M from top industry investors and angels, and won numerous global awards.
Peeple
Cost: TBD
Release: March
Where to Find it: Kickstarter
Where: Austin, Texas
Collecting unflattering photos of unsuspecting family, friends, and strangers has never been easier. Peeple is a camera that attaches to your door's peephole, takes a photo of whomever's at your door, and sends a push notification to your phone with the image. The device is an excellent way to track packages arriving, monitor your home while you're away, and put a damper on any teen's rebellious years.
The simple technology is easy to install and requires little maintenance. Since the device is only activated and connected to wifi when someone's at your door, the battery is said to last an average of 6 months on a single charge--or maybe 12 months if you're a vegetarian restaurant in Texas.
Switchmate
Cost: TBD
Release: January-March
Where to Find it: TBD
Where: Palo Alto, California
Switchmate is a hardware product you can purchase with confidence that it won't be stuffed in a closet within the week. Switchmate easily makes your lights and other appliances 'smart' by magnetically attaching to any standard switch and connecting to your smartphone.
You can control your light switches through Switchmate's mobile app and hub, or by taking the old school approach and tapping the switch itself (boring!). The app and hub allow you to turn on the lights before you return home, put lights on timers while you're away (fooling even the most lofty and hardened criminals), and most importantly, ensures you'll never get out of bed to turn off a forgotten light again.
Why Switchmate's a Top Pick: Without even touching on the professional-grade ghost pranks you'll be able to play, it's obvious that Switchmate is a win. The design is simple, sleek and relentlessly practical. The company also has an excellent social following, great PR, and solid industry exposure.
Looksee
Cost: TBD
Release: January-March
Where to Find it: TBD
Where: Oakland, California
Riding the wave of 2015's hottest hardware trends, Looksee is a customizable wearable with edge. Geared towards a female audience, Looksee, like Ringly, manages to make feminine wearables that are both functional and fashionable. The Looksee bracelet uses bluetooth connectivity with your smartphone, and through their app, uploads any design, image, or chosen applications onto the band display in seconds.
Although the bracelet display is always on, the circuitry is normally off, allowing the bracelet battery life to last one year without recharge; not bad for a band that displays moving maps, phone notifications, QR codes and more.
Why Looksees's a Top Pick: Masking its nerdy undercurrent, Looksee manages to be a beautiful, standalone piece of contemporary, smart jewelry--no silicon or oversized digital display required. Looksee also graduated from Highway 1's incubator program and competed in the 2015 Techcrunch Hardware Battlefield.
In addition, we're excited about Connected Cycle, an easy-to-install bike pedal that generates its own internet connection, updating your bikes location into its downloadable mobile app; Brilliant, bikes delivered to your door that are that are simple, sleekly designed, and ethically manufactured; and Fogo, a smart all-in-one flashlight that can talk, text, and acts as a GPS.
While crowdfunding campaigns may seem like an organic, spontaneous attempt at funding, the truth is that months of planning, strategy development, and logistical precision are behind those most successful.
Check out the full-length article at Celery, a pre-order platform that helps you sell more, better.
Related
Popular in the Community