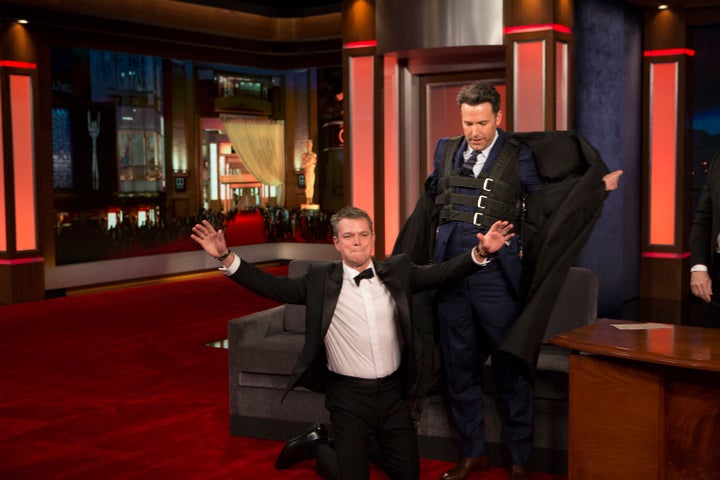 Matt Damon and Ben Affleck, better known as Hollywood's favorite bromance, are teaming up with Verizon, Adaptive Studios and Pilgrim Media Group to produce one of the craziest reality shows we've ever heard of. 
The two actors announced the project (apparently 16 years in the making!) on Wednesday in a press release. Damon and Affleck are executive producers on the show, called "The Runner," which will only be available on Verizon's go90 mobile TV network (AOL, The Huffington Post's parent company, is owned by Verizon).
The concept of the show is fascinating and slightly terrifying. According to the press release, one person will try to make their way across the entire United States in 30 days without getting recognized or caught. The person of interest, called "The Runner," must follow an itinerary and make it to certain checkpoints.
Meanwhile, a group of eight two-person teams -- called "Chasers" -- attempt to locate "The Runner" and capture them. Basically, it's like the "Amazing Race" with one person and tons of people coming after you. It's also a little like tag, with 16 people who are "It." 
It seems like Matt Damon was "Bourne" to produce this show, if you know what we mean:  
We should also note that there's $1 million in prize money at stake for "The Runner" if they make it from sea to shining sea, or for the "Chasers" if they succeed in capturing their target.  
Throughout the length of the show -- which premieres this summer -- viewers all across the country can also use go90 to send in helpful tips to catch the man or woman on the run . Finally, we'll all have an excuse to text and watch TV at the same time without feeling guilty. 
"This is an excellent format for a brand new platform," Adaptive Studios founding partner Marc Joubert said in the press release. "'The Runner' is our way of meeting a Millennial audience where they live -- on their smartphones and on social media." 
According to Deadline, the show was first sold to ABC in 2000, though it was later shut down after 9/11. Yahoo tried to revive nearly the show six years later, but it seems this time we'll get to see the show on our screens. 
Calling all HuffPost superfans!
Sign up for membership to become a founding member and help shape HuffPost's next chapter
BEFORE YOU GO
PHOTO GALLERY
Celebrity News & Photos