T here are two things that Americans love: beaches and lists.
Or so says Dr. Beach, aka Dr. Stephen Leatherman, who has become America's go-to expert over the years.
Leatherman's annual top 10 rankings have been drawing praise (from the ones chosen) and ire (from local tourism boards of the communities not picked) since 1991, when the first official list came out. That was two years after his accidental first list was published as a sidebar in Condé Nast Traveler.
It could be easy to write off Dr. Beach as someone who simply travels around looking at the world's coastlines, but there's a lot more to him than that. We spoke with the professor to learn more about what got him interested in seaside oases in the first place, how his rankings work and about his favorite non-listed spots.
----------------------------------------------------------------------------------------------------
Born in Charlotte, N.C., Leatherman fell in love with beaches when, at five years old, he first saw Myrtle Beach.
"My mom said when I saw the beach my eyes got huge like saucers because I just saw that the sand went on endlessly and I saw the ocean and the waves. It was love at first sight," he says.
But that experience didn't jumpstart his career. While at North Carolina State University, Leatherman volunteered with a project studying beach erosion on the Outer Banks. The gig required him to go to the coast in wintertime and helped him pay his way through college. Post-graduation, he headed to the University of Virginia where his PhD dissertation studied beach erosion. Leatherman planned to work for the federal government after his studies, but people told him he should be a professor, so he became -- quite by accident -- a coastal scientist.
Since then, he's conducted a study for the government on America's beaches, taught at the University of Massachusetts, the University of Maryland and has been at Florida International University since 1997. There he opened and became the first director of the International Hurricane Research Center and helped develop a hurricane simulator called the wall of wind.
Today Dr. Beach focuses mostly on beach erosion, sea level rise and rip currents and is an expert on America's 650 major recreational beaches. But back to the lists.
As it turns out, Leatherman's former student went on to work for Conde Nast Traveler. In May 1989, the student suggested him as an expect to his editor, who called Leatherman and asked him for his top 10 beaches in America, which he rattled off the top of his head.
He went to Beijing that afternoon and totally forgot about the list until the magazine arrived in his mailbox a few months later. Leatherman was surprised to see the list, especially because the beaches were listed in the exact order he'd rattled off over the phone. After that, the phones started to ring and the list officially began.
Leatherman spent the new two years combing through all his data to come up with 50 criteria. The locations are judged on a scale from 1 (the worst) to 5 (the best). "The perfect beach would score a 250, but I've never found a perfect beach. I guess I'm tough. I'm still looking," Leatherman told HuffPost.
So what are the most important criteria? Sand color is a big deal, as people really like the whitest sand possible. But what are the other more important criteria?
Clean water and clean sand. Leatherman says, "If you don't have clean water, you don't have anything."
Next up is safety. Are there shore breaks? Rip currents? Lifeguards? What are the size of the waves? "If waves are above five feet, they're too dangerous -- the energy of the wave is proportional to the height of the wave squared, so a 1-foot wave has very little energy, but a 2-foot wave has 4 times the energy of a 1-foot wave," he says. Of course, Leatherman adds, rip currents can be in waves that are 3 to 4-feet high, too.
Facilities. People want some creature comforts; they want parking, a restaurant, lifeguards, restrooms. But if the beach is overdeveloped and crowded, it can be like "Where's Waldo?" "The best beaches have a delicate balance between nature and the built environment, where we have some amenities but nature is still there," he says.
Good water temperature, which Dr. Beach says is anywhere between 70 and low 80 degrees. Since his survey is for swimming beaches, this is always a big one. But "people in Oregon, Washington and Maine are always mad at me because their beaches are never on the list but that's because it's too darn cold. Alaska forget it," he chuckled.
So what are some of the spots Leatherman loves but hasn't included on his list?
Shi Shi Beach


Dr. Beach says: This beach, in Washington's Olympic National Park, is a superb wilderness beach. On the way there, you'll see eagles in the air and otters in the rivers, you might even see a bear and deer. The beach is abandoned with huge logs on it, but it's a 10-mile hike in. You gotta bring all your gear with you and in the same day it can be sunny and rainy. I can't put that on the list because people want some creature comforts, they just can't deal with all that.
Ke'e Beach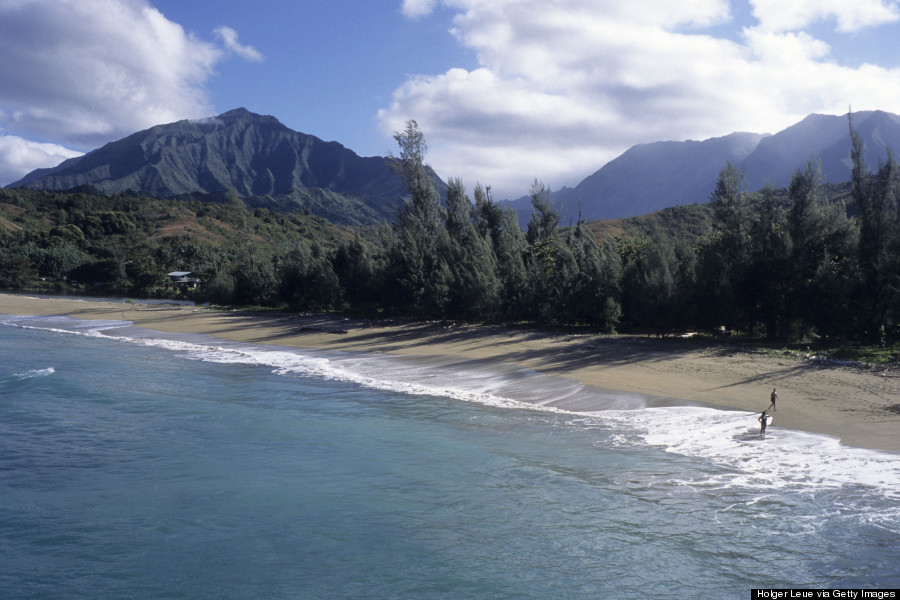 Dr. Beach says: This is on the end of the road in Kaui, which is sheer beauty. It's literally at the end of the road and you're coming into the Na Pali Coast State Wilderness Park. It's a small beach -- it's a pocket beach -- with a reef offshore and at low tide the reef is exposed and the waves crash over it. The beach is about 200 to 300 feet wide and behind it are caves and waterfalls and mountains. You've got trees and shade there and beautiful coral white sand. The water is crystal clear and it's chockfull of tropical fish; I've never seen so many tropical fish in my life. There also sea turtles there that will come swimming right by you. You can't imagine something like this exists. The only problem is there's a hole in the reef on the south end and the water piles up at low tide and when it drains out there's a rip current and no lifeguards. They do have signs with warnings but that becomes too dangerous for me to put on the list. There aren't any facilities there either.
Rehoboth Beach Dr. Beach says: It's an idyllic little beach town. It's got a nice boardwalk, there's Dolly's Taffy Shop, the music area is good if you got kids. There's nothing wrong with it, it's just not on my list.
Children's Pool Beach Dr. Beach says: It's the safest beach in California for kids -- that's why it's called Children's Beach -- but the seals are back and the great white sharks are there, too, because they eat the seals so I wouldn't do any swimming there. The seals have turned it into their sunbathing area, so the wildlife people don't want you to go down and disturb them. The seals use the ocean as their bathroom. Wildlife has killed off the number one beach for kids to swim in southern California. I'm for nature, don't get me wrong but...
Paradise Cove Beach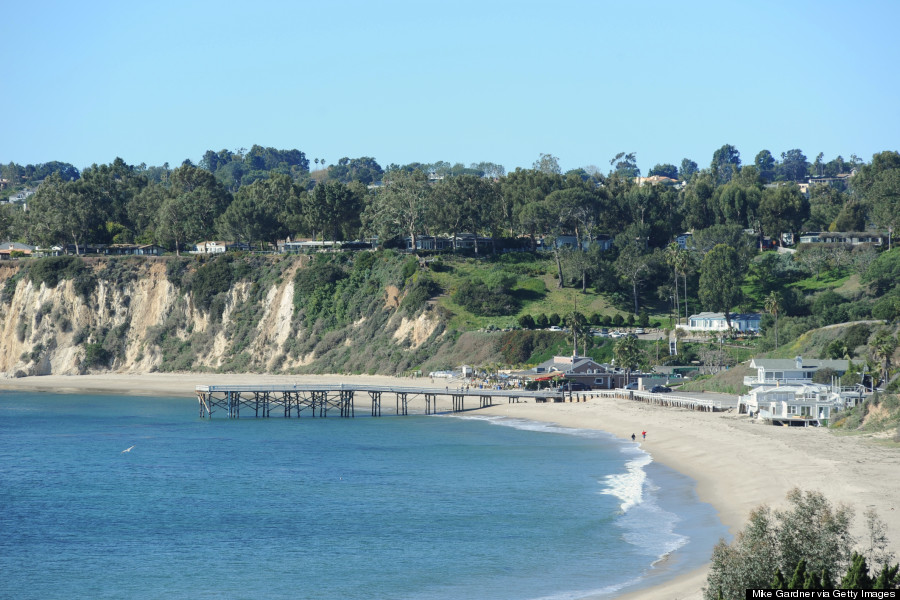 Dr. Beach says: Here's the key if you want to go: Go there at lunch time. It's a private beach in Malibu and they make you pay $25 to get in, but if you go to the restaurant -- it's the best lunch I've ever had -- the lunch costs you about $25 and you get free parking. Afterwards, go explore the beach and, if it's low tide you can go see the sea creatures on the rocks.
Don Pedro State Park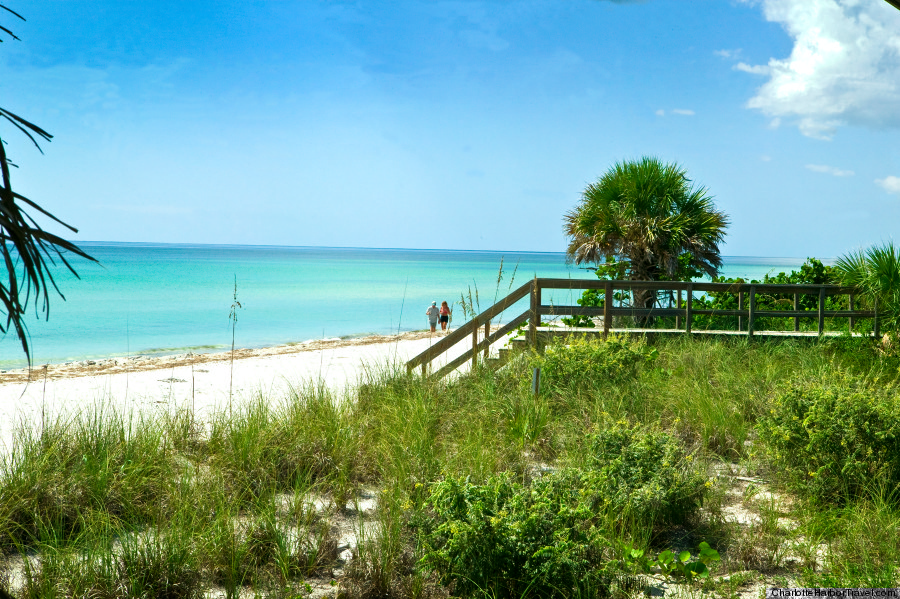 Dr. Beach says: That's a real getaway beach -- you have to get there by boat-- but it's one of the best places to find sharks teeth on the beach.
Leadbetter Beach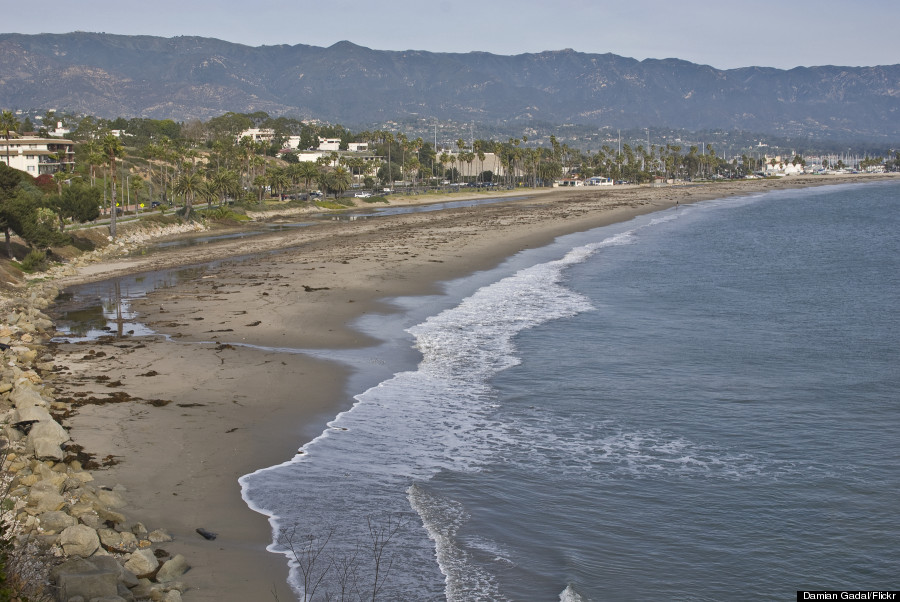 Dr. Beach says: It's the main beach in Santa Barbara, which is the "toast of Southern California beach towns." This is the furthest extent north of the "relative warm" swimmable water. Palm trees line it and the mountains make a great scenic backdrop. The town has the Mediterranean feel with the terra cotta clay roofs, and the seafood restaurants are excellent. I'm in heaven.
St. Petersburg Beach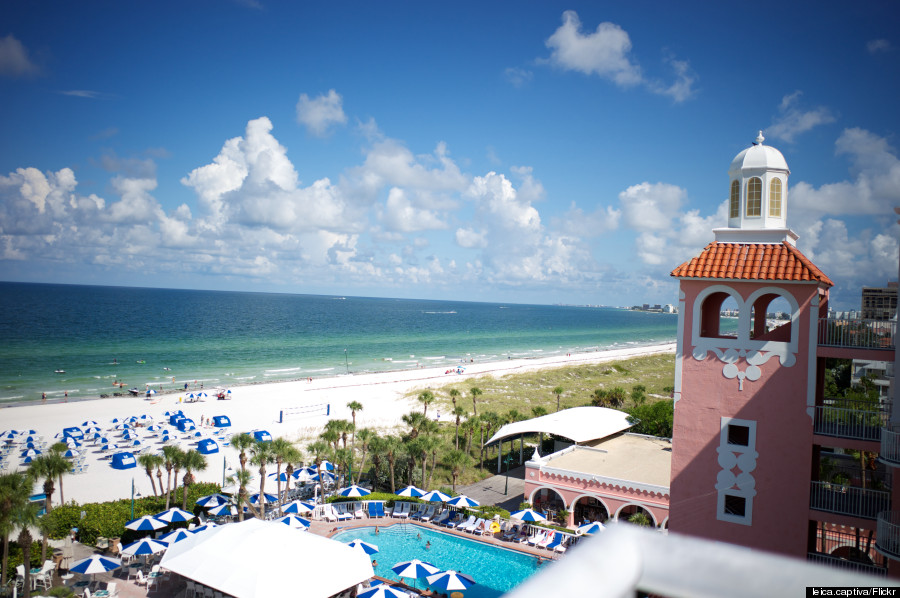 Dr. Beach says: The beach is home to Don Cesar Hotel, which is a 1920s hotel, an American icon. The huge, pink hotel is something to behold, and the beach has lily white sand and clean, clear water--an idyllic spot.
Conchal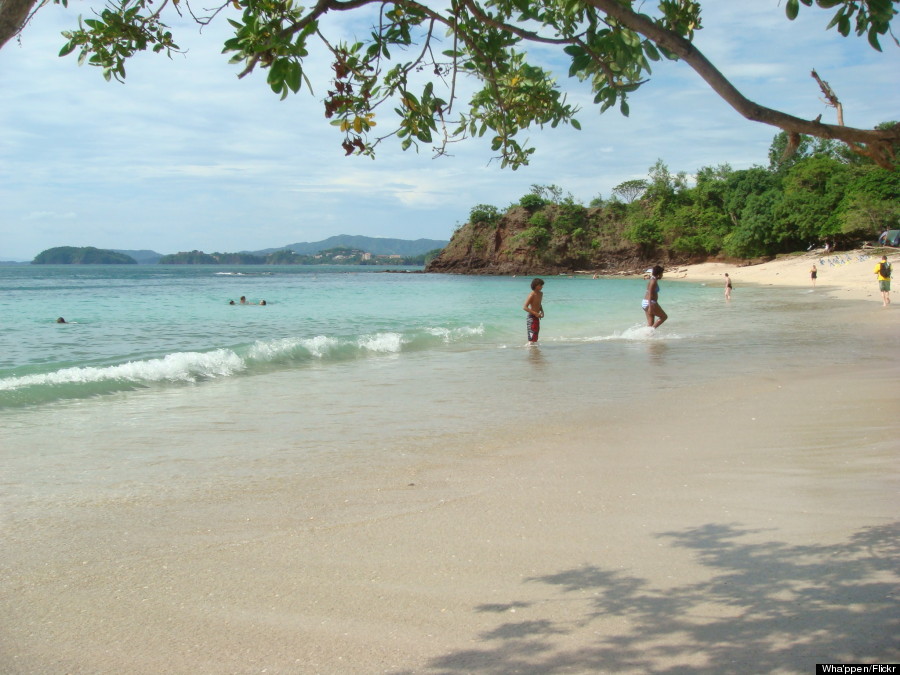 Dr. Beach says: I was just in Costa Rica and I really liked the beaches in Guanacaste on the Pacific side. Theres' a beach there called Conchal, and it's made mostly out of seashells, there's a little bit of sand but it's mostly seashells. It's a beautiful little beach that's hard to find. It's a bit of a drive from San Jose but the water looks like the Caribbean. You have to go over a little mountain to get there and you think to yourself, 'where are we going this can't be right?'
Haeundae beach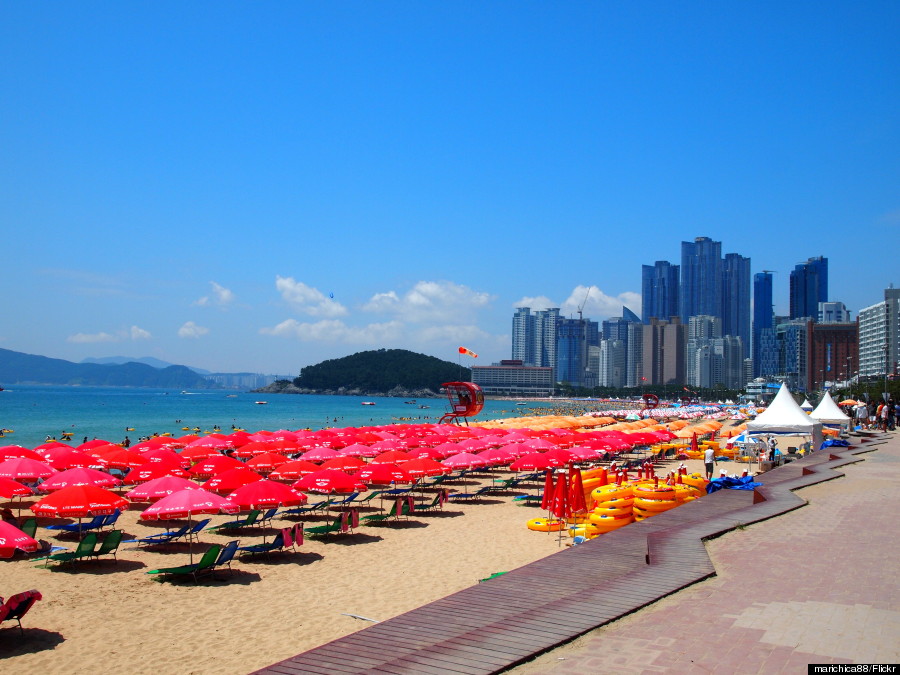 Dr. Beach says: This beach on the Pacific Coast is the number one beach in South Korea. I was there in June, and the water was warm enough for swimming and the waves were small--and there were few people there. In the heart of the summer tourist season, it's mobbed by people--just Google Haeundae for photos. The water is clear and clean in spite of being in a major metropolitan area. The South Koreans are wonderful people, and the cultural visit is worth the trip. Learn to eat seaweed if you go there!
Cape Florida Dr. Beach says: My favorite local beach, which is like South Beach but calmer is, Cape Florida, which is the end of Key Biscayne. It has calm, tourmaline-colored water which is great for swimming. There's a great Cuban restaurant there that serves fresh fish called the Lighthouse Café. There's a big lighthouse you can climb up at the south end of the beach some days. It's a great place to go biking, fishing and swimming. It's at the very tip end of Key Biscayne and it's got the wind blowing so even in summer it doesn't feel that hot. There's also always ample parking.
Clarification: Leatherman's quote about the strength of waves relative to height has been adjusted to correct a previous misstatement about the energy in a 2-foot wave.

Related