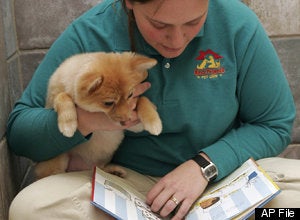 On August 27th, Disney World will go to the dogs when the Park plans to open Best Friends Pet Resort, a hotel exclusively for pets, according to the Associated Press.
The resort boasts 50,000 square feet of space--half of which is outdoors--and has room for 270 dogs, 30 cats and other animals such as birds and small mammals like hamsters (no reptiles allowed). Rooms start at $37 for dogs.
You can always get your pet upgraded, too: have them join a play group, have, um, bedtime stories read to them, and even rent a villa where they can watch movies on a flat-screen TV ($59) or a 226-square foot suite with private outdoor play areas ($76).
Pets can also be left for the day without overnight boarding, so you can drop your pet off on the way to Park. The chain operates 40 such places around the U.S.
"We know that people who bring their pets with them to Disney want to see their pets," said Deb Bennetts, spokeswoman for Best Friends, told the AP. "If they were simply going to board their pet, they would board their pet at home. They want to see and interact with their pet while at the resort, so we've made it easy for them to do that with all of this wonderful outdoor space."
Best Friends Pet Resort will replace the five kennels existing around the Disney area.