No matter if you are snapping with a smartphone or the most complex DSLR, Italy is probably one of the most picturesque and photogenic countries in the world. You can take snapshots of cobblestoned streets, sparkling seas, church domes and medieval towers. The photography possibilities are literally endless in Italy, and believe us when we say that a week is far from enough to capture scenic sights.
The key to getting the best photos while you're in this historic, culturally rich and naturally beautiful nation is prioritization. Knowing just where to go will eliminate wasted time and energy from guesswork. With that, here's our list of the 15 best Italy locales from a photography perspective. See if you agree with them:
With its soft, golden light and its curvaceous baroque architecture, the Eternal City makes shooting photos a dreamlike affair. Rome is the ideal starting point if you're touring Italy with pictures in mind. We suggest visiting three main spots for some serious photo ops and lots of fun in the process.
1. The Coliseum - The massive Coliseum is difficult to capture in its entirety when you're up close. Head to the nearby Colle Oppio park which puts you about mid-level and provides a great vantage point on this iconic site for ancient Roman sports and entertainment.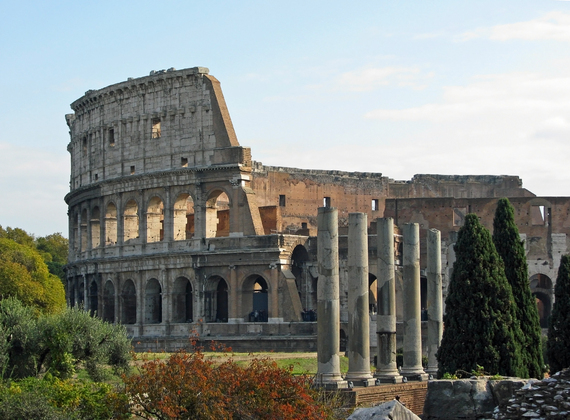 2. Aventine Hill - Head towards the once-Patrician Aventine hill in the early evening to the Giardini d'arancia for the best sunset picture opportunity in Rome. Also known as the Parco Savelli, this spot has a view over treetops and terracotta roofs out towards the dome of Saint Peter's Basilica.
3. The Trastevere neighborhood- In the mood for great morning views? This enchanting Roman neighborhood is just the place for you. Wake up early for some fresh air to go with a calm and quiet environment. Snap away at ochre and ivy-covered buildings and visit amazing courtyards that combine world-class gardening with classy architecture.

If you're in search for a place that's unique, magical and mysterious, Venice is just the Italian city for you. As you probably know, Venice is built on water and lovely gondolas is the way to get around. Hop aboard one of these small boats and you'll immediately discover why this city has the reputation of a place that's just begging to be photographed. During fall and winter, she is shrouded with soft mist. In the spring, Venetians enjoy clear blue skies with the greenery in full bloom. On the other hand, summer brings spectacular contrasts to Venice's horizons along with warm weather that's conducive for roaming around. Each season offers a different charm and the choice of which one sounds most appealing is entirely yours.
4. Accademia Bridge - Climb up the bridge and stand right at the middle for a scenic view of the Grand Canal. Look down to get a snapshot of the vaporetti ferrying commuters.Lastly, look up for a view towards the church of Santa Maria della Salute. If you have a zoom function on your camera, that will come in handy for this part of Venice.

5. The sestiere of Castello- one of Venice's quieter parts of town. Walk the wide via Garbaldi and find the market boat piled high with fruits and vegetables. The street is lined with typical cafes and storefronts. Duck under low-covered passages known as sottoportego for hidden alleys strewn with laundry.

6. Burano- this is a fishing village that's a short water bus ride away from Saint Mark's Square. You'll immediately notice that what makes Burano special is the fact that its houses are all brightly colored with a rainbow-themed palette. Historically, this was done to make the area visible from far out in the sea. Colors also made good distinctions between individual property lines. Later on, Burano's color made it a great attraction for tourists who are looking to photograph a fishing village with a twist.

Naples and the Amalfi Coast
The spectacular scenery along the Amalfi coast will take your breath away. Amalfi boasts of a dramatic coastline with colorful houses spilling down the cliffs. The water is equally amazing as it turns from steel gray to teal, then to turquoise and finally to cobalt blue in the span of a day. In Naples, you have the opportunity to shoot lively street life and a seaside castle all overseen by a pensive volcano. If you fancy a place where nature and people converge in a beautiful way, this is exactly the part of Italy for you.
7. Castel dell'Ovo- This Naples landmark sits in a pleasing marina that's filled with sophisticated sailboats and rustic fisherman crafts. The best part? The infamous but dormant Mt. Vesuvius sits in the backdrop, producing some of the most photogenic sights imaginable...

8. The village of Ravello - Sitting high above the Mediterranean Sea and filled with manicured gardens and elegant villas, this is a coastal locality that must not be missed. In the very center of town is the Villa Rufolo, a spot with terraced gardens that are almost always in bloom. Ravello is one of the most recognized views of the Amalfi Coast for good reason: its canopy of pines, its church dome and the deep blue sea surrounding it are truly majestic sights to behold.

9. Capri Island - In this glamorous, white-washed island, go early in the morning to the tranquil Augustus gardens for views of the Faraglioni rocks rising from the sea. Be sure to check out the vertiginous view of the switchbacked via Krupp for even more sights to take pictures of.

10. Positano Village - The pastel colors of shabby-chic Positano are best snapped from a boat just off the shore of the grande spiagga.If you want to explore it by foot, be sure to visit the Santa Maria Assunta church which is renowned for its history and elegance.

The city of Florence is a Renaissance-era jewel with red topped church domes and striking mosaics of black and white. The main piazzas are filled with sculpture and the Arno river is dotted with entrancing bridges.
11. The Basilica di Santa Maria del Fiore is Florence's most recognizable site. Climb the many steps of Giotto's Campanile bell tower for a bird's eye view over Filippo Brunelleschi's dome or stand in the Piazza del Duomo and play with the geometry and colors of the buildings.

12. On the Oltrarno side of town is the Piazzale Michelangelo which affords a panoramic view over the entire city of Florence. You can see from Forte Belvedere to Santa Croce to the green hills of nearby Fiesole. Nearby Tuscany is also a marvel in itself. With its wonderful flower fields and a brilliant skyline, it presents every passionate photographer with endless awesome backdrops.

13. Bridges - After dark, go to one of the many Florentine bridges. The most famous is the Ponte Vecchio which crosses the river Arno and catches the streetlights reflected in the inky water.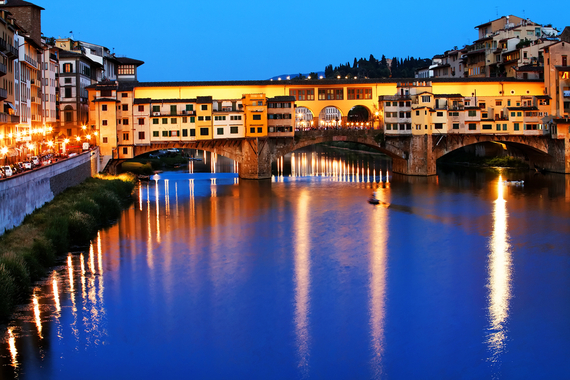 14. The Val d'Orcia region of Tuscany - This area has everything for your postcard-perfect vacation shots. You will discover fields of sunflowers, rows of cypress tree and castles on hilltops.
15. San Gimignano - This small Tuscan town has 14 towers still standing despite their construction dating back to the Middle Ages. The towers create a stunning skyline that's great for photographs in the late afternoons and early evenings.

Between these 15 sites, you should be very busy clicking away on your camera. There's never a lack of things to see. What you should be more concerned about is having enough film or drive space to house all your images. Ultimately, there's nothing wrong with taking a lot of pictures, but don't forget to stop and breathe in the Italian experience -- that's the part of your trip that you wouldn't want to miss just because you were too busy taking photos. Enjoy!
Related