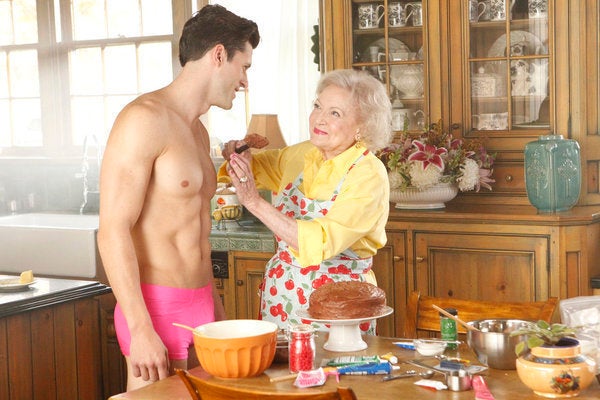 At the age of 90, Betty White picked up her 20th Emmy nomination for hosting "Betty White's Off Their Rockers." Yep, 20 for her primetime and daytime work and she's still grateful -- and surprised -- by the love.
"I'm 90 years old, I've been around forever," White said during a recent phone interview with The Huffington Post. "People have got to be up to here with me and to still get a nomination was just incredible."
Her 20th nomination was for Outstanding Host For A Reality Or Reality-Competition Program for NBC's hidden camera prank show, "Betty White's Off Their Rockers." The Emmy love didn't stop there: Her NBC birthday special, "Betty White's 90th Birthday: A Tribute To America's Golden Girl," also received two nominations.
"I'm so thrilled! It sure keeps life interesting," she said.
Since her TV career began in the '40s, White has been a mainstay in the medium. She's seen it all, worked with almost everybody and is still appreciative of all the love she gets from the Academy, fans and her peers. And with all her experience, White is still a fan of the medium at heart.
Find out who White said working with would be the "honor of my life," what people shout at her from cars and more in our chat below.
Congratulations on the Emmy nomination. You're basically Michael Phelps of the Emmys.
I just can't believe it. It's so ridiculous. But I can't be coy. I'm thrilled to death.
Were you surprised? Does this feeling ever get old?
Oh my gosh, yes. I'm 90 years old, I've been around forever. People have got to be up to here with me and to still get a nomination was just incredible. I would give anything in my power if I could trade it for a nomination for one of the girls 'cause they deserve it so much more than I do on "Hot In Cleveland." But you can't do that, so I'm just going to be thrilled.
Do you have all your other Emmys?
Oh my, do I have them? What would I do with them? They're up on top of my hutch in my dining room.
So you have a tiny Emmy village?
Along with one of Allen's [Ludden, her late husband], so I have eight of them up there.
This is for Outstanding Reality Host -- is there a category where you'd like to get nominated in which you haven't yet?
No. Listen, I've had so many more than I ever have deserved. I didn't even realize the morning they were announced that the announcements were that day. That's how much I don't sweat it out. The phone rang about six o'clock in the morning and it was my agent, who was on vacation in Europe, and somebody emailed him or however he got the word, and he was off the coast of Finland on a ship. So he called me off the coast of Finland to tell me I got two nominations. I thought that was pretty classy. [Laughs.]
You're a television pioneer. What do you think is so special about this medium?
Because you're only talking to two or three people at a time. You're not talking to a big crowd, like a movie plays to a big crowd or a theater. If there are more than three people in a room, they're not listening to you, they're talking to each other. It's a very intimate audience and I appreciate that.
As your career has progressed, how do you think TV has changed over the years?
Well, TV hasn't changed -- it's the audience that's changed. When I started out, TV was just beginning. It was this miracle over in the corner of the room where people were actually on screen. But now, the audience has heard every joke, they know every storyline, they know where you're going before you even start. It's a hard audience to surprise and a hard audience to please, but I think it's still a fascinating medium.
Like you said, the audience has seen so much, how do you feel you personally keep it interesting for the audience?
I don't know! They've got to be so sick of me by now! I've been around so long, I think the familiarity helps because the viewers probably watched me with his mother and father and probably with his grandmother and grandfather, so I'm a familiar person to them. I think that's what kind of keeps me hanging in.
There's been a lot of discussion lately regarding women in comedy and women in TV. What's your current assessment of that discussion?
Well, there used to be a belief that women who were good looking couldn't be funny. Lucille Ball came along and fixed that. I think -- I've never been gender-oriented, I think now we're less gender-oriented than we've ever been. I think you can be anything and still find a place in this medium.
Is there anything in your career that you'd like to do that you've never had the chance to do?
Robert Redford aside ... [Laughs.] No, I've been so lucky, I've been able to do so many things. It's been such a privilege and I've had -- and I'm still having -- such fun doing it. I'm the luckiest old broad on two feet.
[Laughs.] Is there any show on TV right now that you'd like to guest star on?
Right now my schedule is pretty full. I've got "Off Their Rockers" and I've got "Hot In Cleveland." With two series and then all the other extraneous stuff that goes on, I really don't have time to lust after any more.
You don't even have time to fantasize!
[Laughs.] That's right!
Robert Redford aside, is there anybody you'd like to work with that you haven't had a chance to yet?
Oh, it'll never happen, but Meryl Streep would be the honor of my life. I am such a fan.
Well, this will go in print and perhaps she will see this -- maybe we can make this happen.
[Laughs.] I doubt it! I don't know what she'd do with a 90-year-old broad, but I am a tremendous fan. And I've never had the privilege of meeting her. I would love to meet her.
Since "Off Their Rockers" is a prank show, is there somebody you'd like to prank?
Robert Redford. [Laughs.]
Do you have a specific prank in mind?
No, no. I don't have anything to do with the pranks. They're all set-up aside and I just tie them together, but I do have approval of everything because I'm executive producer. So the main rule is the pranks must be fun, but never mean-spirited.
Has anybody ever pranked you?
I've tried to remember if there was ever anything like that. Back in the early days with "Life With Elizabeth" with Del Moore and George Tibbles, we kidded around so much I'm sure they probably pranked me, but that was a long time ago. I can't remember anything specific.
How often do people come up to you and sing your various iconic theme songs?
Oh, often! I've had cars drive by singing "Golden Girls."
The 64th Annual Primetime Emmy Awards air on Sun., Sept. 23 at 7 p.m. ET on ABC.
PHOTO GALLERY
Betty White TV Moments
REAL LIFE. REAL NEWS. REAL VOICES.
Help us tell more of the stories that matter from voices that too often remain unheard.
BEFORE YOU GO