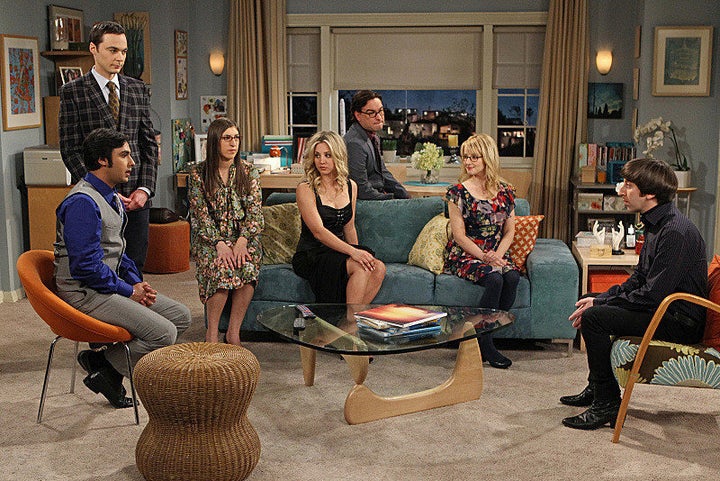 Fans of "The Big Bang Theory" (Thursdays, 8 p.m. ET on CBS) had plenty of questions for the CBS show's cast and creators during their recent PaleyFest panel (which you can watch in full below), but one of the most intriguing queries involved the unlikely pairing of Sheldon (Jim Parsons) and Amy (Miyam Bialik) and whether we might ever see them consummate their bizarre relationship.
"It's discussed a lot in the writers' room," executive producer Chuck Lorre admitted on the panel. "I don't know if we can answer that. It's something that we're continually wrestling with because we're fascinated with their relationship and we want to see it grow."
Before the panel, The Huffington Post caught up with the cast and producers on the red carpet to learn more about upcoming episodes, one of which includes Amy attempting to "help uncondition Sheldon's compulsive thinking," according to Bialik.
"In [Episode 21], Sheldon has a problem with leaving anything unfinished," Parsons told us. "I don't know what the medical term for that is, but here's what I love about this -- I love that she's try to 'help him' but I have to tell you, on a certain level, I don't see anything wrong with that: He doesn't want to leave things unfinished. He's got [a good work ethic], and it's a slight obsession, perhaps, but these are the kinds of obsessions we could use some more of in this world, couldn't we? I think a lot of his 'problems' are like that. Maybe this is why I enjoy playing him -- some of the more outlandish things he does, I don't do in my life, but I completely respect and see the reason for."
Executive producer Bill Prady noted that "Amy really seems to be on a quest to build herself a better boyfriend" this season, but, showrunner Steven Molaro added, "When she can't find spare parts to upgrade him, she's gonna have to tinker with his brain. She's a neuroscientist, so she can do that."
Naturally, Prady said Amy "may run into problems" in her attempt to get Sheldon to relax. "What always goes on with Amy and Sheldon is that she always wants more and he always wants things to stay exactly as they are, or perhaps dial back a smidge. He finds the speed at which the relationship moves terrifyingly fast."
"He's like a snail on the back of a turtle. He does not like this," Molaro laughed.

The March 14 episode, titled "The Closet Reconfiguration," sees the whole gang coming together to support Howard (Simon Helberg) after Sheldon finds a letter from his estranged father while reorganizing Howard and Bernadette's (Melissa Rauch) closet.
"This is a really fantastic episode from Mr. Molaro about exploring an aspect of Howard's past and a little emotional damage. It's something we've mentioned a lot on the show, his history, but we've never delved into and it gets a moment to do that. It ends in one of the coolest scenes that we've ever shot," Prady previewed.
Molaro added, "I'm incredibly proud of [this week's] episode ... I think I've gone home and watched the final major scene at least eight times, just because I love it that much."
When we spoke to him on the carpet, Helberg gave us further insight into Howard's struggle: "Howard hasn't seen his father since he walked out on him and his mother when he was a little kid, and a letter shows up on Howard's 18th birthday and he hasn't opened it, and Sheldon innocently opens it to help file some stuff for Howard. The entirety of [the episode] is just people trying to keep the secret, Howard finding out some stuff and not wanting to know, and the friends being a little nosy but also really being the best friends that anyone could ask for, which culminates in everyone trying to be there for Howard and help him make it through this tough time. So there's a lot of emotion; there's a lot of hilarious stuff; it's a pretty well-rounded episode. I think we get a lot of bang for our buck, no pun intended."
As for whether we'll meet Howard's father or any of the other characters' previously unseen family members any time soon, Lorre said, "We don't have any plans immediately, but the way they interact with their family is always good story material, so I'm sure that's coming up."
One of the show's biggest recent developments has been the burgeoning relationship between Raj (Kunal Nayyar) and Lucy (Kate Micucci), and Nayyar previewed that -- although it's sweet to finally see Raj in the early stages of a relationship, "it's not gonna work out right away -- it never does."
Nayyar said that in the episode they just started, "[it's] the first time we've seen them since [their first date], and they try to figure it out. He reads a blog that she's written and it freaks him out." As a result, Raj goes to Howard for relationship advice.
"Raj has always looked up to Howard when it comes to women ... I have no idea why," Nayyar laughed. "But where's he gonna look, Leonard, Sheldon? Howard's always had all the flash and he knew all the terms, so he always looks up to Howard and Howard always tries to guide him in the right direction."
Helberg promised that the tips his character imparts are "actually pretty sound. He wants Raj to succeed and Howard's grown so much; he's not saying 'wear an eyepatch and get a tattoo,' or anything, which we've seen Howard try to do in the past. These characters have grown so much, but at an incredibly tasteful pace. You can see a future where maybe [Raj] will be able to talk to a girl and it actually finally seems plausible, so we'll see how that goes."
Lorre credited Molaro with coming up with the idea to have Raj "pursue a woman who's even more inept than he is," and previewed that the duo is "going to try and overcome their inner demons to have a relationship, the stories will be really about them circumnavigating their own problems."
Molaro added, "We're talking about two fragile, broken souls who are very slowly starting to feel each other out, and it's really sweet to watch. And as the other guys in the show grow and have real relationships and aren't the people they used to be, I think it's really sweet to see the two of them go back to the type of base-level alienation that the show was originally founded on, so we can do it all."
As for Leonard and Penny, Prady noted that the on-again-off-again pair have "come to a good place for the moment, so I think maybe they'll get to be happy for a little while."
Galecki agreed, "I think the Valentine's Day episode was a big step for them in a beautiful way. That's one of my favorites. I think that's a great example of unconditional love and selflessness to say, 'despite my wishes, I see that that makes you uncomfortable so I'll be patient and you let me know [when you're ready for marriage].'"
Just don't expect Penny to suddenly become a breakout star, even after her starring role in "A Streetcar Named Desire." Prady noted, "She did good at her play. I think this is a very realistic portrayal of a struggling actress in Los Angeles. The thing that happens to the Pennys of the world, who were the lead in all their school plays, is that they move to Los Angeles and meet all the other leads from all the other school plays and then they compete. She's done little theater and she had a TV commercial, and I think that's about right for that kind of career."
When asked about the remaining five episodes this season, Lorre was reluctant to give too much away, previewing that there would be a big guest star coming up, but that for the most part, "They're very small, intimate stories -- I love those the best. They're really relationship-oriented stories, and these characters care for each other and they try and help one another and they make each other miserable -- it's like a real family."
Watch the "Big Bang Theory" PaleyFest panel in its entirety below:
"The Big Bang Theory" airs Thursdays at 8 p.m. ET on CBS.
What do you think of Raj and Lucy's relationship? Would you like to see Sheldon and Amy take the next step? Who do you think the show's next big guest star will be? Weigh in below!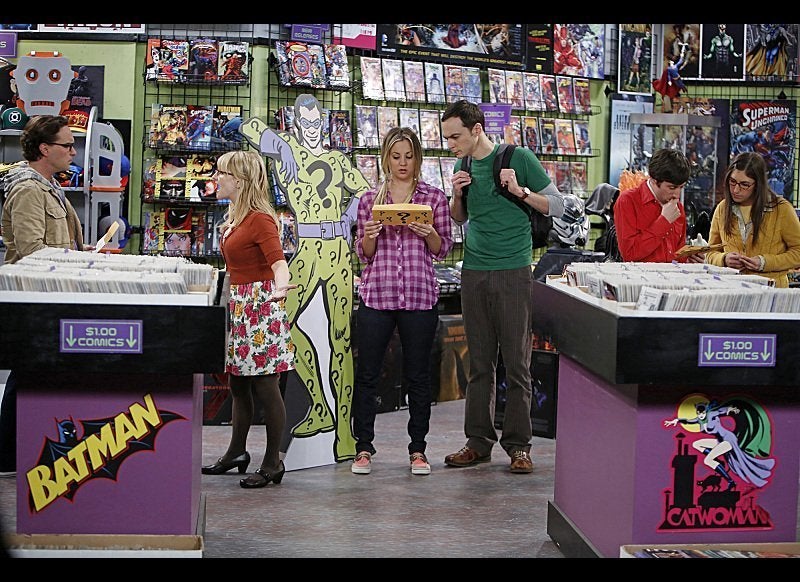 'The Big Bang Theory'
Popular in the Community