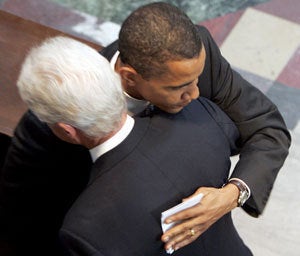 Hillary Clinton's former Campaign Chair Terry McAuliffe is insisting there's no bad blood between Bill Clinton and Barack Obama despite a report that Clinton said Obama can "kiss my ass." McAuliffe told CNN, "This man doesn't stay mad. He can get mad for 24 hours. It's his Irish ancestry." McAuliffe also said the Clinton and Obama would meet in the next few days. Read more below:
Sen. Barack Obama and former President Bill Clinton are expected to meet in the next few days, according to the chairman of Sen. Hillary Clinton's unsuccessful presidential bid.

Terry McAuliffe said the former president was angered by media reports suggesting he bore a grudge against Obama after the sometimes bruising primary campaign and did not plan to actively support Obama in the general election.
Popular in the Community