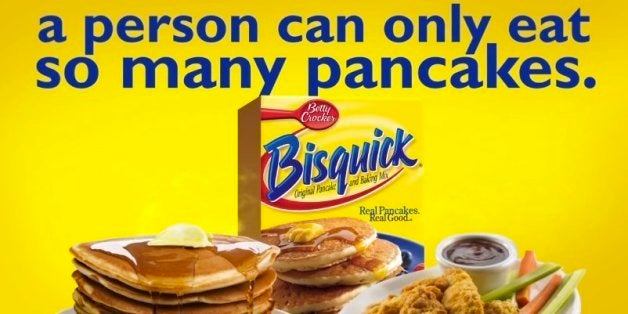 We are pretty big on pancakes. We love them for breakfast, as an afternoon snack, for dessert and occasionally, in dark times, for dinner. We love sweet pancakes, savory pancakes and all the pancakes in between. Most of all, we love homemade pancakes. Now we have to confess something to you: sometimes Bisquick pancakes really hit the spot.
Do they taste different? Of course not. Are they about 50 percent easier? Yes. Look, we'll level with you: Bisquick is not our standard pancake MO -- that familiar yellow box contains some stuff we try to avoid, like partially hydrogenated oils. You shouldn't use it every time. But if you use it every once in a while, like when you are hung over or when your kids have a huge sleepover, or when it is 2am and you need pancakes, there is no shame in that game. Some convenience foods were invented for a reason.
Our default response is almost always to make our own food from scratch, but sometimes you need a little help. In this case, it comes from a company who Instagrams ideas like this. Thanks for being there sometimes, Bisquick.