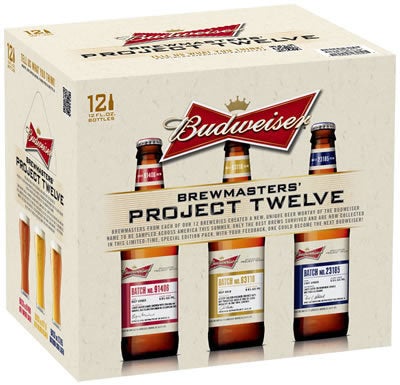 For food and beverage companies, crowdsourcing new flavors has become nearly as trendy as salted caramel or pumpkin spice.
Early next year, Budweiser will release "Black Crown," a new beer with more alcohol that emerged from a competition this summer surveying 25,000 consumers at events nationwide. Using feedback on 12 new possible flavors developed in its regional breweries, Budweiser selected three varieties that are being sold in a limited edition pack this fall, dubbed "Project 12."
"We've always done focus groups and product testing, but this was a much larger scale," said Rob McCarthy, vice president of Budweiser in an interview.
While the Budweiser campaign used local events to connect with consumers, most similar campaigns seek feedback via social media. "The web made this type of market research and marketing possible and affordable for companies," said Carol Phillips, adjunct professor of marketing at the University of Notre Dame and president of Brand Amplitude, a Michigan-based consulting firm. Phillips said that crowdsourced campaigns are particularly good for food and beverage companies, who regularly release new, limited-edition flavors.
But there's also a risk involved. When Mountain Dew launched a campaign earlier this year to allow users to recommend new flavor names via a website, Dubthedew.com, users from Reddit and 4chan spammed the site, sending names like "Sour Granny Slap" and "Diabeetus" to the top of the list.
"One con of crowdsourcing is that you can end up at the whims of the internet," said David Shaw, senior strategist of Social Media at Resource, an independent digital agency based out of Columbus.
Budweiser's campaign, which recruited opinions in person, is unlikely to run that risk. "So far, the web hasn't been able to deliver sensory feedback," said McCarthy. "We really wanted consumers to see, smell, taste and truly appreciate each of the beers and give us detailed and intuitive feedback so we could make the best decision."
McCarthy said his company isn't responding to any local or craft movement, but simply to consumers' demand to drink more types of beers. "What we know is younger, legal aged beer drinkers drink a number of brands," he said. "Gone are the days when one brand serves all my needs as a beer drinker. We're tapping into that variety-seeking need."