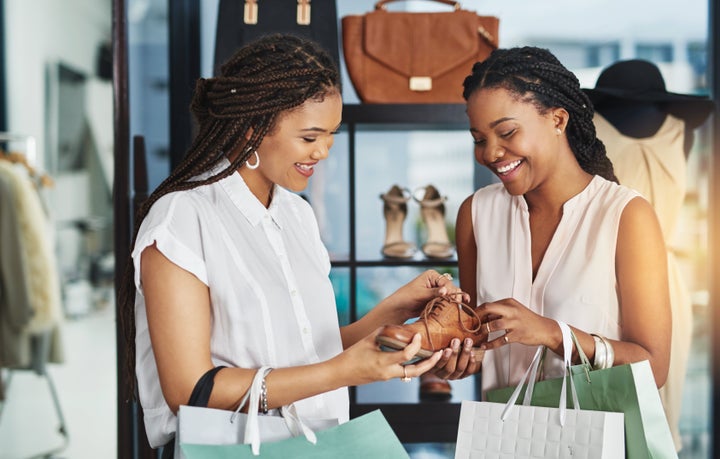 A new Nielsen report is confirming just how much financial power black women have when it comes to setting trends in mainstream consumerism.
The "African-American Women: Our Science, Her Magic" report, released on Thursday, combines stats with the viral #BlackGirlMagic movement to show just how much of an asset black women are to the United States economy. Despite making up only 14 percent of the country's female population, the roughly 24.3 million black women are trendsetters and brand loyalists who play a vital role in influencing mainstream culture in fashion, beauty, television, music and civic engagement for women of all races, information sourced from various Nielsen analytics tools found.
"I think the report is important because being a girl is great, being a black girl is magic," Cheryl Grace, Nielsen's SVP of U.S. strategic community alliances and consumer engagement, told HuffPost. "But being a black woman consumer is pure power and Nielsen thought it was time to add a bit more weight behind the hashtag with some real clear data points. And that's why we really wanted to come forward and celebrate the fact that black women are in a unique place of power at the intersection of culture, commerce and consciousness."
With steady growth in education, income and self-awareness, black women have set trends and broken barriers for all women. A recent U.S. Census survey shows that black female entrepreneurs had the highest rate of growth (67 percent) out of other groups in the number of firms they held primary ownership over from 2007 to 2015, owning more than 1.5 million businesses with more than $42 billion in sales. In addition, 64 percent of black women also agree that their goal is to make it to the top of their profession, which is 95 percent higher than non-Hispanic white women, according to the report.
Grace said that it's also important to note the great share of responsibility black women hold in the estimated $1.2 trillion spending power of black people overall.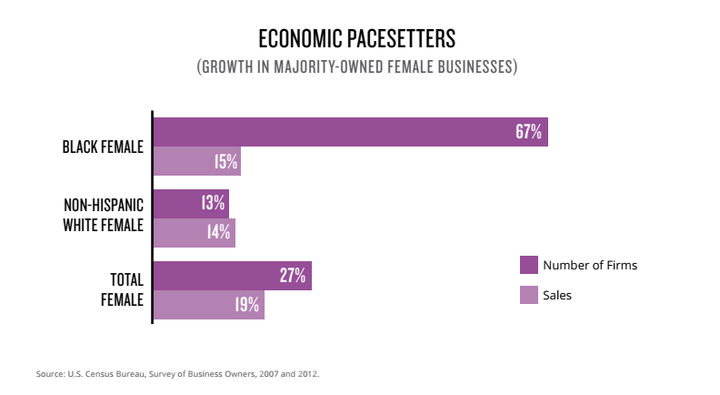 Black women's use of social media has played an especially vital role in their influence, according to the report. Compared to white women, they over-index by 86 percent for spending at least five hours on social networking sites each day. Forty-three percent of black women say they like to share their opinions about products and services by posting reviews and ratings online, and 47 percent agree that people often come to them for advice before making a purchase.
Grace said black women's usage of social media as a virtual town hall to discuss products and hold brands accountable is nothing to take lightly.
"We're using it to galvanize our sisters [and] our consumers around everything from political movements, economic empowerment and social protest so that's where this power truly starts to tap in because it's the advice, it's the referrals, it's the feedback that we're able to give and receive from communities that plays an important role," she said.
She also noted the impact black women's tastes have on celebrities and pop culture in general.
"What black women are purchasing, other women think are cool so they're purchasing it, too. All of that has an impact and when it comes to the fact that we love keeping up with celebrity news and gossip, it also highlights those consumption habits and behaviors a lot of the celebrities that we love and acknowledge now wouldn't be in existence if it wouldn't have been for the black woman's support," Grace said.
The report found black women also shop with a cause, supporting businesses that align with their values and beliefs. Sixty percent of black women are more
likely to purchase brands that support a cause they care about (7 percent higher than non-Hispanic white women), 52 percent are more likely to buy from a company that they know supports a charity (6 percent higher) and 43 percent expect the brands they buy to support social causes (17 percent higher).
Black donors overall gave away 25 percent more of their incomes than white donors and almost two-thirds of black households make charitable donations that total about $11 billion per year, according to W.K. Kellogg Foundation and Rockefeller Philanthropy Advisors. In addition, 38 percent of black women have donated money to religious organizations within the past 12 months.
"I think the report is important because being a girl is great, being a black girl is magic. But being a black woman consumer is pure power."
Despite black women's dollars holding so much power, they often go overlooked. When it comes to consumerism, 63 percent of black women agree that they are willing to pay more for high quality items (12 percent higher than non-Hispanic white women). Yet they are often left out of the marketing campaigns for top brands. In most health and beauty product categories, black women over-index white women for dollars per buyer and buying households, the report stated, noting a considerable shift to natural hair products. Nielsen advises that because of this, it's wise for more of these brands to diversify their product lines (see: Fenty Beauty).
Nielsen also notes that black women have been historically overlooked by investment and financial services industries, despite data that indicates that they would be good candidates (49 percent say they enjoy learning about financial products and services, which is 34 percent higher than non-Hispanic white women).
Given the information in this report, Grace has some advice for brands: "Follow the money."
"I think that it is important to understand that black women value value and values," she continued. "So we like things that offer us value and we also like to bring our personal values to our decisions. So we know that family is important to black women, we know that our religion is important to black women, we know that we tend to be self-reliant and those types of things really do power how we're spending our money, spending our time and I think brands should be aware of [the] value and values equally."
See the full report here.
Support HuffPost
Every Voice Matters
Before You Go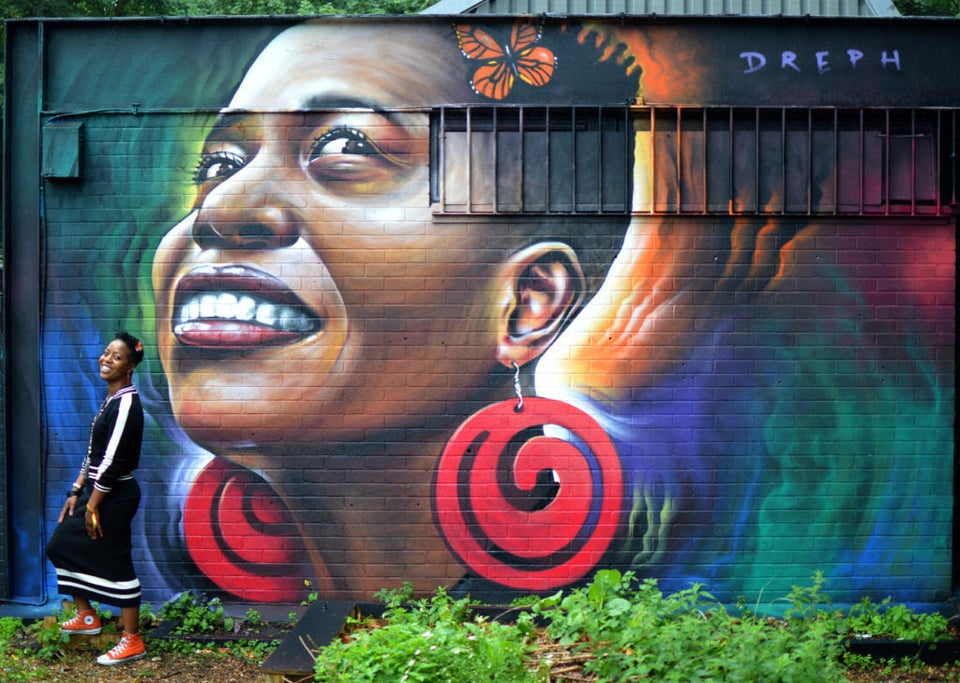 'You Are Enough" Project Celebrates Black Women
Popular in the Community