Markus said he felt a rush of anger followed by seeping frustration as he watched the viral video of patrol supervisor Cpl. Eric Casebolt's blatantly disrespect a teenage girl, whose name is Dajerria Becton. He said watching footage of Casebolt forcing Benton face-down to the ground and sitting on top of her as she cried out for her mother triggered an immediate need to respond. He decided to channel these emotions, use them as fuel and express them through art.
"It struck a nerve," Markus told The Huffington Post. "This particular incident spoke to me because these things happen every day but this time it happened to a child."
Markus wanted to show what it would look like if a black woman were awarded the kind of respect white men receive.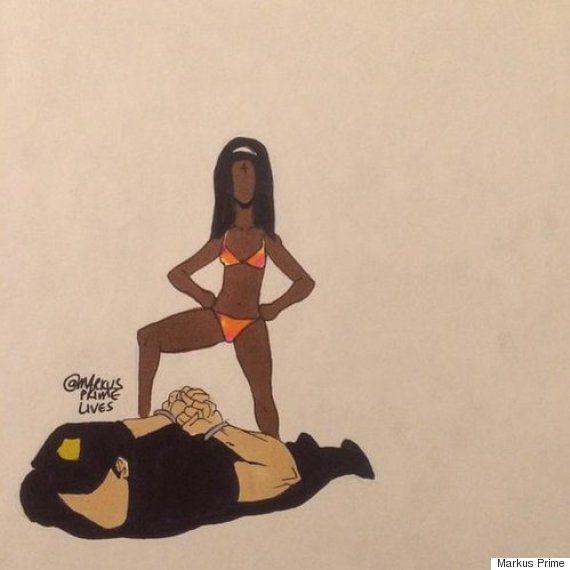 The image shows a white police officer lying face-down on the ground with his hands tied behind him. Meanwhile, a black girl wearing an orange swimsuit stands over him with one leg placed on the officer's back and her hands triumphantly on her hips.
"The video bothered me and I didn't want [my response] to be anything complicated," he said. "I just wanted to make my point in the most simplistic but powerful way possible."
Though the figures pictured draw parallels to Becton and Casebolt, they are faceless in Markus' image, which reflects the ongoing harsh treatment of black lives at the hands of the police. The message it sends is symbolic of the entire Black Lives Matter movement, Markus said.
The image captures the scope of #BlackLivesMatter, while putting systemic nuances into sharp focus. With these two characters, Markus hones in on a group that has largely gone overlooked in the national conversation around race and policing: Black women and girls.
Markus explained that the positioning of the players in the drawing are important. "The officer is restrained and under control, that's the point," Markus said, explaining that he thinks officers should practice these traits more often. "They're not supposed to create more chaos."
Markus said using his artwork to react to real-life events is the sort of thing he doesn't do too often, mainly because he despises the idea of using his work as a prop to gain more attention. But watching Becton forced face-down to the ground by a police officer was something that he, as an artist, couldn't ignore.
"I'm behind her, I support her and I hope that there's some kind of justice and closure for her and her family," he said.
"Black women are strong and powerful," he said. "They're resilient because they deal with everything a black man deals with, plus some. Personally, it's an obligation because of what we're going through as a race, we should put black women at a higher platform."
And if viewers don't recognize that message reflected in this image, Markus doesn't seem to care. He says he'd rather share his work with those who do.