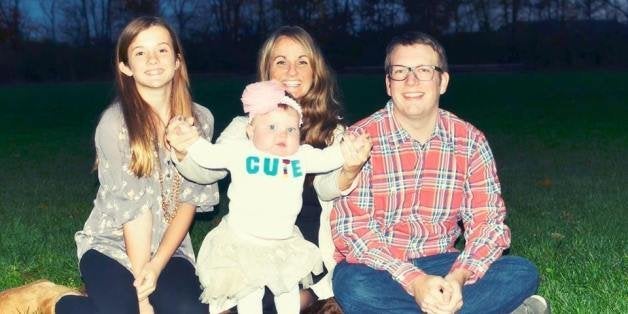 As part of our Blended Family Friday series, each week we're spotlighting a different stepfamily to learn how they successfully blended their two families. Our hope is that by telling their stories, we'll bring you closer to blended family bliss in your own life!
This week we talk to Andrea, a mom of two who has a relationship with her ex's new wife we can't help but envy -- even if some people think their bond is a little bit crazy.
"Some people can't believe how close we are, but as I see it, I'm blessed beyond words that my ex was able to find someone so amazing to bring, not only into his life, but into my daughter's life and, in turn, mine as well," she told us. "I'm thankful every day for his wife, Kelley, and I love their family just like my own."
Below, Andrea tells us more about her special bond with Kelley and shares her best advice for former couples struggling to keep the peace as co-parents.
Hi, Andrea. Want to introduce us to your family?
This one is a little tricky. My ex, Chris, and I have a daughter, Emma, who's 11. Chris is now married to Kelley and they have two children, Coen and Lila, who are 3 and 2, respectively. My husband, Austin, and I have a daughter together, Holden, who's just 10 months. This is our immediate family, but our parents, grandparents and siblings play a big part in our lives, too. There are roughly 30 of us!
How long have you and you and Austin been together? What about Kelley and Chris?
Austin and I started dating four years ago and have been married for one. Chris and Kelley started dating around seven years ago. They've been married for five years.
How did you and Kelley become so close?
One of the things I try to convey to others when discussing our situation is that this isn't a relationship that developed overnight. Chris and I split up when Emma was 3 and Kelley didn't come in to the picture until a couple years after. There were periods of time when it was just he and I, when we were trying to figure out how to co-parent, how to have a friendship, how to simply co-exist. Of course there were other men and women that came in and out of the picture prior to us meeting our spouses -- I can definitely say I wasn't crazy about any of the girls he was bringing around Emma! But nonetheless, I made the effort to try and get to know each of them. One of the things I promised myself from the beginning was that whomever Chris was going to wind up with, I would know her. I never thought I would wind up loving her.
But I have to admit, my relationship with Kelley and Chris was that of a third wheel for the first few years. Out of the kindness of their hearts, and I think primarily due to Kelley's insistence, I was invited to participate in family events with them. Then when I went back to work after having Holden, she helped watch him. I know a lot of people look at us and can't believe I'm friends with Chris' wife -- but I'm sure just as many look at us and think, 'I can't believe Kelley is friends with Chris' ex!'
As hard as it is for everyone to comprehend, Kelley is one of my best friends. What she means to me, without sounding too cheesy, is everything. If she wasn't here to keep Holden for me while I was at work, I really don't know if I would have been able to go back to my office. She is a safety net and a caring heart to my girls, and a sister to me. A drinking buddy when I've needed it. She's just such a blessing, and I love her so much.
What are some of the biggest challenges of blended family life?
The biggest challenges for us are the different beliefs and lifestyles that come with each of our households. Emma definitely has two different mindsets governing her upbringing. That's hard, to an extent, but I always remind myself that she is her own person and she will grow into the woman she's supposed to be regardless of what either of us are preaching or teaching. I know I did.
Then there's the obvious -- holidays, getaways and the like. Though we do spend most holidays together, there are things like family trips that one household goes on that the other doesn't want to intrude on. Things like that are difficult sometimes, only because it's hard for me when Emma's down at Disneyland or out on the beaches somewhere and I'm not there to enjoy it with her and share in those experiences. I always remind myself that she's having fun, and it's important for her to have those experiences with her dad -- but really, it's never easy to miss out on anything in your child's life.
What's the best thing about being part of a blended family?
Far and away it's the love, family and friendships you're exposed to. My family has quadrupled over the last handful of years. I have children who love me unconditionally, and I them, that I would not have the pleasure of having in my life if it weren't for Kelley. I have more people that I never would have dreamed of who are now a part of my baby's life and love her as I love her.
What makes you proudest of your family?
My family works so hard to accommodate everyone in it, I think I'm most proud of that. It's so easy to be selfish, in any situation, and especially in ones where so many people are involved. It'd be so much easier to just look out for yourself, but we don't. We plan holidays, vacations, birthdays, everything with each other in mind. There isn't just one piece holding us all together. We all see how great this is for everyone involved, and we respect and appreciate every other parent in our mini village.
What's your advice for blended families who might be struggling to keep it together?
My advice to every parent who is trying to co-parent with an ex is to let go of any negativity you might be holding on to. There are always a million reasons you might have issues with your ex -- they cheated on you, they moved on first, they stopped loving you -- but whatever it is, let go of it. You're only hurting yourself and holding yourself back from a better life. The most important reason to make the best of your situation is your child. And if you love your child and care more about their well being than you do your resentment, anger or jealousy, then you'll find a way to not only make it work, but enjoy your new life and the new role your ex plays in it. You loved your ex once, and no matter how you feel about them now, they love your child(ren) still. Do both of you a favor and try to find ways to reconnect on a different level that allows you to build a new relationship. It's healthier for all involved, and ultimately much better for your child. And that's all that should matter.
Scroll down for more photos of Andrea, Austin, Kelley and Chris' family.
If you'd like your own family to be featured on a Blended Family Friday, please email us at divorce@huffingtonpost.com. We're looking forward to hearing your story!