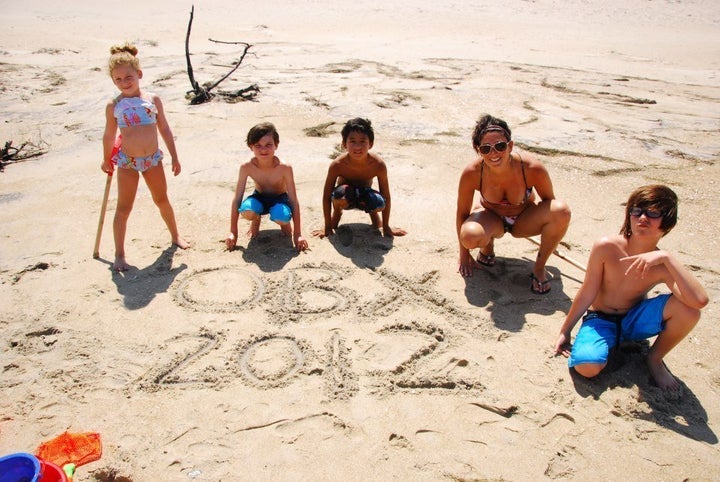 As part of our Blended Family Friday series, each week we're spotlighting a different stepfamily to learn how they successfully blended their two families together. Our hope is that by telling their stories, we'll bring you closer to blended family bliss in your own life!
This week, we'd like to introduce you to Jen and Ryan's family of four. As Jen puts it, blended family life isn't all "unicorns and rainbows," but she and her husband have managed to make it work and then some. "Being together is normal for [our kids] now," Jen says. "They see each other as family... finally."
Hi, Jen! Introduce us to your family.
My husband, Ryan, and I have four kids together, two from each of us. There's my son, Jackson, who turned nine on March 8; my daughter, Olivia (the princess), who's the baby of the family at age seven; and my husband's two boys -- Ever, who will be 12 in May, and Gage, who's 10.
Uniquely, my husband has custody of his boys, so we are full-time parents to all four kids all the time.
How long have you and Ryan been together?
We have been together almost two years. We had been friends for about seven years before we reconnected and got married. Our story is unique because once we reconnected, we skipped the dating phase and got married within a month. When we made the decision to jump into our marriage, it was because we knew that if we went about dating as two single parents with four children that each have their own individual issues, we'd never make it. We decided that we'd just commit, jump into the deep end and make it work. It was not the easiest way to go about the process, but we're two years in and going strong.
What's the best thing about being part of a blended family?
The best thing about being a part of a blended family is being able to show the children what a real, loving marriage and family looks like. We had both been single parents for many years and I personally worried that I wasn't teaching my children the most important lessons about love, accountability, trust and compromise. When it was just me, they were the center of my world and they didn't see what children from a biological family see as relationship role models. The lessons that they learn though the adjustment and the tough times are good ones. They see that two people who love each other can weather the storm of life and stay together. Something that is a paradigm shift from what they knew before.
What's the biggest challenges of blended family life?
The biggest challenge of blended family life is co-parenting kids who are not your own biological children. It's very easy to say, these are my kids, I'll make whatever decisions I want. That is what you're used to, after all, from your single parenting days. Co-parenting is important because decisions have an impact, not only on the child, but on the entire family. It's also important for the children to see the parents as a unified force, and the accountability to the new family only exists when the parents approach them as a family. The other challenge that we face is the influence of the "other parents." We find ourselves dealing with the bad decisions, the unkind words and the general lack of support from the exes. That can be very damaging to how the kids come home to our blended family from their time spent with the other parents.
What makes you proudest of your family?
I am most proud when I hear the kids refer to their step-siblings as their "family." While it hasn't been easy and there have been many times over the past two years that the children noted how much better life was before we were married, they have accepted our decision, embraced it and love each other (at times, just like real siblings as they fight over the TV remote). Being together is normal to them now, they see each other as family...finally. Not without a lot of blood, sweat and tons of tears, but we've made it. I have a loving husband who I get to spend my life with and the children are falling into place. I'm proud that we put our marriage first having faith that the family dynamic would happen with patience and perseverance.
What advice do you have for other blended families who feel like a peaceful family dynamic is out of reach?
Right after Ryan and I got married, we were out at a restaurant with friends. Someone came up to us and noted how in love we looked and started asking about our story. As we told it, the woman quickly shared that she, too, was married a second time and they had five children together. At this point, their kids were all grown and they had been married for almost 20 years. I asked her what the key to their success was, as we were in the beginning days of the difficult adjustment. She told me, "put your marriage first and the kids will find their place." While that felt hard to accomplish, I have kept it in mind so many times throughout the years. I keep the perspective that it's our job to raise our children with love and kindness, not do everything they want. After all, if kids had the choice, they'd eat cupcakes for breakfast. The end goal is to have a partnership that lasts far beyond the days that our kids are in our house. I see myself at 60 and with Ryan. Keeping my eye on the big picture has certainly helped me get through the hardest times.
I think finding common ground for the kids is key. We have found things to do as a family to build the bonds between the children. Many of the activities are things that I had never been interested in before, but when we do things all together there are lots of opportunities for the kids to act as a team. We've taken up camping, hiking, rock climbing, bike riding and skiing. Getting out of the house and having fun together has been integral to everyone's happiness.
Keeping alone time with my biological children is also something I found to be important. We were such a small, nuclear family before Ryan and the boys came into our lives. The times that I am alone with Jackson and Olivia are few and far between, but carving it out and getting back to the "just us" dynamic makes the kids feel like their needs are not forgotten. Sometimes it's just the grocery store, or out for bagels or errands. Other times, it's a full day activity. Whatever it is, it's time together and they love it.
If you'd like your own family to be featured on a Blended Family Friday, please email us at divorce@huffingtonpost.com. We're looking forward to hearing your story!
Click through the slideshow the see photos of Jen and Ryan's family.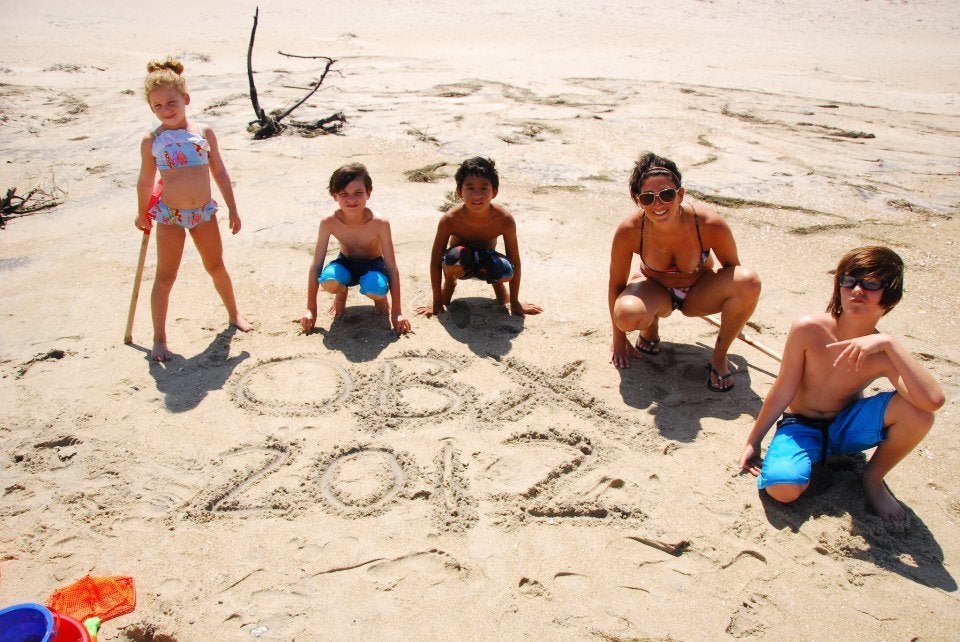 Meet Jen and Ryan's Family