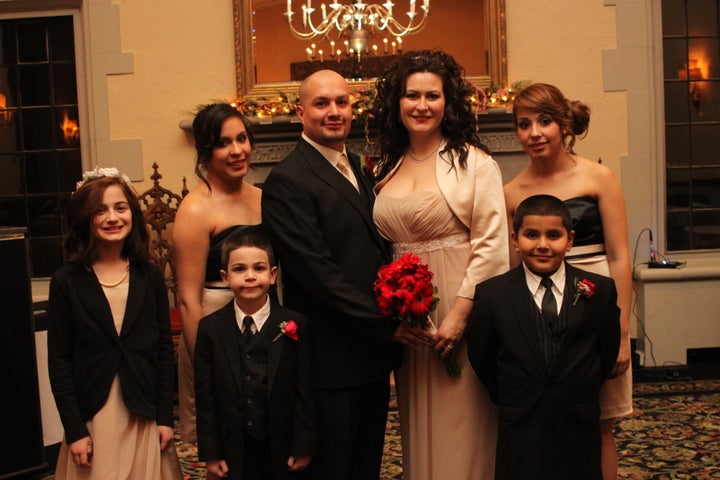 As part of our Blended Family Friday series, each week we're spotlighting a different stepfamily to learn how they successfully blended their two families together. Our hope is that by telling their stories, we'll bring you closer to blended family bliss in your own life!
Today, we'd like you to meet the family of Crissy Mombela, a woman who jokes that her "fabulous blended family" is one child shy of making them "the Latino Brady Bunch."
Hi, Crissy! Introduce us to your family.
There are seven of us total. Jimmy and I have five children ranging in age from 6-19. Lillian (freshmen in college, 19), Leticia (senior, 18), Olivia (10), Luis Jaime (7), and Isaac (6).
How long have you and your spouse been together?
We dated for one year before we got married. However, we were best friends in our early twenties and lost contact for over a decade so we already had a pretty deep connection that just picked up once we began talking again. We have been married for a little over a month now but began living together in late spring of 2012.

What would you say are some of the biggest challenges of blended family life?
Besides the typical ones -- adjusting to living together, sibling differences, and slightly different parenting styles -- the schedule is what seems to be the hardest. The teenagers are very focused on doing their own thing right now and gaining their independence which is sometimes hard to accept and adjust to at times. Scheduling family time is really a challenge (especially with the 18-year-old who is focused on her boyfriend and senior activities). We have joint custody of our three younger children and we are always busy with activities: driving to soccer, to basketball, to dance or to religious ed. This makes us pretty exhausted, yet somehow we make it work.
Outside of the schedule, the other challenge is financial. Starting over in your mid-thirties with a family is very different than starting out in your twenties. Due to this, we both work two jobs, but we make it a point to work on the days we don't have the children so that family time is not directly impacted. We are fortunate to have an end in sight for having to work so much, yet at the same time it adds to the exhaustion. Our silver lining is that our children see hard work pays off and they also see that we view our time with them as sacred; we make it a point to not do something without the children on the days that we have them.

What's the best thing about being part of a blended family?
Family time! We are both family-oriented and we simply love being able to spend time with all of them. When we can get them all in one space hanging out, it just makes us smile from ear to ear. We love it.
We also feel fortunate to show them what a healthy, loving partnership looks like. No one goes into marriage thinking they will be divorced one day. It is even more painful when there are children involved. The best thing, we believe, we could do is show our children that it is possible to be in a loving, stable relationship built on mutual trust and respect. They know we try to balance out our family time with couple time. Our seven-year-old looks at the family calendar to see when we are having date night and will tell us he knows we need alone time and that he is happy we spend time together.
What makes you proudest of your family?
Their ability to adjust and support one another. Lillian and Leticia are closer to adulthood than to childhood yet they find a way to take some time once in a while to hang with their little brother or play with their stepsister and stepbrother without any complaint. At our wedding, three of our children chose to write speeches. Their messages were similar: they were happy to see us happy and glad to be a part of the family. We are amazed by their resilience.
What advice do you have for other blended families who feel like a peaceful family dynamic is out of reach?
I know it is easier said than done, but come from a place of love when interacting with the children or with the other biological parent. We don't view our exes as our exes, we view them as our children's mother or our children's father. It takes away the resentments or frustrations you feel that sometimes, subconsciously, get taken out on the children. I always say my husband's exes are a blessing because, without them, I wouldn't have the privilege of enjoying the three children that I enjoy now. Jimmy feels the same way. My neighbor asked me once, "Did I see that correctly? Was your ex-husband having a beer with your fiancee while grilling?" When I told her yes, she said, "It's strange, but whatever you are doing, it's working. Keep doing it." We wouldn't have it any other way.
If you'd like your own family to be featured on a Blended Family Friday, please email us at divorce@huffingtonpost.com. We're looking forward to hearing your story! Missed last week's featured family? Meet them below!