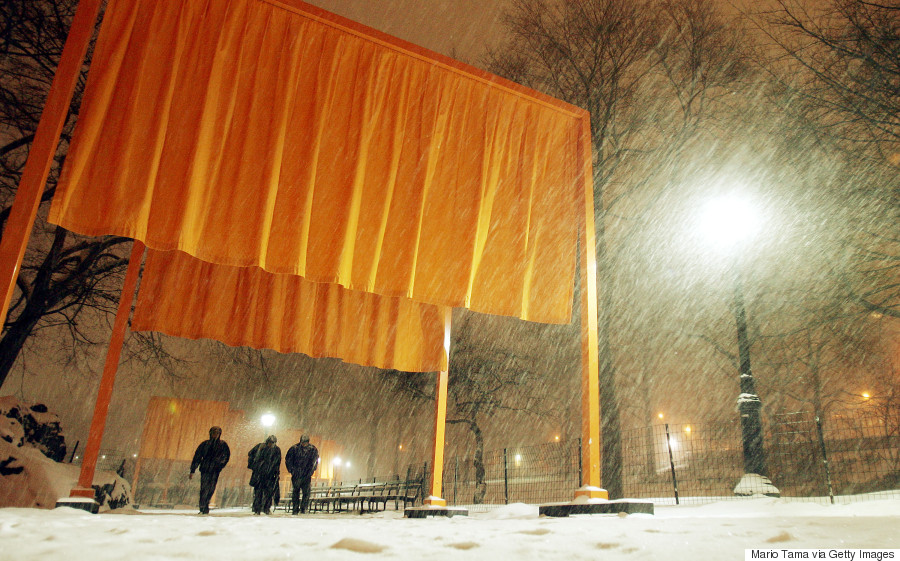 Powerful works of public art can change the way we see, the way we live.
Those in and around New York City in 2005 likely remember a certain 16 days in February, when a string of 7,503 gates sprung up throughout 23 miles of pathways in Central Park, with fluid panels of saffron fabric flowing between the trees like liquid gold. The surreal vision was the work of artist duo Christo and Jeanne-Claude, whose work was hosted by then Mayor Michael R. Bloomberg.
It actually took the artists 26 years to persuade New York officials to let their elaborate public artwork, titled "The Gates," come into being. The artwork officially launched on February 5 at 8:30 a.m., when Mayor Bloomberg dropped the first piece of fabric. Over the course of the following 16 days, the glittering fates generated $254 million for the city of New York and drew four million visitors, according to Kate Levin, who oversees the arts program at Bloomberg Philanthropies.
"But what was more important," Levin explained to The Huffington Post, "was that New York was the headline in every media outlet around the world for something that had nothing to do with death or disaster. In the post-9/11 world, it was a big turning point for the city. It captured a sense of promise and potential. A lot of people who were really frustrated throughout the process leading up to it turned to me afterwards and said, 'Okay, what's next?'"
In the end, the dazzling experience reshaped the park's landscape, along with people's perceptions of New York City, public space, and art itself. Now, 10 years after Christo and Jeanne-Claude's feat, Bloomberg Philanthropies' Public Art Challenge hopes to strengthen the current of vital public art projects through a fundraising initiative that just may yield the next "Gates."

What will be the next great public artwork to shift the way we see and understand our surroundings? Bloomberg Philanthropies pored over 237 project proposals, aiming to select at least three cities to receive $1 million each to create a temporary public art project that would unfold within the next 24 months. Bloomberg will partially fund each endeavor, but a portion of the money must come from private partnerships formed locally around the project. "[Bloomberg Philanthropies isn't] paying for 100 percent because we wanted to make sure the cities were able to leverage private partnerships around the project itself. This pushes the city internally to be incredibly collaborative, and engage levels of government as well," Levin explained. "It creates relationship pathways, ways of really working together."
According to Levin, the program was essentially looking for three qualities in the proposed public artworks: the potential quality of the work, the potential for significant impact on a local issue or position, and the potential for local teams to overcome obstacles and complete the vision. Four projects were eventually selected: "Breathing Lights" in Albany, Schenectady and Troy, New York; "ArtHouse: A Social Kitchen" in Gary, Indiana; "CURRENT: LA River" in Los Angeles; and "Seeing Spartanburg in a New Light" in Spartanburg, South Carolina.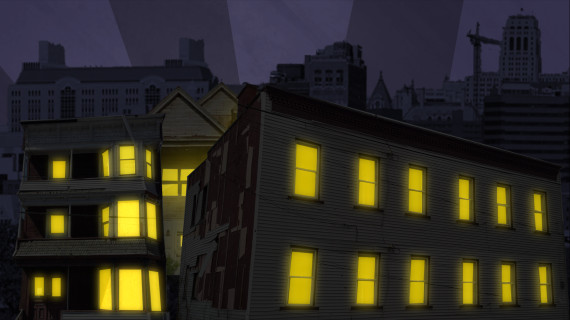 "Breathing Lights," a collaborative project between New York's Albany, Schenectady, and Troy, aims to illuminate the serious problem of vacant and abandoned buildings, quite literally. Artist Adam Frelin will collaborate with architect Barbara Nelson to light up over 300 vacant homes over the course of several months, along with the help of over 25 community and private sector partners.
"Living in this area you become immune to the number of vacancies," Frelin told HuffPost. "It's not like every building is falling down -- they look like normal buildings. But when you get up close to them you realize, 'Oh, there's something draped over the windows,' or, 'Oh, there is a lock on the door.' And when you start to realize the numbers, it's pretty shocking."
Frelin initially pitched a proposal to Bloomberg Philanthropies, which then suggested he reach out to collaborate with Nelson, whose pitch contained a similar message. The two then dropped their previous proposals and joined forces, thinking up a vision that could communicate the haunting force of the vacant buildings in a succinct and impactful image.
"We wanted the effect to act as the visual equivalent to a life force," Frelin said, "so these properties would be seen as potential energy. Like a life blood that is dormant throughout the entire region, that's coming out in multiple sites throughout the city, with these buildings functioning as release points. The energy is allowed to come out of these nodes, these buildings, in the form of light."
Frelin is collaborating with several groups ranging from General Electric to the Lighting Research Center to make his vision a reality. Although he is excited to address the concern of abandoned buildings endemic to his region, his primary goal is creating a strong work of art, able to stand on its own.
"First and foremost this has to be a transformative visual experience. That is such a priority," he said. "It's important to me that we come up with a visual effect that will move people even if they don't know much about contemporary art, or what's happening in the region. I want it to be something where the artwork came to them. Someone is on their way to work and they see these buildings kind of breathing. All these vacant houses kind of come to life. It's something that literally seeps into the fabric of everyday life."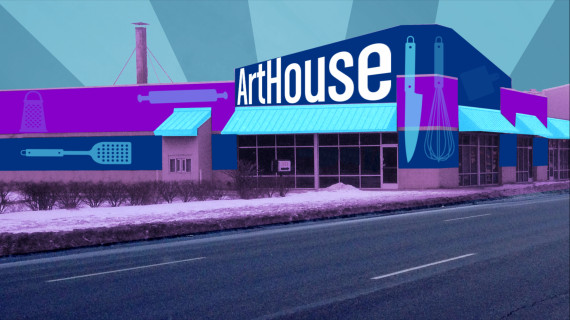 "ArtHouse: A Social Kitchen"
While two of the four selected artworks are located in American art capitals New York and Los Angeles, the other half will lure viewers to more unestablished creative destinations. For example, Chicago-based artist Theaster Gates hopes to revitalize the city of Gary, Indiana, by providing it the large-scale resources not usually allotted to local projects.
The work, called "ArtHouse: A Social Kitchen," is a durational artwork that will introduce a series of big and small dinners throughout the year, many of which will involve smaller public art initiatives along the way. Gates intends to celebrate local culinary artists, restore overlooked aspects of the city and hopefully open some new businesses along the way. The process-based artwork revolves around the relationship between art and contemporary food practices, and a shared faith in the unexamined cultural value of Gary.
"The community that is there is very much like the community grew up in," Gates said in an interview with HuffPost. "Amazing people doing amazing things. People just really didn't know about it, and didn't care. The work that I'm interested in doing is thinking about those neighborhoods, wherever they are."
In particular, Gates hopes to put eyes on Gary as a fierce cultural hub. "Gary matters," Gates said. "Great things can happen in poor places. And great things are waiting to happen if we would simply connect amazing local talent with the resources necessary to do things."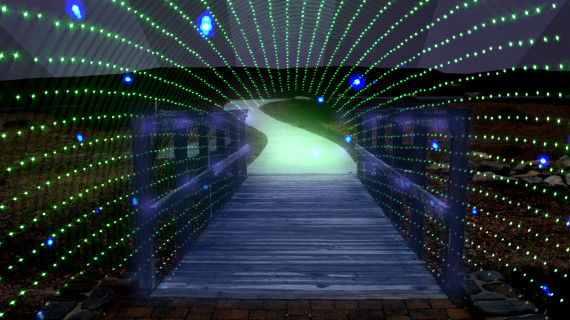 "Seeing Spartanburg in a New Light"
Also outside the usual roster of art destinations is Spartanburg, South Carolina, home of the future public artwork "Seeing Spartanburg in a New Light." Light artist Erwin Redl will spearhead the work, collaborating with police and fire departments as well as neighborhood associations to design and create LED light installations aimed to yield safer and more vibrant cities.
Unlike the other artists selected, Austria-born Redl did not submit a proposal for the public artwork, nor did he have any previous connection to Spartanburg. "They found my work," the artist explained. "They just called me and asked me if I was interested." In terms of details about the work, Redl said at this point there was "no specific installation in mind."
Redl hypothesized that Bloomberg Philanthropies was inspired by a large-scale piece he created for Charlotte, North Carolina, an indication of what he was capable of. Whatever the final result, Redl's public artwork will coincide with National Night Out, an event promoting crime prevention efforts and police-community partnership.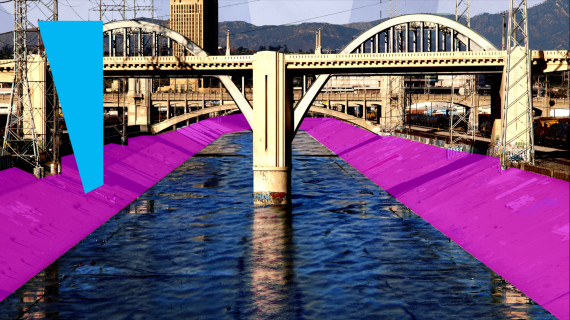 The visions described by the selected artists will come to fruition in the coming 24 months, cementing unique partnerships, forging new small businesses, recognizing local talent, sparking dynamic conversations and, most of all, visualizing unseen perspectives. "That's fundamentally what public art does," Levin said. "It helps people look at their surroundings in a new and different way. It's hard to express concisely how, through public art, people in cities can really envision difference and potential in their communities. It has the possibility to really move people, in a way that's not possible through straightforward government policies and approaches. It's enormously valuable. They're also a lot of fun."
REAL LIFE. REAL NEWS. REAL VOICES.
Help us tell more of the stories that matter from voices that too often remain unheard.
BEFORE YOU GO
PHOTO GALLERY
Christo And Jeanne-Claude