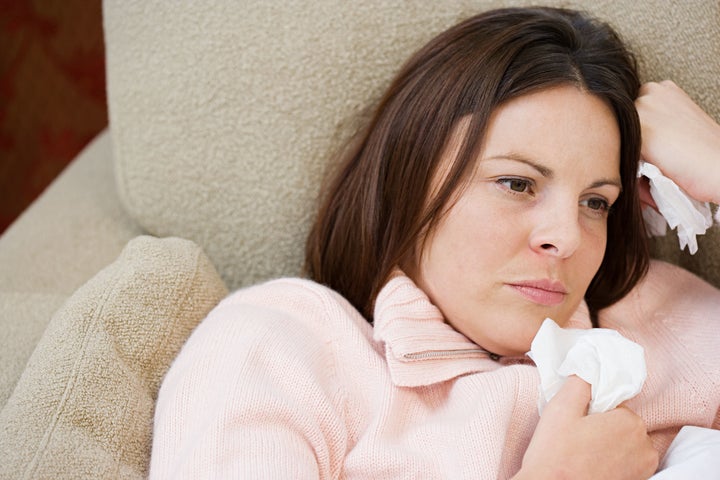 I am new here at The Huffington Post. I started three weeks ago, and on my second day I started to feel a cold coming on. But it was my second day at a new job! I went into the office even though I knew it was a bad idea, because the pressure to look good in front of a new boss is strong and not totally rational.
Instead of taking a day to recover and moving on, I spent several days miserable in front of my computer. It was a slog. 
I thought about this experience as I read about Harald Krueger, the new CEO of BMW, collapsing onstage at the Frankfurt Motor Show on Tuesday. Krueger fainted during a press conference in a "moment of dizziness," BMW spokesman Maximilian Schoeberl told Bloomberg. Apparently, he had been traveling extensively for business and had not been feeling well that morning. The company says Krueger is "recovering well," according to Andrew Hill in the Financial Times.
The CEO probably thought he had no choice but to attend the event, which was a genuinely important one for the car maker. As Bloomberg noted, "BMW, the world's biggest maker of luxury cars, is presenting a revamped version of its top-of-the-line 7-Series sedan at the Frankfurt show." The show is also a biennial event in BMW's home country of Germany. Krueger took over in May, so this was his first appearance.
As Hill pointed out, "cancelling would have looked bad. It would certainly have fuelled gossip."
The incident shows, however, that CEOs often feel the need to exert themselves to the point of collapse. Whether the issue was illness or simply the stress of constant work across time zones, Krueger clearly felt that he had to push past it to present on Tuesday.  
And when bosses set an example, employees tend to follow it -- with occasionally disastrous consequences. A recent study by researchers at Harvard and Stanford estimated that "more than 120,000 deaths per year and approximately 5-8% of annual healthcare costs are associated with and may be attributable to how U.S. companies manage their work force." The study looked at factors including long hours, job insecurity, and work-family conflict. 
In other words, stress at work can, and does, kill people regularly.  
Yet the high-stress mentality is one that many American (and, clearly, a few non-American) workers buy into. Over at the Harvard Business Review, Gianpiero Petriglieri writes that people often frequently end up thinking of their work as an extension of themselves. "The work they fear might kill them is that which also makes them feel alive," he says.
Often, this mindset actually hurts overall performance. Going back to the week I worked with a cold, I'd likely have been more productive had I simply taken a whole day off and showed up the next day refreshed. Instead, I ended my first week totally exhausted. Even without being sick, it's well-known by now that people who don't get enough sleep end up chronically underperforming.  
It's not just about slogging through a day at work with full sinuses or making it through one afternoon after sleeping poorly. It's about what putting work above health does to a person over the course of weeks, months and, eventually, decades. That picture isn't pretty.
Calling all HuffPost superfans!
Sign up for membership to become a founding member and help shape HuffPost's next chapter