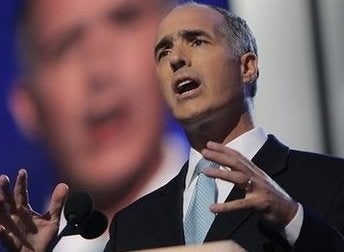 In an all-too-rare display of bipartisanship and courage coming out of Washington these days, Democratic Sen. Bob Casey of Pennsylvania last week broke ranks with President Obama and his own party on an issue of critical national importance, and, to our common faith, Catholicism. Sen. Casey, Sen. Joe Manchin of West Virginia, and Sen. Ben Nelson of Nebraska, bucked the political tide and joined Republicans voting in support of the Blunt Amendment, a Senate proposal that would have undermined President Obama's controversial mandate requiring employers or their insurance companies to cover the cost of contraceptives, sterilization, and abortifacients, an idea that fundamentally conflicted with their moral and religious beliefs. Unfortunately, the Blunt measure, which would have allowed employers and their health insurers to opt out of federal mandates, was killed in a 51-48 vote.
A bit of history here gives context to why I write.
I have had the privilege of knowing Sen. Casey, his father and mother, and his siblings for almost four decades. We have been on opposite sides of several issues, and, his father, Gov. Bob Casey, even made commercials against me as I ran, successfully, for district attorney in Scranton, Pa., three times. The governor's loyal support of Democrats even carried over to my successful run for Pa. attorney general in 1988. Under State law, the attorney general is the principal litigator for the various state agencies and departments in lawsuits as diverse as tort claims against the Pa. Department of Transportation, taxation questions, and even constitutional issues. In a real sense, the governor and his departments are the clients of the office of attorney general. Many political observers questioned how this personal and professional relationship could work given our political divide.
In order for the commonwealth, established by William Penn, and, nurtured by Benjamin Franklin and other giants over the centuries, to function as the governing body of over 12 million people there had to be a sense of commitment by two political adversaries for the common good. And so it was for much of our overlapping elected tenures. We shared a common drive for the suppression of drug trafficking with new laws, more highly trained narcotic agents, the establishment of coordinating local drug task forces and the encouragement of treatment programs. This effort carried over into new consumer protection laws, joint environmental enforcement, and, pro-growth policies for our utilities.
And then there was our most famous joint effort, the constitutional defense of Pennsylvania's new, regulatory Abortion Control Act in one of the most contentious and defining cases of our time, Planned Parenthood v. Casey. I had the honor to defend the governor's position when I argued that case in the United States Supreme Court in 1992. It was a successful defense, but costly for both of us personally.
Governor Casey, the most popular Pa. governor in our memory, was disrespected and humiliated by his own party when he was not accorded the opportunity, even briefly, to address the Democratic Party presidential convention in 1992. He remained an outcast until his death. And when I ran for governor in the primary of 1994, the Republican establishment was not in my corner and endorsed Rep. Tom Ridge. And the rest is history.
The governor died on May 30, 2000, a death he knew was inevitable with his slowly constricting heart, but which he approached with dignity and prayer from his unwavering faith. It was a death to which his son, the now senator, was a humbled and grieving witness.
While I knew the senator well (we lived in Scranton's "Hill Section" and we attended Immaculate Conception Church in Scranton for many years), I did not have to approach him to lobby him on the Blunt Amendment. I knew how he would vote. I believe he is now a growing and sturdy oak in the forest of principled greatness planted by his father.
Political courage has become almost extinct in Washington. The hyper-partisan atmosphere has increasingly led to the sacrifice of courage at the altar of political convenience and correctness. Far too many of our elected officials head to Washington, vote against their convictions, and insist that they are "taking one for the team."
But not this time. And not Bob Casey. This past Thursday, when he stood up for his beliefs, he took a principled stand against the Obama administration's massive and intrusive overreach into the freedom of all Americans to practice their constitutionally protected religious rights.
Regardless of whether you agree with Sen. Casey, or where you come out on Obamacare's federal mandate, witnessing Governor Casey's son stand up for his deeply held convictions is something all Americans need to celebrate and support. Far too many of our nation's leaders have lost sight of this.
Sen. Casey and his compatriots must continue this fight. They must not waver. There can be no surrender in what will assuredly be a highly contentious election year for President Obama, whom Casey has endorsed -- especially in the electorally critical State of Pennsylvania. Our country needs him and others of principle to stand up for what they believe in, and, not waver as so many reeds in the wind.
Ernest D. Preate is a lawyer and the former attorney general of Pennsylvania.

Calling all HuffPost superfans!
Sign up for membership to become a founding member and help shape HuffPost's next chapter