Los Angeles' relationship to the human body is a complicated one.
For one, the sunny Southern California destination tempts its citizens to bare more flesh on the average day than most other locales. The city is also all too often aligned with the latest crazes in fitness, diet and new age wellness. Hollywood often finds itself in cahoots with the latest idolized bodies, and any subsequent surgical attempts to imitate said bodies. And a little north in the San Fernando valley, you'll find one of the original hubs of the porn industry.
Yes, if there were any destination bursting forth with opportunity for a body-centric art exhibition, the city of angels would be the place.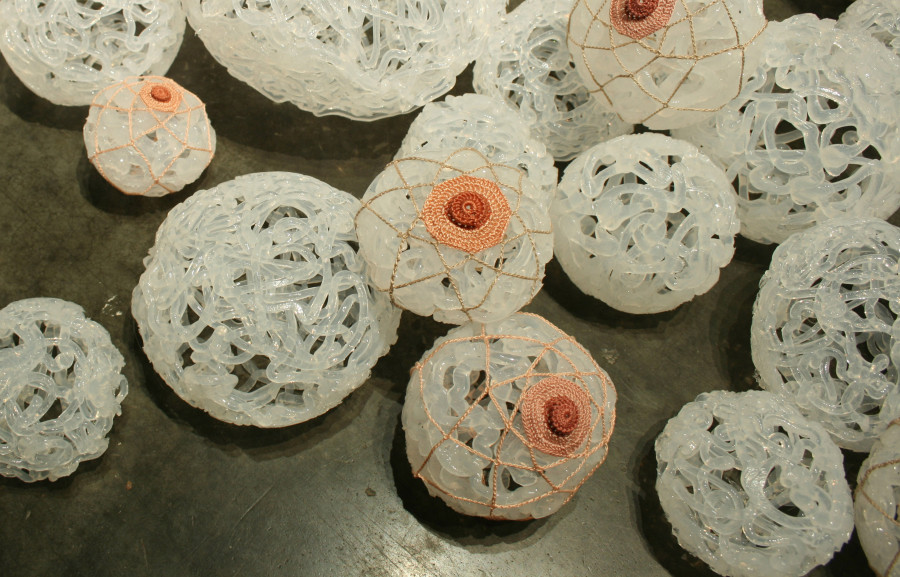 Ashley V. Blalock, Complements, 2010, extruded silicone and thread, dimensions variable
Enter "Body Conscious," a group exhibition at Craft in America, featuring nine fiber artists working in the Southern California area. The show explores the aura of fiber art in SoCal, especially as it relates to the human body in all its soft, ever-evolving wonder. "Body Conscious" beautifully aligns subject and medium, making a compelling argument that no artistic instrument can quite convey the fluctuating nature and physical allure of the physical form quite like similarly agile and tactile fibers can.
"Our bodies go where we go, and with them we carry our biology, our sexuality, and our self‐awareness," Craft in America explained in a statement. "These are the things that make us tick, and the artists in Body Conscious uniquely present this motley portrait while employing a medium that is most conducive to articulating these themes."
The show doesn't just explore the physical body as such, but all traces of science, sex, and self that become written on the flesh. Miyoshi Barosh's "Crowd of Legs" features hot pink limbs made from found sweaters and cotton filling, resembling a tangled mass of muppet appendages, a heap of candy-colored carnage somewhere between sweet and sinister.

Miyoshi Barosh, Crowd of Legs, 2014, found sweaters and machine knitting, polyester and cotton filling, 94" x 29" x 97" (approx.)
Ben Cuevas uses knit, yarn and fur to create a human skeleton distinct from the brittle bones we see in textbooks. And then there are Ashley V. Blalock's wonderfully squishy "Complements," resembling at once breast implants and little universes. For the soft sculptures Blalock extruded silicone into champagne coupes, whose shape was once, wrongly, thought to be based on the shape of a breast.
The following artists explore the complexities of the body and all its many corollaries -- from standards of beauty to the transformative effects of wearing a disguise. Both cozy and complex, "Body Conscious" weaves a compelling connection between a material, a geographical location, and a human phenomenon.
Take a glimpse at the exhibition below, though this is one you really should check out in the flesh.
"Body Conscious: Southern California Fiber" runs from August 23 until October 25, 2014 at Craft in America.

REAL LIFE. REAL NEWS. REAL VOICES.
Help us tell more of the stories that matter from voices that too often remain unheard.
BEFORE YOU GO
PHOTO GALLERY
Louise Bourgeoise