"Dude: Where's the Beach?"
The beach scene at Mamallapuram, India, is unlike any I've ever seen. Dotted with long narrow fishing boats tucked in between ancient ruins and Hindu temples, sacred cows meander across the beach, unaware of their status, engaging in displays of bravado, not unlike the macho behavior of your stereotypical beach hunks. A reality show is being filmed on a research vessel just offshore while Bollywood sets explode to life with color and grace.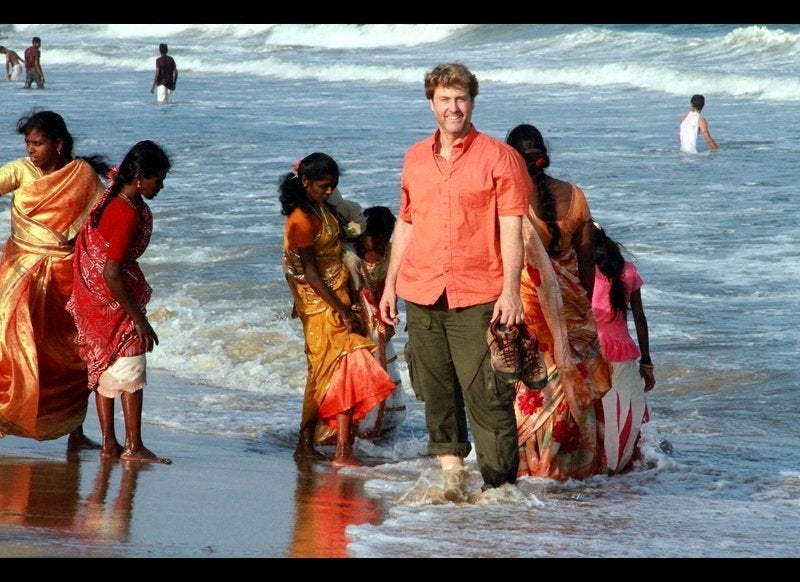 Women in saris are dipping their ankles in the surf, dogs are barking and fishermen are hard at work repairing nets. Rich, tangy smells of curry, local cuisine and fresh sea air put the finishing touches on this incredibly vibrant setting. It's a true intersection of all walks of life, and I didn't expect the most memorable aspect to be a man with a surfboard named Mumu.
This community may be idyllic on the surface, but they've had to weather some difficult times. The horrific Tsunami of 2004 devastated the Bay of Bengal Community and countless others throughout the region. Much like most major disasters, people tend to remember exactly where they were when it happened.
Enter our surfer friend Mumu, who may have forgotten some of the details, but still remembers his initial reaction that day. After a night of excessive celebration, Mumu was napping on the beach, when he was anxiously awoken by his brother. It soon became apparent that the impending tsunami had drawn all of the water out to sea, preceding the devastating waves to come. Mumu's first thought upon waking to this was, "Dude, where's the beach?" Realizing the gravity of the situation, his attention quickly shifted to the safety of this family.
Mumu's family is composed mostly of fishermen. As a surf instructor, he is considered prosperous and adventurous, for pursuing a profession that is rewarding both emotionally and financially. Unlike the oft-perceived image of a 'slacker surfer', in India surfing is genuinely considered a better life.
Since the Tsunami of 2004, Mumu and his family have learned to make peace with the ocean. They continue surf and fish from the very waters that, not long ago, threatened their lives.
On top of Mumu's dedication to his family and outgoing personality, his surf lessons to the town's children and foreign visitors and ownership of his own surf shop combine to make him something of a local legend.
The idea of learning to surf with a guy like Mumu on the Bay of Bengal was very appealing to me. Something of a rock star, he has a following of students and fans that proudly wear t-shirts that say "Mumu's surf shop".
While you may not expect to find a strong surf culture in India, when you actually meet the surfers themselves you may feel a strong sense of familiarity. Surfers share an international language, the same religion: "zen dudeism," a laid-back attitude, and a strong connection to the sea. Mumu had long hair, his own entourage, a puka shell necklace, and that "hang ten" mentality you see on film and television. It isn't just a stereotype, its part of their lifestyle.
I look forward to years from now returning to a thriving surf culture in India and being able to tell my children that I learned from Mumu, one of the true pioneers of Indian surfing.