With headliners Stevie Wonder, Florence + The Machine and Red Hot Chili Peppers, BottleRock Napa Valley has established its identity as Northern California's foremost concert, wine and culinary celebration. Still, the three day festival that took place over Memorial Day weekend kept enough start up energy and local flavor to retain some of its quirks.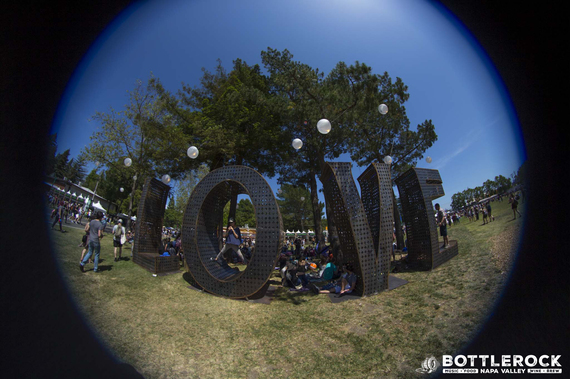 Now in its 4th year, BottleRock almost didn't make it out of infancy when the first go-round left the neighbors unhappy and some vendors unpaid. A group of local investors, Latitude 38, rallied to the rescue, addressing complaints, and scoring BottleRock's first musical coup--the only North American summer performance of The Cure. Then, 2015's festival followed up with Robert Plant, No Doubt and Imagine Dragons as the big draws.
This year, word got out about BottleRock's mix of well-known musical acts, distinctive musical up and comers, some of the best wine and fine food offerings in the pop music festival world and its lovely Napa, California setting. All 120,000 tickets to BottleRock 2016 sold out weeks before the event.
Here are some of BottleRock's unexpected twists and highlights from the first day:

Stevie Wonder, Lenny Kravitz and Michael Franti & Spearhead on the Jam Cellar Stage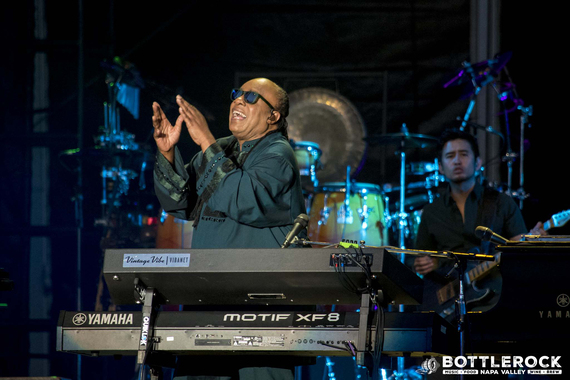 Stevie Wonder: A music legend brings cred to an event and Stevie Wonder is all that and more. If such a thing as music from the spheres exists, Wonder tapped into it long ago. Hearing his musical gifts live is still an event to behold.
However, Wonder also makes his own rules. In a 95 minute show, he performed such favorites such as "Signed, Sealed, Delivered I'm Yours," "If You Really Love Me," "Living for the City," "I Wish," from the album "Songs in the Key of Life," and "Superstition," but also seemingly off- the- cuff and near-verbatim versions of "I Want to Hold Your Hand" and "The Letter," by The Box Tops.
Stranger still was his 20 minute "tribute" to musicians who recently passed away--Prince, Maurice White from Earth, Wind and Fire, Natalie Cole and David Bowie--where he played their songs off what looked to be his iPod. This left Wonder's formidable band and bevy of backup singers with nothing to do on stage. While a tribute is a nice idea, it would have been better if he and the band actually performed covers of the songs -at least one. Plus, Wonder has a 40 year repertoire of incredible music and it would have been great to hear more of that.
Wonder does not appear to be on tour and BottleRock plucked him out of the studio for this show. Odd turns and all, the concert was worth seeing.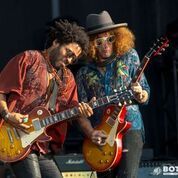 Lenny Kravitz: Lenny Kravitz's performance demonstrated that he continues to grow in musical sophistication, adding a stellar jazz horn section to his tight rock/r &b based sound. Kravitz breathed fresh life into his long string of hits, "Are You Gonna Go My Way," "It Ain't Over 'til It's Over," "Let Love Rule," "Fly Away" "Mr. Cab Driver," "American Woman," "Again" and "My Mama Said."
The show hit a glitch a technical glitch, which he recovered from nicely, and he faced a shorter than expected time slot. (One of BottleRock's idiosyncrasies is a strict 10 p.m. stop time.) Nonetheless, Kravitz's soulful, high energy show stood as a reminder of his musical gifts and left the audience wanting more.
Kravitz's band also gets the Best Dressed Award.Their clothes were an eclectic mix of retro Afro-chic, neo hippie and L.A. rock 'n' roll. They looked as good as they sounded.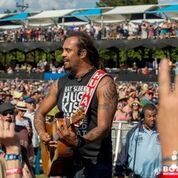 Michael Franti & Spearhead: Bay Area music hero Michael Franti's ability to rev up an event is second to none. Spending almost as much time running through the audience as on stage, Franti had the crowd of thousands jumping for much of the rock-reggae set. (One audience member described it as an aerobic workout.)
The exuberant, positive street vibe of Franti's music, his band Spearhead and the man himself infused the evening with inspiration and a sense of inclusiveness.
In fact, Michael Franti served as a kind of ad hoc musical mayor of BottleRock 2016. A social activist, Franti performed at a BottleRock-sponsored dinner fundraiser for his charitable Do It For Love foundation on Thursday night. (BottleRock launched a series of "aftershows' around town this year.) He also appeared on the newly enlarged culinary stage and in a press conference.
Even Franti's forthcoming album derived one of its song titles from a line he uttered at BottleRock 2015. Someone asked him what is his favorite wine. His response--and now the song title--"My Favorite Wine is Tequila."
Notable improvements: Better foot traffic flow, more astro turf for a lush look and cushy feel, a larger culinary stage although they still could use slightly bigger screens for a full "culinary theater" experience, greater number of wines vendors, including some stars like St. Supery Estate and Cakebread Cellars, high quality, local creative food vendors and better organization in general.
We will see what next year brings.
Calling all HuffPost superfans!
Sign up for membership to become a founding member and help shape HuffPost's next chapter