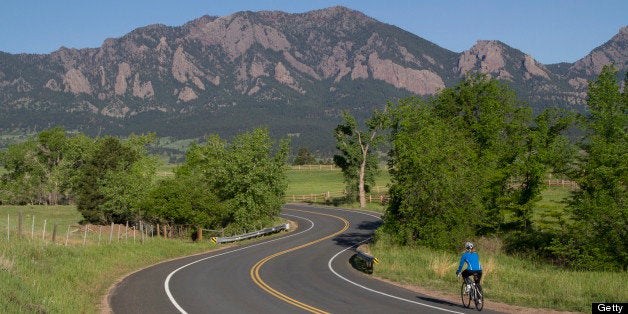 Boulder is setting its sights on carbon neutrality -- or, barring that, 80 percent greenhouse gas reductions -- by 2050, even though the city hasn't been able to meet its current Kyoto protocol goals.
Meeting that new goal, which is expected to be adopted by the City Council next year, will require an "unprecedented level of action" by the city and the community, but is also the only way for Boulder to do its part toward slowing climate change, top city officials said in a memo to the council.
"The implications of adopting an ambitious goal such as carbon neutrality are significant and far-reaching," the memo said. "Accomplishing a goal of this magnitude will require very significant changes -- both locally and regionally/nationally -- from a high-carbon-based economic and social system to a low-carbon one," the memo said.
Achieving an 80 percent drop in greenhouse gas emissions by 2050, the same goal adopted by Portland, Ore., would require Boulder residents to cut their electricity use by a quarter by 2020 and in half by 2030. They would have to reduce their travel by car from an average of 20 miles a day in 2013 to less than four miles in 2050.
Achieving carbon neutrality -- the goal Seattle has set for itself -- would require Boulder residents to cut their electricity use by 87 percent by 2030 as the community moves toward no electricity from carbon-based sources in the future.
If the city merely continues its current Climate Action Plan, the community's greenhouse gas emissions are expected to rise 15 percent by 2050 because people continue to consume more energy even as energy efficiency improves, the memo said.
CU's Pielke says goals are 'just decoration'
Roger Pielke Jr., of the University of Colorado's Center for Science and Technology Policy Research, said that Boulder's climate commitment is more an expression of values than a realistic goal.
"How much effort, cost, political capital, etc., does Boulder wish to deploy to demonstrate its commitment to an ethical position?" he said. "This is really what the debate is about. All of the numbers and analyses here are really just decoration."
Pielke said the goals are simply not possible to achieve with current technology and trends in energy consumption and generation.
"The report shows a fair degree of hope winning out over experience," Pielke said. "Achieving existing climate goals in Boulder has not fared so well. Why would anyone think that these challenges will go away now?"
But Boulder officials say they are quite serious about following through on the goal, though some of the changes will require technological and information advances.
"We know this is the direction that larger human society has to take, or we're cooked," said Brett KenCairn, a senior environmental planner for the city. "It's the communities that take early action that are going to be social, economic and environmental leaders."
The Boulder City Council meets in a study session Tuesday to discuss what the city's next climate goal should be and the next steps to get there.
City environmental planners will be looking for feedback to shape the plan that will be presented for adoption early next year.
The discussion comes a week after a divided City Council took an initial vote to pursue acquisition of Xcel Energy's assets to create a municipal energy utility with a greater focus on renewable energy sources, and a week before it's scheduled to take a second vote.
'We simply have to change our energy sources'
The report to the council emphasizes that while significant new conservation efforts are needed, conservation will never reduce the community's greenhouse gas emissions below 50 percent of 1990 levels. It said rapidly expanding access to renewable energy through a municipal utility or perhaps a new partnership with Xcel Energy is the only way the city would see deeper reductions.
KenCairn said that was one of the most significant reasons the city failed to meet its earlier Kyoto Protocol goal of reducing emissions below 1990 levels. The city's energy supply is heavily dependent on coal.
"How can this goal be achieved when the prior goal was not?" KenCairn said. "Part of that is that we learned a lot more about how to have an impact, but also that we simply have to change our energy sources. That's an undeniable conclusion that we're reaching."
The memo describes a trajectory of improving energy efficiency by an additional 15 to 25 percent between now and 2050, while ramping up energy from renewable sources until it accounts for all or most of Boulder's electricity use.
"Significant short-term decarbonization of source energy is a fundamental prerequisite to achieving longterm climate goals," the memo said. "Increasing renewable energy resources by as much as 50 percent in the next seven to 10 years is a minimum achievement threshold to maintain sufficient progress for either a carbon neutral or an 80 percent by 2050 goal."
KenCairn said a municipal utility that could get half of its power from renewables on "day one" would represent a significant step toward meeting the new climate commitment goal as early as 2017.
Critics of municipalization have questioned whether the city can buy the amount of renewable energy it says it can at rates similar to Xcel's and also whether the city's purchase of renewables makes any measurable difference in the state's carbon footprint.
Between Tuesday and the adoption of the climate commitment, environmental planners are working to develop specific metrics and five- and 10-year targets that the city can use to measure its progress and recalibrate programs along the way.
KenCairn said not every initiative will produce the desired results, but with real-time data and concrete targets, the city can make necessary adjustments.
"It's essential that we have all the right pieces in place before we implement strategies," KenCairn said. "One of the important lessons we've learned is that the ability to get real-time, accurate energy use information is absolutely vital. It's a fundamental prerequisite."
To that end, the city is working with Austin-based Pecan Street Research Institute, using technology from a Boulder firm, to develop "behind the meter" or "customer-side" energy use information from Boulder businesses that will help them develop better program and service options.
KenCairn said improvements in energy use information may soon revolutionize energy efficiency programs.
The city has said it eventually will have mandatory commercial energy efficiency standards, similar to those in place for residential landlords, but KenCairn said that step is on hold until the city can improve information gathering and develop policies for the wide variety of businesses in Boulder, from large aerospace and computing firms to small stores.
In the past, the Boulder Chamber of Commerce has said Boulder businesses want to work with the city toward improving energy efficiency but are wary of mandates. A spokeswoman for the chamber could not be reached Friday.
Boulder shares ideas with Pacific Northwest cities
Brett Phillips, director of sustainability for Unico Properties, which owns 14 buildings representing 330,000 square feet of space along the Pearl Street Mall, said the company worked closely with government officials in Seattle and Portland, where it also owns property, to create climate action programs that met the needs of property owners as well as the broader community.
Phillips said tenants increasingly want energy-efficient, green buildings for their own brand and to attract top talent, as well as to save money on utility bills.
The company is in the process of doing a high-level energy study of its Boulder properties to determine which upgrades make the most sense.
Unico is working with building consultants McKinstry and sharing its information with the city so that officials can better understand the impact of different measures.
Boulder is also working with other cities, along the Front Range and in the Pacific Northwest, to share ideas and experiences working to reduce emissions.
One idea the city is considering -- borrowed from Portland -- is the idea of "eco districts," neighborhood organizations that would work on efforts to reduce emissions that matched local priorities, whether that was improving pedestrian safety so people can walk more or contracting collectively for solar panels.
The effort will be tied into other city initiatives, from the transportation master plan to neighborhood design to building codes, the memo said.
Boulder councilwoman Lisa Morzel, who wants the city to have a goal of carbon neutrality, had a simple response to those who say Boulder's efforts are symbolic: "Bah, humbug."
Several other council members, including Ken Wilson, George Karakehian and Macon Cowles, could not be reached Friday.
Morzel said Boulder, with a population around 100,000 people and a wide range of businesses, makes a good laboratory for testing new programs. She described going to conferences on the world's energy future where Boulder was the only U.S. city represented, and all over the world, people want to know what Boulder is working on. Yet European cities that started after Boulder have made more progress, she said.
"In all my years on council trying to move this forward, we've made progress but not the progress of all these European cities," Morzel said. "This is not that ambitious. I don't think we need to be afraid to face the challenges we need to face to further reduce the danger we pose to the planet." ___
(c)2013 the Daily Camera (Boulder, Colo.)
Distributed by MCT Information Services
Popular in the Community