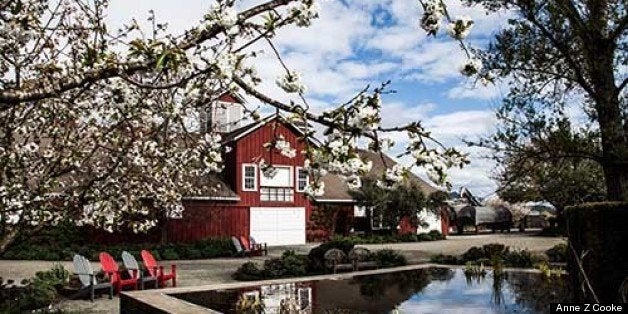 If California wines still baffle -- so many labels! -- you might want to spend a weekend in Yountville, on Route 29 in Napa Valley. A village by this city boy's standards, it's 12 blocks long and four blocks wide, perched on a bit of real estate smaller than 1200 acres. Washington Street bisects the town, and 3,480 happy souls depend on tourists and the wine that brings them there.
City-bred and fed up with freeway traffic, I headed there recently, expecting to "motor" down quaint country lanes and amongst picturesque hills and valleys. I'd stop at friendly tasting rooms, savor various vintages and carry away as many bottles as the trunk could handle. With speeding meteors and dictators' missiles disturbing my nights, the plan to amass a sizeable stash of robust cabernet and mellow merlot had a certain appeal.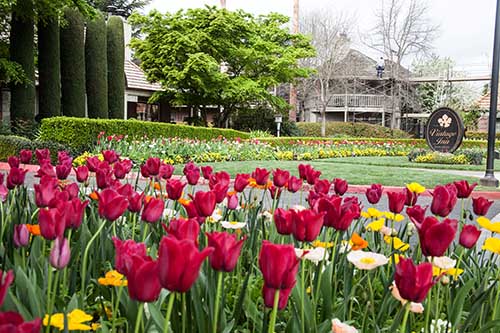 Then I arrived - with friends in tow -- to find that while the latest census might call Yountville a village, it's a village on steroids, or a city in miniature, depending on your point of view. Everything a wine-searcher could want is there in one place, within walking distance. "You don't need a car at all," said the bell boy at the Vintage Inn, who was leaning against the reception desk enjoying a good joke. "Just park it over there in the back; you can walk everywhere," he told us, cheerfully hefting our suitcases onto a cart and vanishing in the direction of our rooms.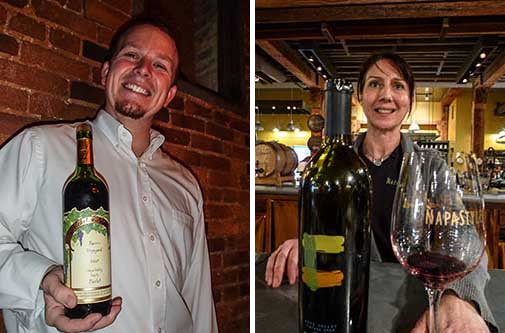 So walk we did, passing a half dozen tasting rooms, Michelin-starred restaurants (Yountville boasts a total of five stars, or is it six?), the Villagio Inn & Spa, Bouchon Restaurant and bakery, a large and thriving vegetable garden, Napa Style (a must-see kitchen and comestibles emporium), Redd Wood pasta and pizza, art galleries and fashion shops. Did I mention the flowers? Tulips, daffodils, poppies, daisies, peonies and ten-foot tall camellia bushes competed for space; blue wisteria draped over arbors and fences. Very California is Yountville, where flowers bloom in every season.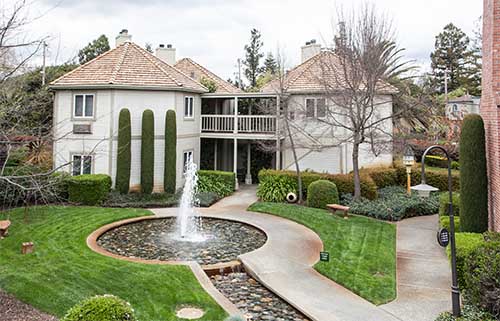 Our travel credo being "a peaceful night makes the next day bright," we booked rooms in the aforementioned Vintage Inn, the town's first purpose-built visitor lodgings, built in 1985 on 23 centrally located acres. "Central," was our first criteria, followed by a pool and hot tub for late-night soaking. But the deal-maker was a buffet breakfast and omelette station, included in the room price. An initial inspection of the proposed digs, a second-floor room with king bed, puffy quilt, shamefully large tub, two balconies, a fireplace and coffee nook, decided the matter.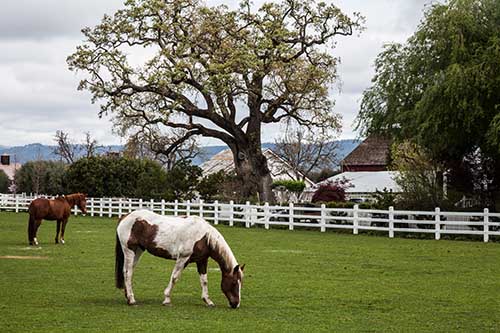 As for the wine project, we tasted and bought our first two cabernets at a place in town. But what to do about our main mission, a look at Napa Valley's vineyards and quaint country roads? Enter the concierge. "Most of those wineries don't allow drop-in customers," said Concierge Christina Richardson, presiding over a desk in the Vintage Inn's lounge. "You have to have appointments," she explained. "And you can't visit Far Niente at all." Far Niente, my former boss's favorite winery, was the only name I could think of. "But," she added, with a conspiratorial smile, "I just might be able to make a reservation for you at Nickel & Nickel. It's under the same owners. Let me call them. I've been going to lots of tastings lately," she confessed. "It's my chance to learn all about wine."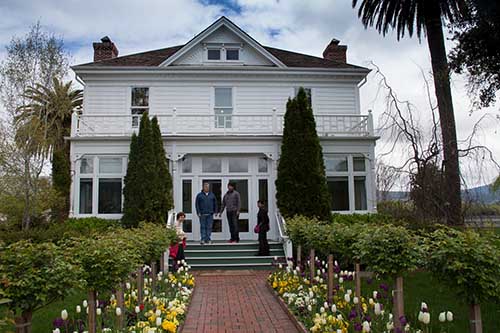 Handing us a map of the 199 wineries in the Napa Valley - most I'd never heard of -- she explained that the better wineries not only require a reservation, they also charge a per person fee: typically $25. But remember, that fee pays for two hours with an wine connoisseur who conducts a tour of the winery, then pours a "flight," of five or six wines which he helps you to compare and evaluate. And in some places, like Frog's Leap, you're welcome to sit all afternoon and enjoy the country scenery. So, ready at last, with four appointments in hand, we retrieved the car and were off, to Hess (on rustic Mount Veeder!), to Nickel & Nickel (exclusive, welcoming, organized), to Frogs Leap (casual, fun), and to Cakebread (join a group and wait your turn).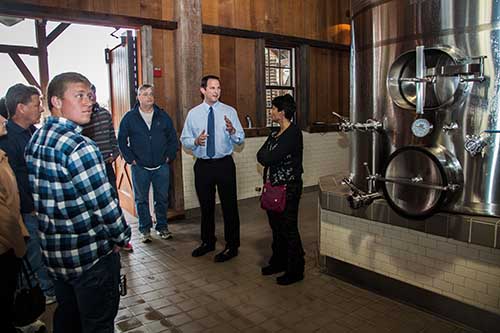 Later Christina - whose kindness and know-how "made" our mission a success, booked "his and her" massages-plus-aroma bath treatments at the Spa Villagio, next door to the Village Inn, a marathon of kneading, oiling, bubbly bath water and open-air soaks. The one and one-half hour session confirmed the old saw that "the couple that plays together, stays together." She also made reservations for dinner at Bottega (good food, annoyingly pompous waiter), and pasta at Redd Wood (fresh veggies, scumptious sauce, lively atmosphere).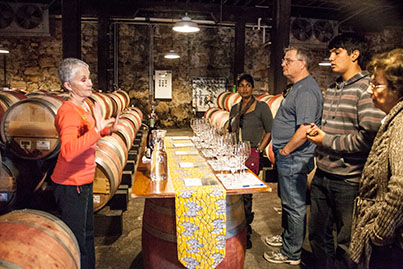 Why didn't we eat at the famous French Laundry? They were booked up for the next six months. But Bouchon had a cancellation at lunchtime, which became the trip's culinary highlight. We started with onion soup (the genuine article), and went on to Salade Maraichere au Chevre Chaud (green salad), Truit Amandine (trout), fresh bread, famous Pomme Frites (French fries) and a dry white wine, faultlessly served.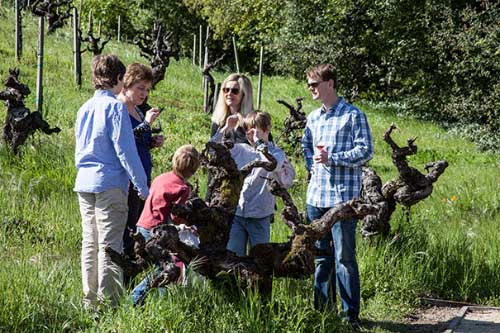 Did we fill the trunk with wine? Not quite, but we did buy select labels, complex for the nose and smooth on the tongue. A few were reputed to improve with age, the sort of vintage years you store in the cellar and crack open when your toddler graduates from college. Inspired by Christina, at the Vintage Inn (vintageinn.com) I decided I want to learn more. Now I envisage this new-found hobby the way I imagine bird watching might be; a distant trip with binoculars and a checklist. I've now checked off nine Napa wineries; just 190 to go. An epic journey begins.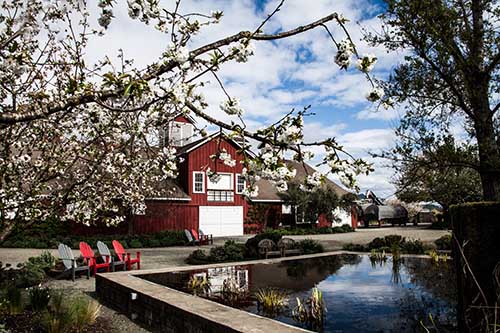 Call the Vintage Inn at (800)351-1133 or go to www.vintageinn.com. For Yountville, visit Yountville.com. For Napa Valley information, see napavalley.com.
Novice taster Anne Z. Cooke no longer drinks Two-Buck Chuck.
Photographer courtesy of Steve Haggerty/ColorWorld.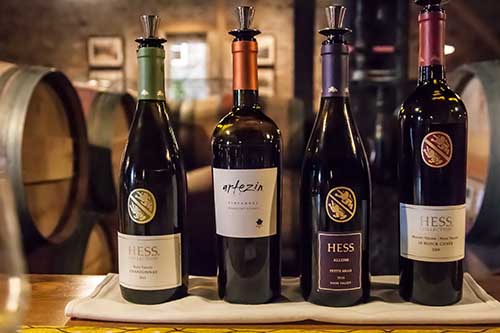 Related