 Puerto Rico's social media population scored a big win this week. Following the shocking gruesome murder of Jose Enrique Gomez, Puerto Ricans began mobilizing to create awareness against the rampant violence. By Wednesday, Puerto Ricans across Facebook and Twitter began posting signs saying "I am Jose Enrique" in signs of solidarity. Even Ricky Martin joined the movement and posted his own version of the line. However, it was not until Puerto Rico's puppeteer La Comay joined the discussion on Tuesday that social media exploded.
On Tuesday, La Comay conveyed rumors, as she always does, that the victim's death was related to a sexually promiscuous lifestyle based on allegations that Jose Enrique's death preceded a visit to an area in the city of Caguas known for its male and female prostitution. The allegations stem from the alleged confession of one of the perpetrators, who claim that the victim stopped to pick up two female prostitutes, and following a dispute over monies owed, the two accused men boarded the car. La Comay, using her trademark opening line "supuesta y alegadamente" (allegedly and supposedly) tied the victim's death (burned alive and beaten to death) to his rumored "sexually deviant" lifestyle. In summation, it wasn't the criminal's fault for killing him, it was his own for being there in the first place.
While this is not the first time that the famed Puppeteer has engaged in homophobic or hateful comments, it may prove to be the one that hurts his bottom line the most. On Tuesday night, a Facebook group was formed called "Boicot La Comay" (Boycott La Comay). That night, the numbers of followers quickly reached 500 followers. By the next day, the number had reached over 30,000, with 40,000 by Thursday morning. Supporters petitioned for the companies that advertise on the show to pull their ads and support. Throughout Wednesday, company after company started announcing that they would pull other ads from the gossip show. Dish Network, Triple-S Insurance, Banco Popular ATH, Lanco Puerto Rico, Borden Dairy, Palo Viejo Rum and Claro all announced that they would pull their advertising and it would stand in solidarity with the victim, his family and supporters. On Thursday, supporters placed their aim on Walmart, who advertises on the show, to pull its ads.
Some have dismissed "Facebook activism" as something that merely stays on a status feed and timeline. Although this tale is far from finished, moving onward, Puerto Ricans have been able to effectively take out big time advertisers of this popular, yet corrosive, gossip show. The shows network, WAPA, issued a statement stating that while it did not identify some of the comments in the show, it stood by the independence of its program, adding that the response for a boycott is an emotional one.
Puerto Ricans have not accepted the TV channel's excuse
Puerto Ricans have not accepted this excuse and have continued the mobilization to stand up to the show by targeting it's advertisers. The targeted companies have surprised many on the Island, who previously considered La Comay to be untouchable. This victory, cannot be understated. The gossip show is the highest rating show in the entire island, despite the daily criticisms it may generate. Politicians, such as Rafael Bernabe (P.R. Workers Party) refused to go on the show, even though it would have been politically favorable for publicity to do so.
Despite previous attempts at protesting La Comay, this time is different. The horrendous crime that Puerto Ricans have witnessed during this weekend has superseded the "acceptable" levels of barbarism of which we have lived for the past three years. While Jose Enrique is not the first victim of this crime wave, La Comay's portrayal of his death has pushed public opposition to its boiling pint. The victim was taken to a field (after he was allegedly forced to withdraw $500 from an ATM machine), doused with gasoline and beaten to death with sticks. Puerto Ricans have not only rejected this vile crime, but they have further rejected the "blame the victim" rhetoric touted by La Comay.
Make no mistake, the gossip show is a cancer to Puerto Rican society. While some may praise its success and breaking news, all it propagates is a culture of gossip, backstabbing and reputation destruction. For too long, the show's homophobic slant has gone effectively unchallenged. With the boycott group supporters climbing exponentially, and advertisers pulling their ads with equal speed, La Comay may finally feel the fire under its dress.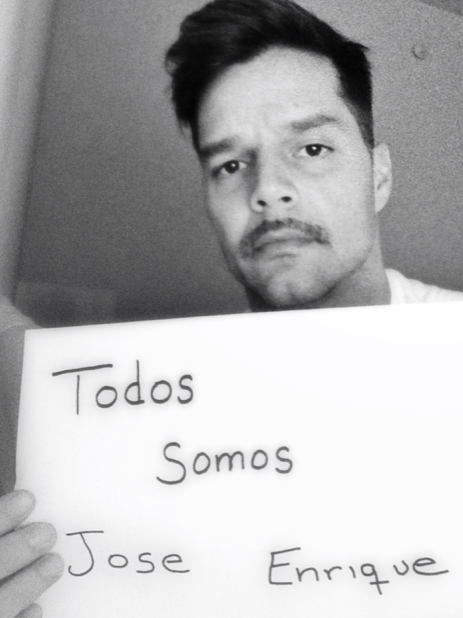 #TodosSomosJoseEnrique in Twitter
Popular in the Community