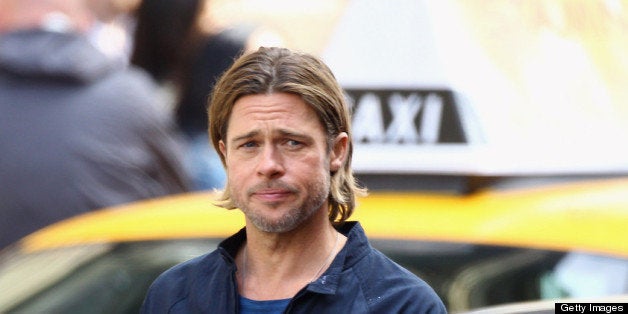 I saw World War Z last night at a small screening at the MoMA. There were a few journalists, some industry types and a pretty large collection of celebrities: Bruce Willis and his wife, Emma Heming; Sting and Trudie Styler; Kevin Bacon; Jemima Kirke; one of the Olsen twins (I can never tell which I'm looking at); Oliver Stone; and Darren Aronofsky, in front of whom I humiliated myself at the post-party by mistaking him for screenwriter Damon Lindelof. ("You owe me one!," he said, laughing, as he walked away. Indeed I do.)
Before seeing the film, I read the Vanity Fair cover story about how the filmmakers scrapped the original ending and created a whole new one, written on very short notice by Lindelof and his friend Drew Goddard and shot with about 20 actors. Once you've read the VF story, you'll be able to see where the shift happens -- it's just over an hour in, when Pitt leaves Jerusalem on a plane. I don't want to spoil the movie, so I'll just say this: instead of getting even bigger, the story gets much smaller. The original ending had Pitt squaring off with zillions of zombies; this one has him facing a more personal, even intellectual challenge. There's action, but it's confined.
I think it works, though I suspect some people who see the movie cold will wonder why its scale contracted instead of expanding. The reason, according to the article, was to keep things focused on the characters.
Brad Pitt introduced the movie and spent a good long time socializing at the party afterward. Earlier in the night, he made a surprise appearance in New Jersey. So clearly, he's invested in the success of World War Z. One journalist I talked to, who didn't like the movie as much as I had, wondered why Pitt had bothered to make it. This person thought Pitt should stick to making films like Moneyball. It's an interesting question. I think Pitt, whose company, Plan B, produced the film, would like to prove that he can create and sustain a bankable franchise. But I also think the themes of the movie appealed to him. He liked the idea of a global action movie. There's also an environmental critique bubbling under the surface of World War Z, even if it starts strong (the opening montage is heavy on global-warming references) and quickly peters away. But maybe the biggest selling point was the emphasis on family. Pitt's character, Gerry Lane, begins the movie as a stay-at-home dad, and the safety of his wife (played by Mireille Enos of The Killing) and two daughters remains his primary concern throughout.
That family focus is one reason World War Z felt like something other than just another serving of apocalyptic mayhem porn (though there's plenty of that). And I think that's why it was smart to reduce the scale for the last hour, reminding us that Pitt's character is a man and a father -- not just a soulless killing machine.
I'm curious to see how this all looks in 3D (before the film, Paramount CEO Brad Grey informed the audience that director Marc Forster is still finishing the 3D conversion), and I'm curious to know what a paying audience will think. But for now, at least, the dark rumors that World War Z would be dead-on-arrival appear to have been greatly exaggerated.
REAL LIFE. REAL NEWS. REAL VOICES.
Help us tell more of the stories that matter from voices that too often remain unheard.