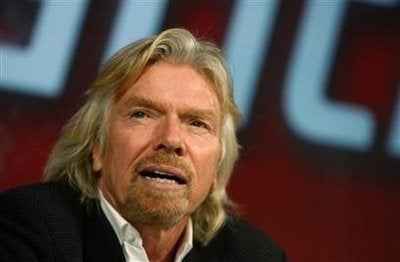 In this month's issue of Details magazine, Richard Branson, billionaire and renegade mogul, sounds off on a number of different issues.
On his early career as a stalker:
When I was 15, I left school to start a magazine, and it became a success because I wouldn't take no for an answer. I remember banging on James Baldwin's door to ask for an interview when he came to England. Then I got Jean-Paul Sartre's home phone number and asked him to contribute. If I'd been 30, he might have said no, but I was a 15-year-old with passion and he was charmed.
On marrying Google's Larry Page:
We had 300 guests on the beach, and the beautiful young couple decided to kite-surf off into the sunset afterward. Just as they did, this massive tiger shark came around. There was absolute panic, with relatives screaming. But then, strangely, the shark swam in to land and walked onto shore. I'd actually had the shark suit built a few weeks before, and after about 10 minutes of mayhem, everyone realized it was a joke.
On when he joined the mile-high club:
I was actually flying to L.A., sitting next to this very lovely lady. There's something about being on a plane next to someone like that. Anyway, she was very forward and we ended up with four palms against the mirror in the loo. She didn't know who I was--and I was nobody at the time anyway. When we got off, she said, "Whatever your name is, we're going to have to separate, because my husband is meeting me at the baggage claim."
Calling all HuffPost superfans!
Sign up for membership to become a founding member and help shape HuffPost's next chapter