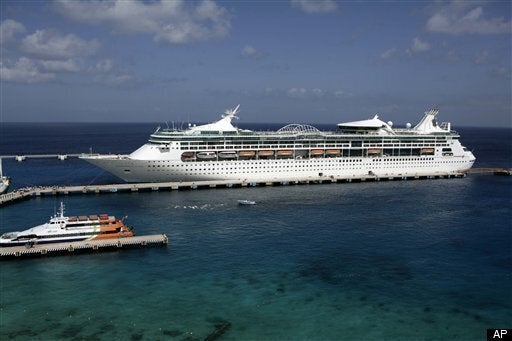 (AP) SAO PAULO - Hundreds of passengers aboard an international cruise ship were stricken with vomiting and diarrhea, prompting a temporary quarantine of the vessel in southeastern Brazil, health authorities said Thursday.
At least 310 people suffered "some kind of food poisoning aboard" the Vision of the Seas, operated by Royal Caribbean International, a spokeswoman for the National Agency for Sanitary Vigilance said. She spoke on condition of anonymity, in line with department policy.
She said the first case was detected on Wednesday, prompting the agency to order all 1,987 passengers and 765 crew members to remain on the ship anchored at Buzios, near Rio de Janeiro.
She said it was unclear how many of those stricken were passengers or crew members, "but most were passengers."
The ship left the port of Santos on Monday for a four-day tour with scheduled stops in the coastal resorts of Buzios and Ilhabela.
It was allowed to leave Buzios Thursday afternoon and was expected to arrive in Santos around midnight. The agency spokeswoman said passengers who showed no symptoms would be free to leave. Those still ill would be taken to hospitals for treatment, with expenses paid by Royal Caribbean.
A breakdown of the nationalities of the passengers was not immediately available, but Royal Caribbean spokesman Alexandre Raith said "the vast majority are Brazilian."
The agency spokeswoman said doctors collected blood and urine samples and inspected food supplies to determine the cause of the food poisoning. Results won't be ready for a few weeks she added.
In January last year at a port in Salvador in northeastern Brazil, hundreds of passengers on a Swiss-owned cruise ship were also stricken with severe vomiting and diarrhea caused by food poisoning.
Related
Popular in the Community