'Bread is not your enemy', according to Christophe Vasseur, baker to the stars.

He's not just a normal baker. He's been voted 'Best Baker in Paris', and his flagship product 'Le Pain des Amis' is served in Alain Ducasse's 3-starred Plaza Athénée Restaurant.
But Vasseur has not always followed this path. Starting his career as a fashion executive, he found himself several years down the line searching for deeper meaning in his life. One day, in what some people might call a mid-life crisis, he decided to quit his well-paid day job and open a bakery, called 'Du Pain et des Idees'. Baking was something that had always inspired him from a young age, but that he had never pursued. For him, bread is a powerful medium, one that can conjure memories of the dead and souvenirs of childhood for a mere €1.50.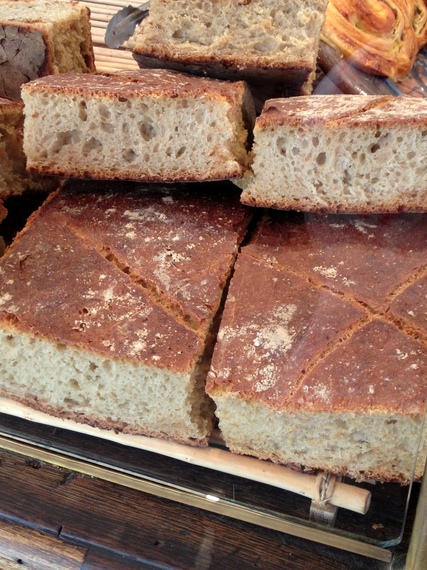 His knowledge of bread and the history and culture that surrounds it is impressive. But perhaps the most passionate subject of discussion with him is how bread has become vilified, how it's blamed for all the latest evils: weight gain, bloating, allergies, gluten intolerance. But all this is false. "Bread is extremely good for our health when it's made with high quality flour (or 'noble flours' as the French call them), and either a natural starter (also known as sourdough starter) or a leavening agent (but not both), and when it's left to ferment for at least 24 hours. But when bread is made with modern flour, which contains hybrid strains of wheat, it becomes more allergenic - hence the gluten-related problems that many people are experiencing. Not to mention that bread only becomes fattening when you add extras to it, like butter, cheese or cold cuts."
His obsession with high-quality primary ingredients has paid off. One day, Alain Ducasse tasted Vasseur's famous 'Pain des Amis' after hearing about it from Pierre Herme's ex-wife and famous pastry-chef Christophe Michalak. He decided that it would be the perfect fit for the 10 year anniversary revamp of his 3-starred restaurant, and that it was even deserving of being rolled out on a trolley, served with the best Bordier butter and presented with the luxurious manner that befits such Michelin-starred institutions. For Vasseur it's the ultimate honor, and the definitive sign that his choice to quit fashion and reconvert to baking was the right one. Though he's not your average baker; consider him more of a luxury baker, seeing that Ducasse sends someone every morning to personally pick up and hand deliver the bread that will be served at the Plaza that day.
He's so passionate about eating good bread that he even brings his own flour on vacation, so that he can whip up a loaf whenever he has a craving. This is also because, unfortunately, he hasn't yet been able to find anyone who can make bread that he enjoys as much as his own.

If you want to make bread as good as his, his top tip is to "make sure you let your dough ferment for 2-3 hours and then after kneading it once, let it ferment again for another 24 hours in the refrigerator at 4 degrees Celsius. Time is the only way for flavors to develop. Also, home cooks should buy the absolute best flour that they can find. It's all about having quality ingredients and giving them time to do their thing."
You won't find any frozen, processed or refined products in his bakery. The flour he uses is organic, the bacon he buys to fill golden mini loaves with comes from happy, free range pigs, and the nougat that he uses is artisanal, made with honey instead of the more commonly used glucose syrup. He uses the famous Valrhona chocolate in his chocolate croissants and regularly attempts more avant-garde experiments such as bread with Japanese whiskey, or croissants flavored with matcha tea or rose water.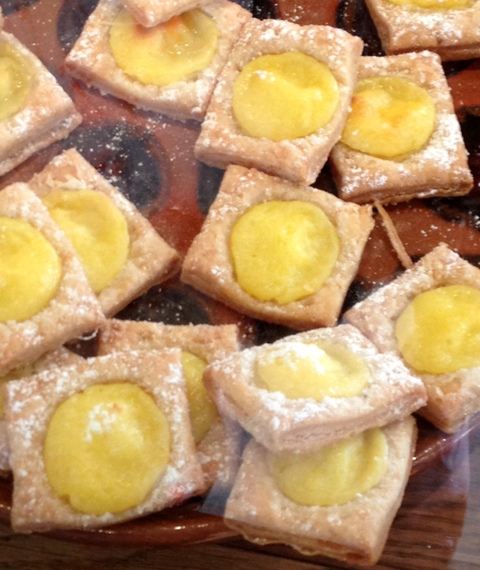 He's an old school kind of guy, working in an old school bakery, baking old-school bread according to ancient traditions. He even prefers paper newspapers to digital ones, and just like in a Paris of yesteryear, he gives little crusts of bread to the children and babies that pass through his bakery.
When talking about the future, it's easy to see that Vasseur never plans on retiring. "The word 'retirement' doesn't exist in my vocabulary. If I ever sold this bakery, I think I would become totally depressed. As long as my hands are still strong enough to knead dough, I'll keep going." But for the moment, he's happy to teach his two children how to make excellent bread and croissants so that he can pass on the torch to them ("but only if they want it!"). He's also planning on writing a book where he explains the secrets and successes behind his bakery, "so that people who are in need can make beautiful bread on their own."
You can find Christophe Vasseur at his bakery, Du Pain et des Idees, on most days of the week.

This is the fifth installment of the 'Getting to know French chefs' series from Gourmandize.