"My stomach looks so bulky." "My job is stupid." "I'll probably never find someone."
We frequently hear people verbalize these types of self-critiques to their friends, families and even strangers online. In such a hyper-connected, self-obsessed society, this tendency toward judgment can be hard to escape -- especially for women. In fact, a new national online survey by TODAY and AOL found that 60 percent of adult women have negative thoughts about themselves on a weekly basis.
Under distress, this self-criticism heightens. The TODAY/AOL survey also found that as times get tough and people become upset, women are far more likely than men to respond with self-criticism.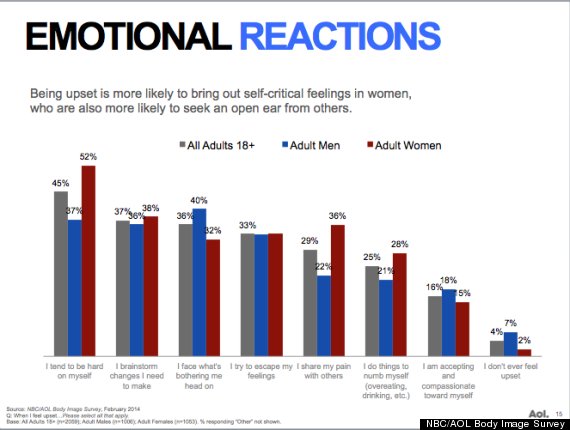 As the chart shows, a majority of women -- 52 percent -- admit that they are hard on themselves when they are upset. Yet, women are also more likely than men to share their pain with others, an act that vulnerability researcher Dr. Brené Brown says takes true courage.
Brown has spent the past decade studying fear, shame, compassion and courage, and has revealed many of her insights on episodes of "Oprah's Lifeclass." Being vulnerable doesn't just require courage and self-confidence. It requires self-compassion.
Having self-compassion has profound effects both internally and externally. Even showing compassion to others can't actually be achieved unless you have compassion for yourself. In the above video from one of her "Lifeclass" appearances, Brown explores the acts of both receiving and offering help. Many women are more comfortable providing help to others than they are receiving it for themselves, but self-criticism will always subconsciously cripple these efforts.
"When you cannot ask for help without self-judgment, you are never really offering help without judgment," Brown says. "Because you have attached judgment to asking for help."
This concept extends beyond helping. Whether it's related to health, career or relationships, judging something about yourself means that you will always judge that same thing in others. For example, you must be able to accept and receive love before you can truly provide it. Emotionally, most men and women say they are able to do both, according to the TODAY/AOL survey.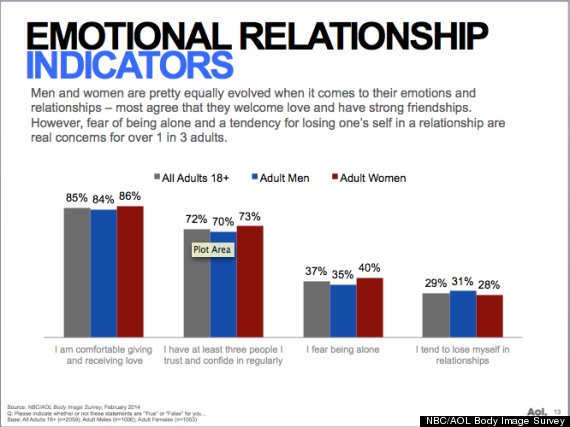 Though 85 percent of adults say they are capable of giving and receiving love, more than 30 percent of men and women fear being alone and tend to lose themselves in relationships.
Related
Before You Go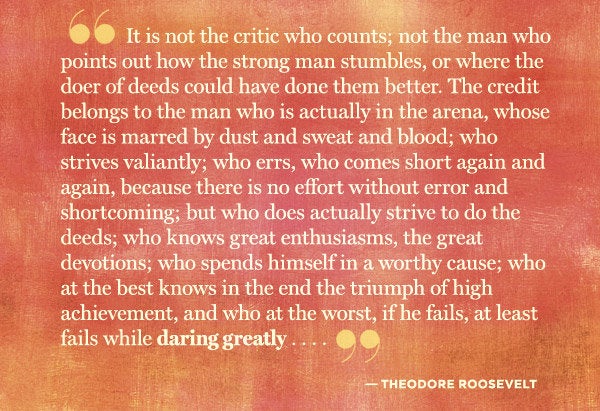 Dr. Brené Brown (and Teddy Roosevelt's) Top 21 Tweet-Tweets