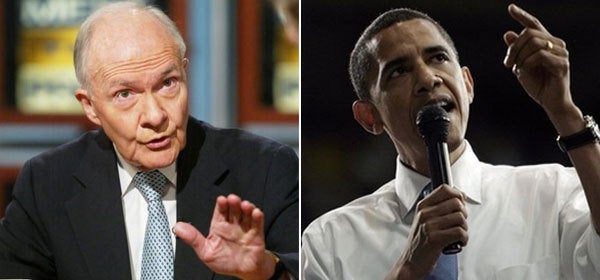 Former Lt. Gen. Brent Scowcroft, the onetime Bush 41 adviser, considers himself officially "neutral" in the presidential contest between Barack Obama and John McCain, and is willing to offer advice to either candidate, according to two independent sources familiar with Scowcroft's thinking.
That description of the former national security adviser's political loyalty conflicts with a Washington Post survey of campaign surrogates, which listed Scowcroft as part of McCain's retinue as recently as late 2007.
One longtime associate who requested anonymity said that Scowcroft's role advising McCain had been inflated in past reports.
"Scowcroft has an ongoing relationship with McCain that [started] before McCain was a candidate for president," the source told the Huffington Post. "Now that he is a candidate, he and Gen. Scowcroft talk from time to time. So there's no change in that pattern. He is not a formal adviser. Nor has he been. ... The daily phone calls regarding 'What's the issue of the day? What's the message on Iraq?' ... He never was engaged in that."
Still, the source confirmed that Scowcroft was not likely to endorse McCain in the future, and that Obama was just as welcome to solicit the former national security adviser's views. "Would he take Obama's call and talk to him about substance? Sure. But no, I would not expect him to come out and formally endorse Obama, or much less sign up with his campaign. But if Obama wants to talk [with Scowcroft] about the Middle East, Russia, China or whatever, he can."
The fact that such a foreign policy heavyweight in the GOP could sit out a presidential election, however, reflects the lingering tension between the "realist" camp of advisers, including Gen. Colin Powell, who advised President George H.W. Bush, and the neoconservative clique that gained influence during the tenure of Bush 43.
Rumors of a dramatic flip by some prominent realist Republican heavyweights have refused to die, however, as Barack Obama has occasionally hinted at his willingness to form a bipartisan cabinet if elected. Scowcroft has a position on Iran distinctly closer to that of Obama. On Wednesday, Time's Mark Halperin teased a "developing" report that "an organized effort is underway to get some big-name Republicans," including Scowcroft, to support Obama. A spokesperson for the Illinois Democrat refused any comment on Time's item.