Almost every market, in almost every major economy, is down following the United Kingdom voting on Thursday to leave the European Union.
The British pound has dropped over 9 percent relative to the dollar. London's FTSE 250 stock index was down by more than 7 percent on the day as of late afternoon in the U.K. The Nikkei index dropped 8 percent and the safe-haven yen surged, raising worries that Japanese government would have to intervene to stabilize markets. The S&P 500 has dropped over 3 percent.
The finance ministers and central bank governors of the G-7 countries, which include the U.S. and the U.K., issued a joint statement aimed at reassuring the markets. The leaders said they "have taken steps to ensure adequate liquidity and to support the functioning of markets." U.S. Treasury Secretary Jack Lew issued another statement, in which he said the department will "continue to monitor developments in financial markets."
The worst financial shock to the global economy since the 2008 crisis has raised one major question for anyone with retirement savings: What do I do?
The answer is simple: Nothing. If you can help yourself, don't check to see if your 401(k) is down. (Spoiler: It is.) If you do check your balance, don't panic and hit sell. The best thing to do is exactly what you were doing before. If you were planning on increasing how much you save, do it. If you weren't, don't suddenly decide to save more because you think you can pick the low point of the market.
Consider what happened in the aftermath of the 2008 financial crisis. Employees, on average, lost 14 percent of their savings in 2008 alone, according to Hewitt Associates.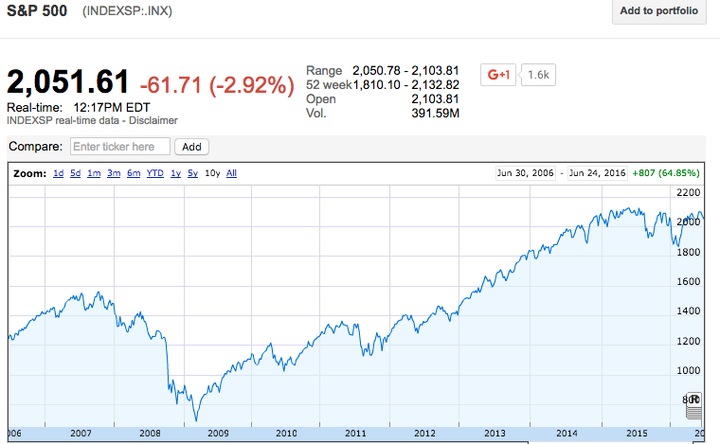 But the market bounced back several times over in subsequent years, leaving people who decided to sell their stocks far worse off than those who decided to -- or merely could afford to -- hold on. Trying to broadly guess when the market will go up or down costs investors 2.5 percent a year on average, investment research firm Morningstar found.
Saving for retirement is hard enough. There's no sense in making it harder by panicking or trying to outsmart the market. Right now, your 401(k) offers you the rare chance to make a great decision by doing nothing.
REAL LIFE. REAL NEWS. REAL VOICES.
Help us tell more of the stories that matter from voices that too often remain unheard.
BEFORE YOU GO
PHOTO GALLERY
Brexit Wins