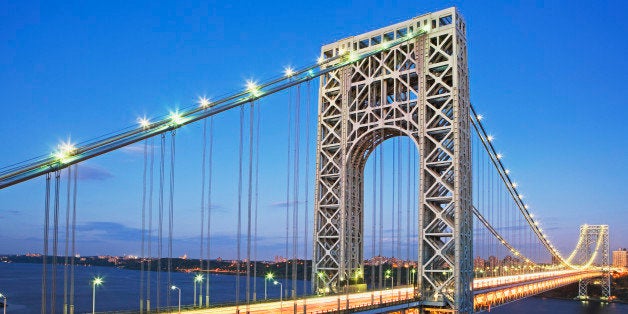 There's no cooler way to pass from state to state (or from country to country) than by bridge. You're driving or walking along, enjoying the scenery, and POOF! the bridge drops you off in a wondrous new land.
Here are 10 bridges that let you jump major boundary lines with one simple cross.
Ambassador Bridge
Links: Detroit, Michigan and Ontario, Canada
Length: 7,500 feet
You may not have heard of it, but you've reaped its benefits: more than 25% of all trade merchandise between the U.S. and Canada crosses this bridge. You can't walk or bike across, though-- the sidewalk was closed years ago after it was allegedly found to violate the bridge's charter.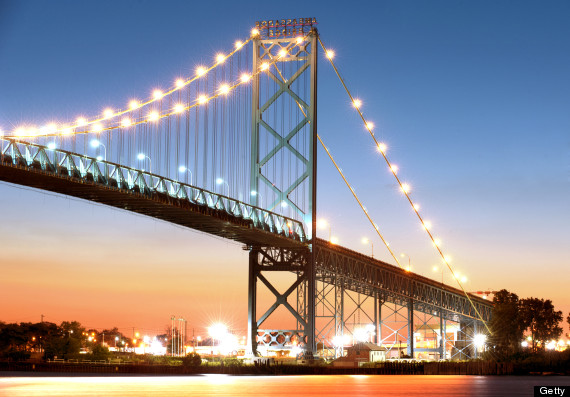 Bi-State Vietnam Gold Star Bridges
Links: Henderson, Kentucky and Evansville, Indiana
Length: 5,393 feet
This pair of bridges doesn't actually start in one state and end in another. But if it had been built just two hundred years earlier, it would've. (Say what?!) Well, the Ohio River forms the official state line between Kentucky and Indiana. Long ago, the land where the bridges end was part of Indiana. But an earthquake in 1812 shifted the flow of the river, so now that land technically belongs to Kentucky. After you cross this bridge (from Kentucky to Kentucky), real Indiana is about half a mile away.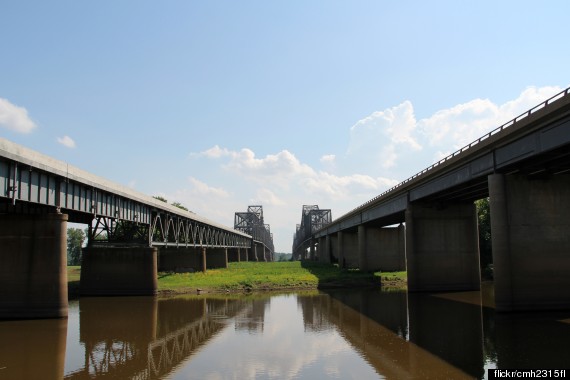 Øresund Bridge
Links: Copenhagen, Denmark and Malmö, Sweden
Length: 25,738 feet
This bridge-island-tunnel shenanigan is the engineering hybrid of all hybrids. To cross it, you'll first drive five miles from Sweden to a faux island called Peberholm. Then, you'll take a two-and-a-half-mile tunnel to Denmark. During construction in the 1990s, bridge builders found 15 unexploded World War II bombs where the tunnel now lies.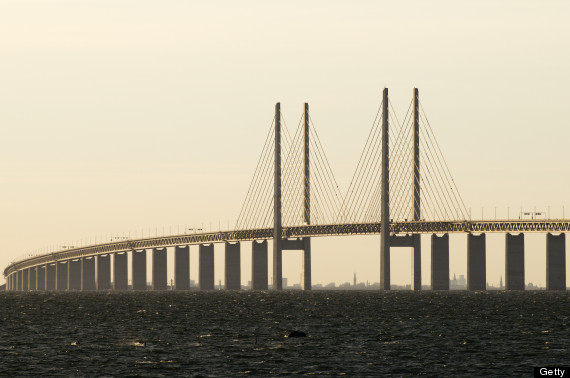 John A. Roebling Suspension Bridge
Links: Cincinnati, Ohio and Covington, Kentucky
Length: 1,056 feet
Right after the Civil War, the Covington and Cincinnati Bridge was installed to ease ferry traffic between Kentucky and the booming city of Cincinnati. Due to the post-war economy, the bridge was built from materials so cheap and rickety that cars were asked to cross at a "walking speed." After a handful of improvements (it's not rickety anymore), the bridge was re-named for its original designer in the 1980s.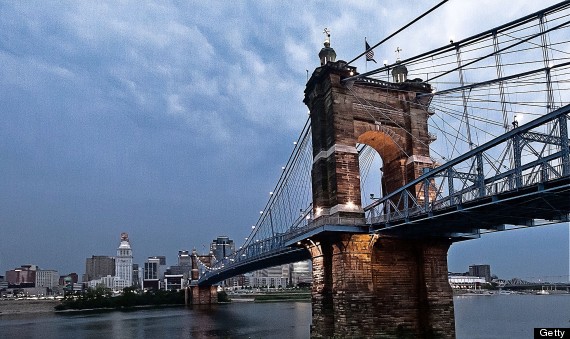 Three Countries Bridge
Links: Huningue, France; Weil-am-rhein, Germany; Basel region, Switzerland
Length: 814 feet
The name of this bridge is kind of false advertising, as the actual structure is not the triangular wonder we envisioned upon hearing such a title. The Three Countries Bridge is just a straight, regular bridge, and it's only for pedestrians. It spans form France to Germany, and then from there Switzerland is apparently a couple hundred meters away. You're confuse us, Three Countries Bridge. Bob Kerrey Pedestrian Bridge
Links: Omaha, Nebraska and Council Bluffs, Iowa
Length: 3,000 feet
This Midwestern wonder is a cable-stayed bridge, a fancy variety in which cables swoop down from tall towers to hold the bridge up. When the bridge opened in 2008, its hundreds of decorative light bulbs flashed in time to "In The Air Tonight" by Phil Collins. How monumental. George Washington Bridge
Links: Manhattan, New York and Fort Lee, New Jersey
Length: 4,760 feet
With two levels, 14 lanes of traffic and over 100 million cars per year, this is the busiest motor vehicle bridge in the world. Its location at a crucial commuting point makes the "GWB" a traffic loather's nightmare.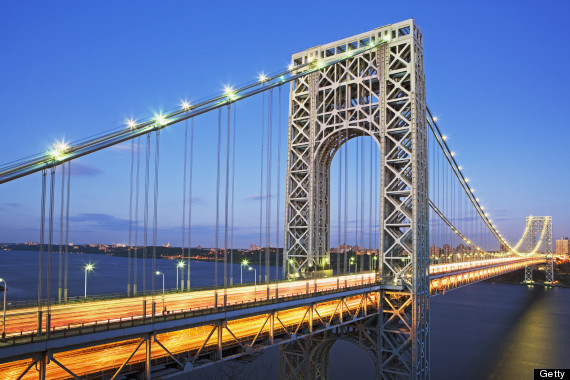 New Europe Bridge
Links: Vidin, Bulgaria and Calafat, Romania
Length: 6,467 feet
As its title so elaborately explains, this bridge is new, and it's in Europe. It's also an important symbol of newfound friendship between Bulgaria and Romania, who definitely weren't buddies in the past. The bridge is over a mile long, carries both cars and trains, and opened in June 2013.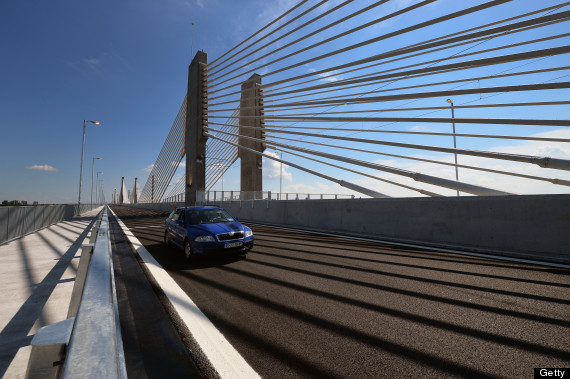 The Interstate Bridge
Links: Portland, Oregon and Vancouver, Washington
Length: 3,538 feet
Clever title, eh? Developers built this bridge for electric streetcars in 1917, and when cars became the norm a few decades later, more lanes were needed. So the engineers did what any good engineers would do: they built an identical bridge right next door.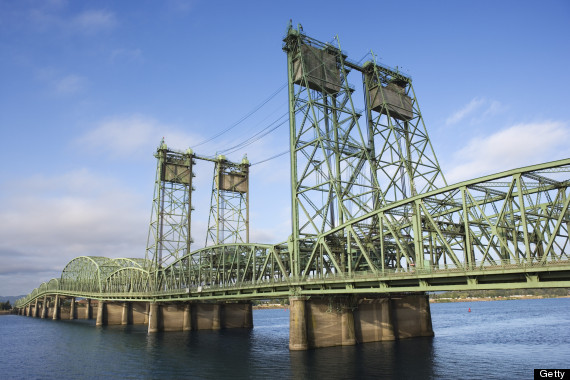 Mike O'Callaghan-Pat Tillman Memorial Bridge
Links: Clark County, Nevada and Mohave County, Arizona
Length: 1,900 feet
This bridge's title is a mouthful with meaning: it's named for Mike O'Callaghan, the former governor of Nevada, and Pat Tillman, the former Arizona Cardinals football player who was killed by friendly fire in Afghanistan. The bridge's perch waaay above the glistening Colorado River makes it the second-highest bridge in the country and the world's highest concrete arch bridge.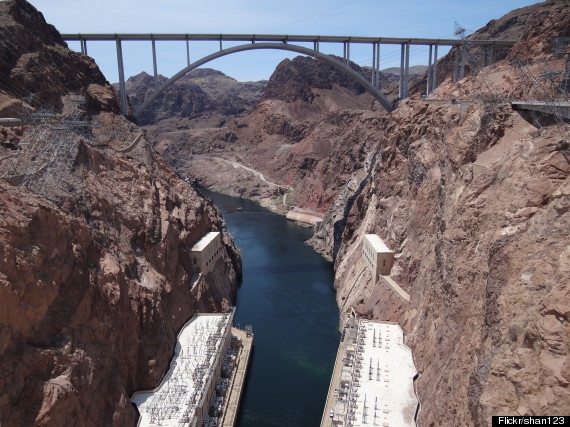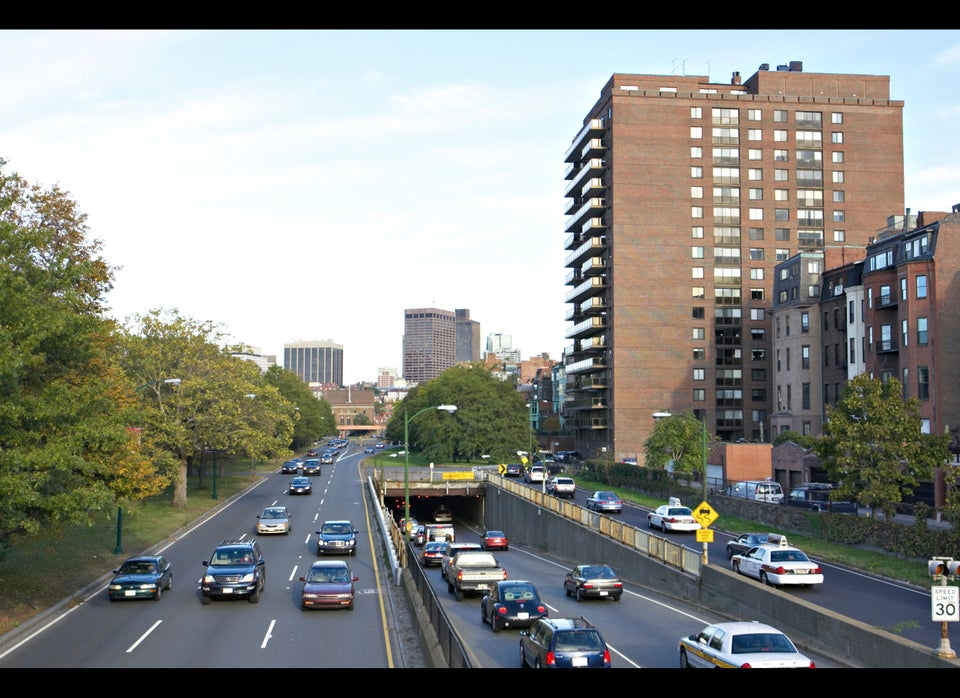 America's Most Dangerous Bridges (PHOTOS)