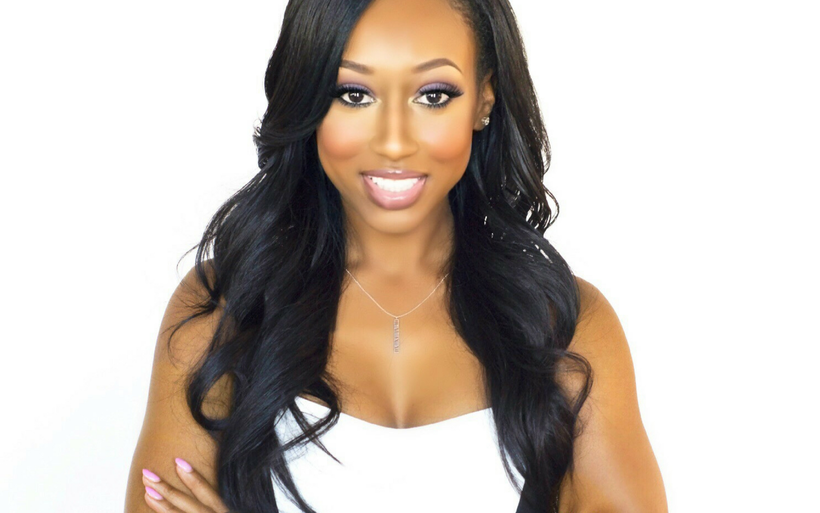 "Never let your current circumstance dictate your final destination. In life, you will face many challenges, but successful people never make excuses, they find solutions. Brittney Carter McKinnon"
Brittney Carter McKinnon is the founder and CEO of B. Carter Solutions, LLC, based in Hyattsville, Maryland. Named one of the Top 30 under 30 Young Entrepreneurs in the U.S. by HBCUBuzz.com, the Chief Social Strategist says B. Carter Solutions is where vision meets social strategy. "We want to bring our clients social vision to life and help to grow their brand in a competitive business environment."
Due to the demands of a growing business, the first-time entrepreneur recently decided to refocus the direction of B. Carter Solutions to a full service social media marketing company. She no longer handles traditional publicity clients, but still consults and refers business to other PR firms.
The South Carolina native says she grew up not having much and worked hard every single day to achieve the success she has to date. "I went through a rough patch in my life for five years where I didn't know who I was, I had no money, no aspirations, and I didn't value myself. I found God again and decided to become a new person and not allow fear to take over me."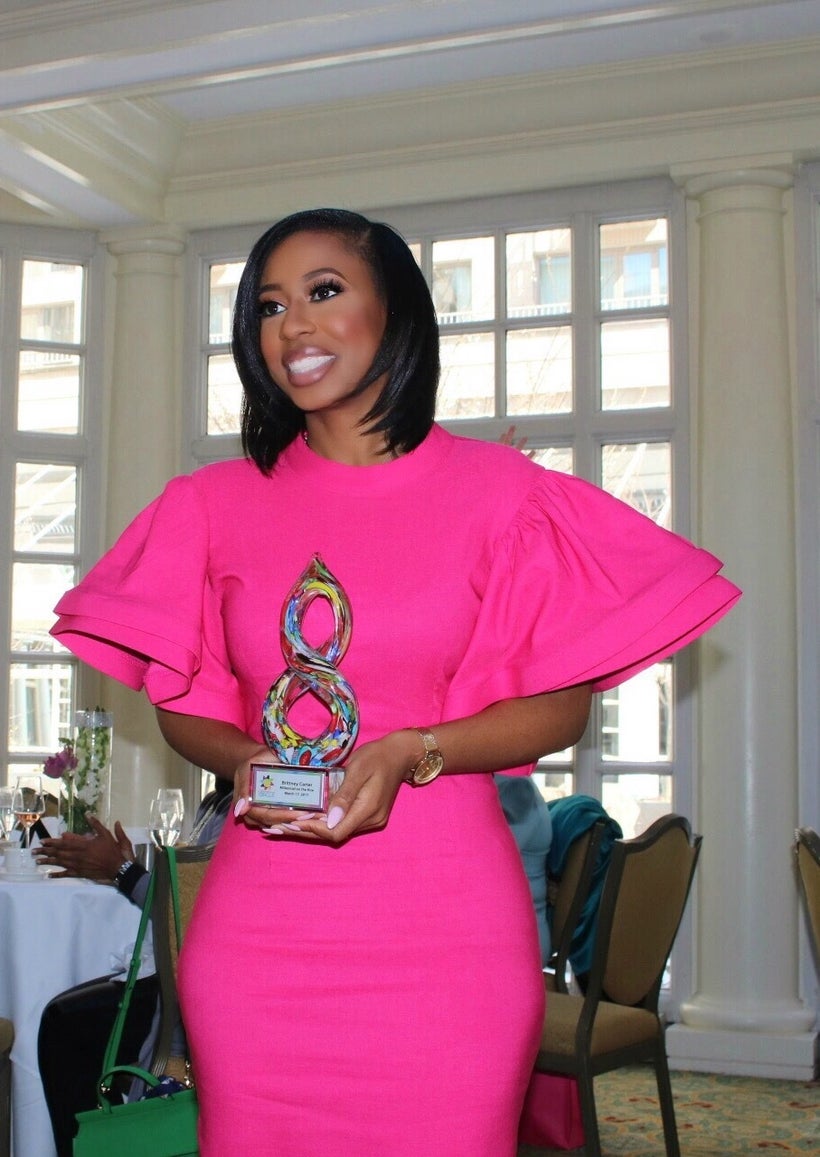 McKinnon has also been recognized as one of the 2017 Millennials on the Rise by Spectrum Circle, a women's business group based in Washington, D.C.; and she was presented with a special award for one of the Top 15 Women Philanthropic Contributors in the Washington, D.C. metropolitan area by WPGC-FM 99.5, the top urban rhythmic station in the area.
"I encourage everyone with a dream to maintain the course and never compare your journey to anyone else's," she says. "Always appreciate the season that God has you in, and make sure to give thanks and pray every single day even if you aren't where you would like to be."
Gwendolyn Quinn: How was it growing up in Mullins, South Carolina? Tell us about that experience?
Brittney Carter McKinnon: While growing up in Mullins, South Carolina, I was raised by a single parent, and it was tough. My mother did a great job putting two girls through college. At an early age, I showed signs of ambition and hustle. I started working at 15 years old at the BI-LO grocery store to help make ends meet and to have some money in my pocket. Growing up in the South, I learned to always be kind to folks, respect my elders, and to appreciate how hard others worked to get me where I am today.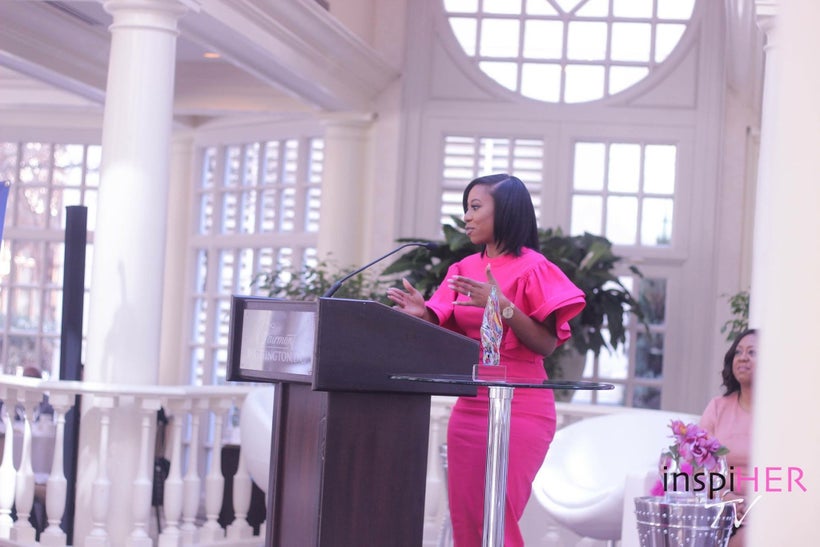 GQ: When did you become interested in publicity/public relations and social media?
BCM: I became interested in public relations and social media while in college at Claflin University in Orangeburg, South Carolina. I decided to major in public relations. I used to throw parties in college as this low-key promoter, and I made money doing it. At Claflin, I landed an internship in the Office of the President. I worked on social media for the university and immediately fell in love with the thrill of posting from a prestigious account.
GQ: What do you love about social media?
BCM: I love how social media allows us to connect with the world while learning from different people. It's an outlet for those who wouldn't have a voice. It's a platform where I go to for news, trends, current events, as well as keep up with family and friends. Social media is growing bigger and bigger by the second. What I love most is that God allowed me to create a business to show people how beneficial social media is to their business and brand.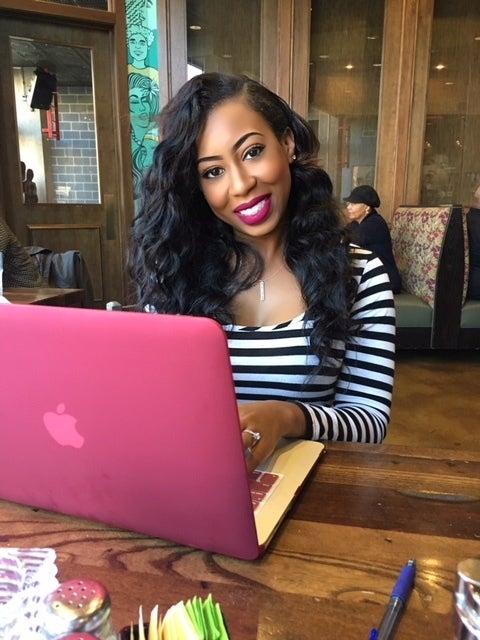 GQ: In your opinion, tell us the difference between publicity/public relations and social media marketing?
BCM: Years ago, marketing and public relations were two distinctive fields. In college, I wondered why it was never offered as a minor or concentration. In public relations, the focus is to establish and maintain relationships with journalists from television, print, and radio. With social media marketing, the audience is larger, and the primary focus is to reach and provide valuable advice, resources, tools, or simply entertainment. Also, with social media, an ongoing, sustained effort is needed to generate satisfied results to a client.
GQ: Tell me about your social media firm, B. Carter Solutions, LLC?
BCM: B. Carter Solutions is a top-performing social media management company. We offer social media marketing, content curation, social media campaigns, live event coverage, e-mail marketing, graphics, social media templates, analytics and video production. We create and manage top-performing social media campaigns for businesses across the country. We manage social media networks such as Facebook, Twitter, Google Plus, LinkedIn, YouTube, and Instagram on behalf of the client utilizing relevant social media marketing services to help businesses grow and meet goals.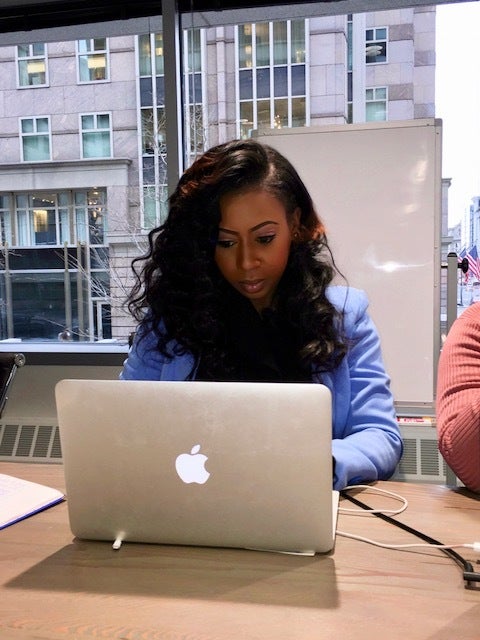 GQ: Who are some of your current and past clients under B. Carter Solutions?
BCM: Our current and previous clients are based in the DMV [Washington, D.C., Maryland and Virginia area] Sola Salon Tysons Corner, Friendship Public Charter School, National Charter Collaborative, Howard University Middle School, Salon Talula, Darrell Thompson Hair, Imagine Photography D.C., Oshun's Roots, The Dream Aspiration Brand, Sole Savers Shoes, Kalonnie's Gifts and Designs, NJS Consulting Firm, Pure Glam Virgin Hair, Ms. Annie's Waxing Studio, Massey Law Firm, Southern Maryland Eagles, McKinnon Acting Studio, and Luxington Boutique in Houston, Texas.
GQ: What public relations, media, or communications positions have you held before starting B. Carter Solutions?
BCM: For two years, I served as a communications specialist for the Washington, D.C. government. I grew tired of answering to a boss and decided to start my own company.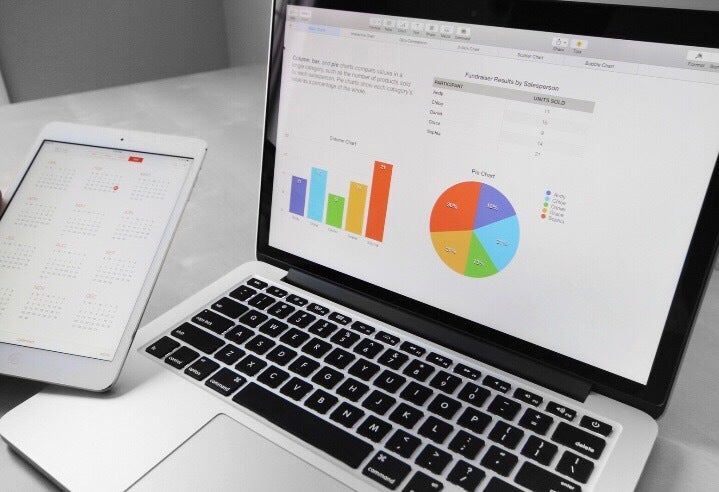 GQ: How important is social media to a client's overall business, brand, and marketing campaign?
BCM: Social media marketing is essential to any business. Every business should have social media; it's a valuable tool and provides clients with an opportunity to syndicate content and increase their visibility online. Social media networks are today's new channels for a brand's voice and content; and it makes it more accessible to target new business, which eventually will bring in more money and exposure.
GQ: What was your first publicity, public relations, or communications position or project?
BCM: My first successful PR project was getting my client, Kasaun Wilson, a comedian featured in the Washington Informer. I generated press around his Washington, D.C. date.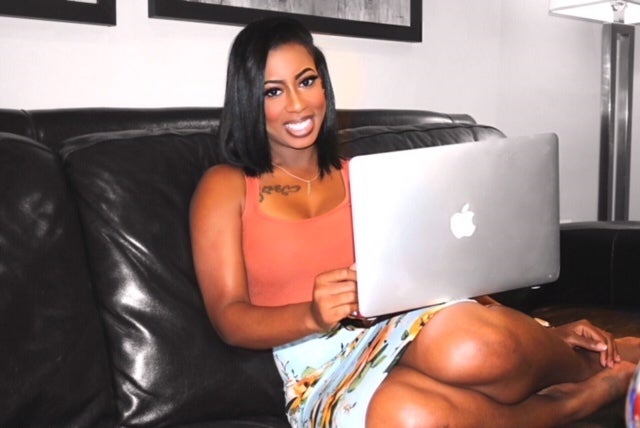 GQ: What are some of the most challenging aspects of being an entrepreneur?
BCM: The most challenging aspect for me as a first-time entrepreneur is overseeing a small team. Also, I'm not always aware of my month-to-month financial intake, and sometimes I lack the knowledge about how to grow a business. It's also challenging to maintain a balance personal life and keep all of my clients happy and satisfied. But as a daily routine, I make sure I read every morning before I wake up and before I go to bed.
GQ: Tell me about your volunteerism and community work?
BCM: Giving back is very important to me because God has blessed me with the resources to give back, so I try my best to participate in at least two community service projects a month. I recently did a short campaign where I selected four random businesses to sow into; I gave between 75 and 100 dollars. I've also volunteered at Martha's Table a few times.
GQ: Where do you see yourself in the next five years?
BCM: In the next five years, I plan to have a fortune 500 company with my own office building, and a full-time staff. I will continue to grow my company while building wealth.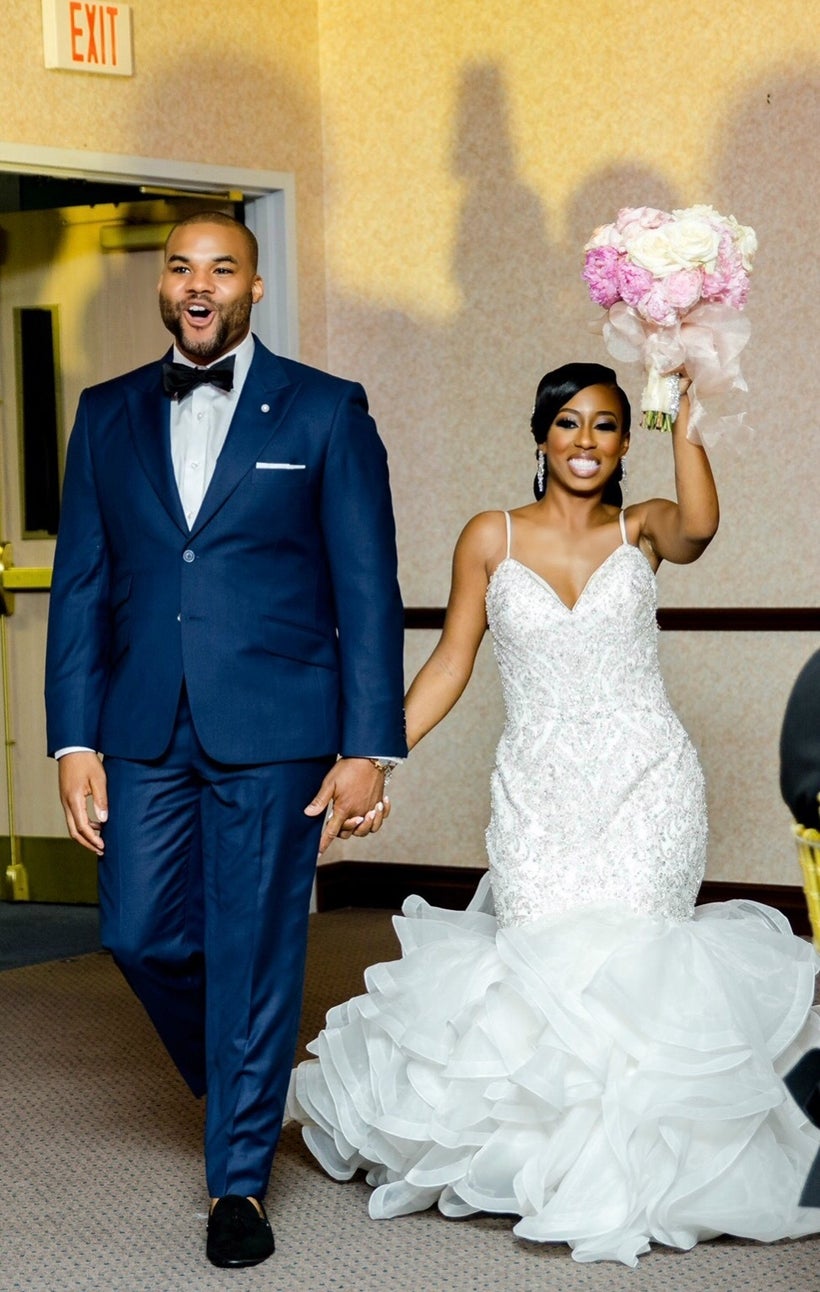 GQ: What do you like to do in your spare time?
BCM: In my spare time, I love to shop on Amazon and thrift stores for bargains. I love fashion and style, and I like to showcase how you can look nice without breaking the bank. And I love to travel with my husband.
GQ: What was the most important and profound lessons you learned from your parents?
BCM: The most profound lesson I learned from my mom was to never settle for less than you deserve. That lesson applies to work, relationships, and friendships. My mom instilled in me to always surround myself with people who genuinely love and respect me and to watch the company I keep.
GQ: Who are your mentor(s) and what are some of the most valuable lessons you have learned from them?
BCM: My mentor is Maureen Benkovich, a franchise owner of Sola Salons, who is also my client. She taught me to become more financially literate. She also taught me about investing in properties and how to become better in business as a young woman.
GQ: What is the best advice (professional or personal), you have received and from who?
BCM: The best advice I received is from my husband, which is, never allow fear to stop you from doing what God has given you the gifts to do. Also, my best friend always says, "Never let your past define your future."
GQ: What is your favorite Bible scripture, quote or catch phrase?
BCM: My favorite Bible scripture is James 1:19 "My dear brothers and sisters, take note of this: Everyone should be quick to listen, slow to speak and slow to become angry."
GQ: What keeps you spiritually centered and grounded?
BCM: My husband is a perfect balance for me and my personality. I was always independent and business-minded. I'm a perfectionist which can sometimes come off as rude. My husband always reminds me that people are watching and to always stay humble and confident, and more importantly to read my Bible.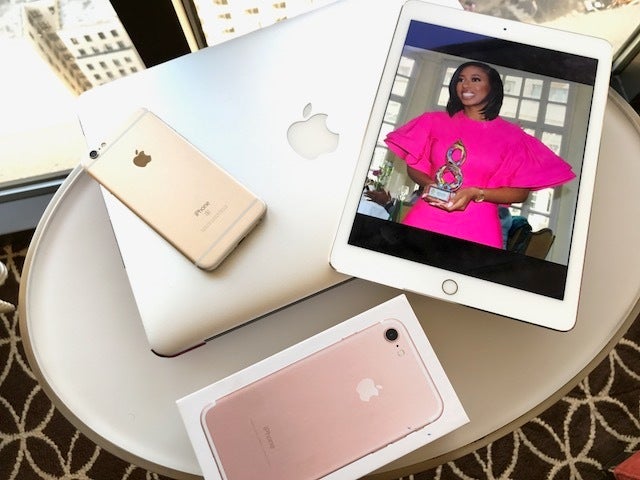 BCM: What inspires me the most is to see young women go after their dreams with no fear.
GQ: What are some of your pop culture's must haves (music, film, television?)
BCM: I love Bruno Mars. I don't watch television much, but I do love pop music, it soothes me and takes the stress off after a tough week.
GQ: What is your dream project?
BCM: My dream project is to work with Barack and Michelle Obama on anything.
BCM: What's next is to continue to grow my business, invest in real estate, travel the world, and have children.
Gwendolyn Quinn is an award-winning media strategist and consultant with a career spanning more than 25 years. She is a contributor with NBCNews.com/NBCBLK.com, BlackEnterprise.com, HuffPost, and EURWEB.com, among others. Quinn is also a contributor to Souls Revealed and Handle Your Entertainment Business.
Antonice Jackson is the President of the National Black Public Relations Society's Washington, D.C. Chapter. She partnered with Gwendolyn Quinn to produce "The Top African American PR Millennials for 2017" series. Jackson is also a contributor with AllHipHop.com.
Calling all HuffPost superfans!
Sign up for membership to become a founding member and help shape HuffPost's next chapter
This post was published on the now-closed HuffPost Contributor platform. Contributors control their own work and posted freely to our site. If you need to flag this entry as abusive,
send us an email
.